Located in the heart of the wooded environment of Heusden-Zolder, Ana Kindermans designs in her workshop jewellery made of fair trade gold. Ana is a pioneer: she is the first Belgian designer to have opted for fair trade gold.
It was in Latin America that Ana got the taste for jewellery making. "When I was looking for a new challenge and went to Nicaragua for an internship, a friend gave me material to make jewellery. She knew I would come across that a lot there and maybe learn something new. Looking for an alternative to the wire used for earrings but to which many people are allergic, I ended up in a workshop where blacksmiths from different countries were working. I had no idea if they could make wire, but before I knew it, one of those men started pulling from a lump of silver wire. Fascinating! I got the chance to work in the workshop for a month. Back in Belgium, I knew what I wanted to do and I immediately started training to become a goldsmith".
Step by step she built up her business: "What I like is that sometimes people just come for jewellery and then get fair trade gold. Some people don't even know what that is. Some customers consciously opt for fair trade, they sometimes come from far away. And there are also people who come especially for my designs and hopefully experience it as added value that I only work with fair trade gold".
The search for a supplier
In the early years she still worked part-time at NGOs such as Vredeseilanden and Max Havelaar. Ana was aware of the mining problem and that felt double: "I made beautiful things for very special moments, but worked with a raw material that is mined in a less beautiful way". When she picked up something about fair trade gold at Max Havelaar, she was immediately stimulated and followed developments closely. Fairtrade gold eventually came onto the market in Great Britain, followed by the Netherlands. But getting fairtrade gold to Belgium was no easy task. Ana already bought it from a Dutch wholesaler and fortunately she went along with the fair trade story. Then came the challenge of obtaining the Max Havelaar label for her jewellery. "That was not easy, I was the first one in Belgium. It took about a year to find out".
There is still no supplier of fair trade gold in Belgium today. Ana still buys her gold from the Dutch wholesaler who orders from Oro Verde, a certified cooperative in Colombia. Ana, always looking for a more sustainable way of life, is happy with the label: "It's not so much an economic choice, if you don't do this with conviction, you'd better quit. You pay more for the gold, the whole certification costs a lot and it is a real paper shop. But I'm talking about it." Ana consciously chooses fair trade, not to offer 'something else'. "Of course there have to be people who see the gap in the market, but for me that's not the point. At the moment, from a commercial point of view, it is not worthwhile to start with it".
The whole chain must be involved
Ana also cooperates with Catapa, an organisation that raises awareness about mining issues. When she heard about their gold:honest project in Ghent, she went to talk to the municipality of Heusden-Zolder, after which a project was developed around gold:honest in Limburg with numerous partners. Ana maintained good contact with Catapa and was subsequently invited to a meeting with the South American mine managers in London. They discussed the future and the problems of mining fairtrade gold. What Ana remembered the most is that only a small percentage of what the mine extracts can be sold to fair traders, while the whole mine has to meet fair conditions. The miners have invested a great deal in this and expect a higher turnover. "It is a pity because if the fair trade mines do not sell enough gold, they will stop.

That is why Ana thinks it is very important that jewellery designers are added who are certified and choose Fairtrade gold, fair gold with the Fairtrade Max Havelaar label: "I notice that Max Havelaar does not consider this to be a priority, of course they cannot bet on everything, but I fear that it will not continue to exist in this way. Someone should get stuck in there and find out how the gold sector works, what the path is from raw material to finished product, what intermediaries there are. My chain is very short: I buy raw material and process it into a finished product, but most jewellers buy semi-finished products or make moulds that they cast. If you want to achieve a higher turnover of Fairtrade gold, you have to focus on the certification of foundries".
Ana still often collides with a wall of paper. "As a goldsmith I mainly want to work in my studio. In addition to my bookkeeping, Max Havelaar now also has an entire administration. It's a pity that for me the ideology of Fairtrade translates into a paper control system and that there is little support in terms of content. As things stand, you remain stuck at the level of goldsmiths like me, but I do not make the difference for those certified mines with half a kilo of gold a year. We definitely need a higher turnover. More players need to start working with fair-trade gold, then it will have a place in the market. Just as fair-trade bananas have gained a place in the supermarket.
And ecology in all this?
There is a lot to be done about working conditions in the mining industry, but environmental pollution is at least as big a problem. Most gold is mined using mercury or cyanide. "Fair trade gold pays extra attention to the environment, for example by restricting the use of mercury and cyanide and collecting and recycling polluted water.  I think this is very good and perhaps even more important than 'fair pay'. What are you doing with money if the subsoil is polluted, there is no potable water, the animals fall ill,….. Our waste mountain is a gold mine. From 200 gsms you can get enough gold to make a new gold ring. Commitment to recycling and awareness of our own gold mines is very important to me. Together with Catapa I give training on this. During Crafts Day, visitors were given a workshop visit and we informed them about the mining problems in the South and the importance of recycling".
Ana sets the bar higher and higher and is buzzing with ideas. Because customers often come from far away – recently a couple from Poperinge came to choose wedding rings – Ana is working out an arrangement with the focus on sustainable and local. Already participating: B&B moka&vanille, wine merchant 'maison simple', an artisan baker, cc Muze and of course Ana Edelsmid. People can visit the studio, order a jewel, have a bite to eat, taste fair trade wine, enjoy culture and spend the night in a B&B in the middle of nature.
A weekend away to ask your partner to marry you and immediately choose a unique ring, could it be more romantic?
Ana Edelsmid
Champert 53
3550 Heusden-Zolder
0496 957 753
an.kindermans@ana-edelsmid.be
In the remote district of Busia in western Uganda, more than 600 farmers are trying to supplement their meagre incomes through gold mining. They work hard in the mining galleries dug by the farmers themselves and earn very little because they are subject to unscrupulous brokers. Moreover, this activity is very polluting. With the support of the TDC, SAMA, an organisation of miners, has been able to improve its management, develop more sustainable (mercury-free) production techniques and improve its access to the market.
The Alliance for Responsible Mining (ARM) is a global initiative born in Colombia in 2004 with the aim of empowering artisanal and small-scale miners and their organisations. ARM's fair trade standard, Fairmined, incorporates four main categories of criteria that mining organisations must meet. These relate to issues of social development, economic development, environmental protection and respect for working conditions.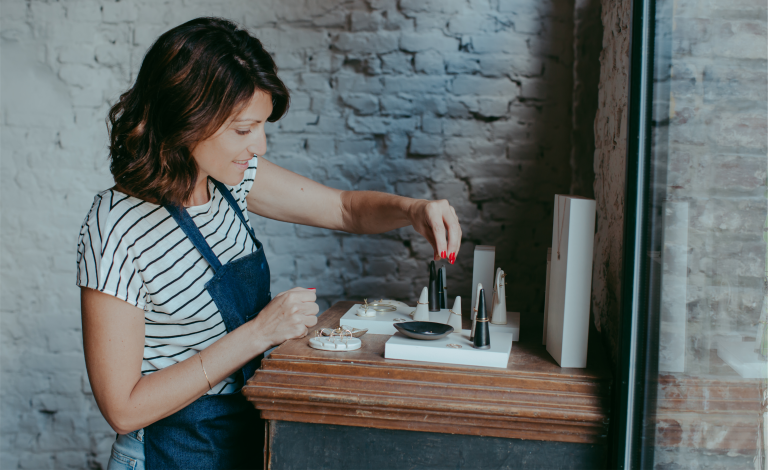 In countries such as the UK and the Netherlands, the awareness of fair trade gold is already well established, so some celebrities have started to display their fair trade jewellery. In Belgium, the progress is slower: you will only find 16 goldsmiths and jewellery designers working with Fairtrade or Fairmined certified materials.