Colette Yehouénou lives in Cotonou, the economic capital of Benin. She was only thirteen when her father died and forced her to quit her studies to take care of her three brothers: "At that time I already loved cooking, but I switched to haute couture. I trained and started my own business. I combined sewing and haberdashery. I had clients who bought their stuff from me and one day one of them explained to me that he was training in the agri-food sector. I was very interested, and I signed up for the second promotion".
From about 20 pineapples in the beginning to one tonne a day today…
Thus begins the story of the Fako company, the realisation of an old Colette dream. Every day during the training, when she goes home, she tests the recipes she learned in class: "We started with the juices I made at home in the evening. This allowed me to be sure that I had assimilated the material. I would give the family and neighbours a taste. They liked it. It gave me the energy to get started. Pineapple juice, baobab, ginger, tamarind, corossol, watermelon, carrot, beetroot, tomato, mango and pineapple compote are the main flagship products that Colette develops with great attention to quality, which sets it apart from its competitors in Benin but also in China.
And thanks to that reputation, she quickly grew up with Fako: "I started with about twenty pressed pineapples a day. Today I'm sitting on a barrel! The reputation of Fako juices now goes beyond the borders of Benin: "I export to countries in the sub-region: Burkina Faso, Senegal, Mauritania, Niger and Togo. I take part in fairs, I do exhibitions and tastings. When you do quality in Benin, people recognise that. I received the award for women entrepreneurs last October at an agricultural fair; and another award in December, which concerned technologies for the production of agricultural products," says Colette.
Coaching to turn the informal structure into a solid company
"I had to improve the organisation and management of the company. I was sailing on sight," she recalls. That's why she's responding to a call from Enabel's Trade Development Center (TDC) in 2017, via Enabel Benin's PROFI (promotion of agricultural sectors) programme. The visit of Vincent De Grelle, the coach appointed by the TDC to supervise Colette during three sessions between 2017 and 2019, enabled Fako to structure itself: "At the time, Fako had already moved out of the informal sector to become a micro business with a street corner. When she was making her fruit juices in garages next to her house, Colette had to ask herself how she could balance the family and professional aspects of her business," explains Vincent. Above all, to ensure her sustainability, Colette needs to implement a long-term vision.
To achieve this, she and her coach started looking at the day-to-day management of Fako: "If Fako wanted to grow, several elements had to be built," started Vincent. One of the first things that were introduced were the order forms: "At Fako, many orders were placed over the phone, without necessarily being kept up to date. Colette, when she went to the salons, also didn't have order forms to indicate the list of her products to her potential customers. They didn't know what they could order and at what price," the coach commented.
Fako quickly set up these forms, which are now used on a daily basis: "The accounting tools help us a lot in general", confirms Colette, "It's a real revolution compared to the old days when I had a few papers lying around. Now I take the time to keep track of incoming and outgoing mail and invoices, to archive them.
Determination of profitability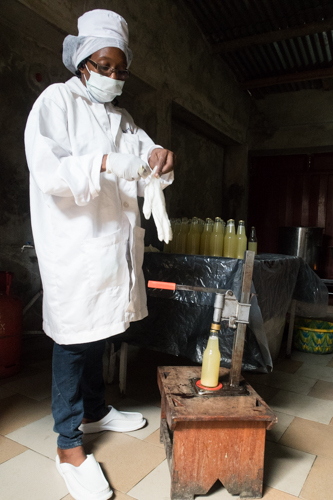 Colette also familiarised herself with the concepts of turnover, fixed and variable costs that Vincent taught her: "At Colette, there was a confusion between the money that circulates, which is the cash flow, and the fruit of the activity. In terms of expenditure, we stopped at the example of the purchase of fresh pineapples. We analysed that the more juice Fako would produce, the higher the cost would be. And we studied how to calculate the margin, the variable costs associated with an activity and the fixed costs such as rent or salary," continues Vincent, "We spent the time necessary to visualise what a margin, turnover and profit represent.
This work seems all the more important to him because subsidies sometimes confuse the profitability of micro-enterprises in Benin: "There is a lot of international aid and subsidies, especially European ones, available in Benin. That's all well and good, but it can encourage people not to think as much about the profitability of their project as they should. Colette should not fall into that trap'. And she did not fall into that trap: "I've learned to calculate the profit margin of each product myself, which today allows me to determine which product is more profitable than the other," she says.
Has she stopped part of her production based on which juices are more or less profitable? "No, not necessarily, because I need to be able to deliver and satisfy my customers. Then it's strategic: customers start buying a product that is not very profitable, but when they come to us, they discover others and that becomes interesting for me. So I do small amounts of certain things to build loyalty. The big difference is that I now know what is profitable and what is less profitable, and I can control the quantities". While working with Vincent on diversification, Fako also understood the importance of keeping different products depending on the harvest throughout the year.
Formalising relationships
Once the work on the profitability of the products has been completed, Vincent and Colette will focus on the contracts to be concluded with the suppliers in order to benefit from guarantees on the products supplied in the event of disagreement. "There was a problem of traceability here," says Vincent, "Fako had to be able to identify and number the batches in order to measure not only performance but also quality". Because if the fruit or vegetable is not satisfactory, you have to be able to go back to your supplier. "The complexity in Benin is that part of the fruit is bought from 'good ladies', i.e. street vendors, who do not work with accounting documents. Despite this, Fako has managed to take a somewhat rigorous approach to data registration," says Vincent.
After the formalisation of relations with the suppliers, other considerations are made. About the customers: "I did not have a summary list of my customers. We drew it up, indicating the respective purchases of each of them", adds the entrepreneur. A reflection on the intermediaries between these customers and Fako: representatives and resellers. "This was one of the mistakes that Fako was aware of: an excess of trust towards its partners", Vincent analyses. "One of the retailers with whom Colette worked abroad used his brand to sell juices of lower quality and put a larger margin in his pocket. Colette became aware of the scam when one of the customers called her to ask for a bill for a poorly made product. Delegating part of the marketing was not the concern, but it was also necessary to be able to contract and become more professional".
Turning at full speed
While Colette learns the basic tools of business management, Fako must continue to function: "On several occasions, at the end of the coaching day, Colette goes straight back to the production line to take care of the orders. In this way, the employees can work long days to ensure progress," recalls Vincent. Growing up also means working with more employees. Vincent guides Colette in her reflections on management or salaries. At the moment, for example, Fako is touring with about twenty workers, a mix of seasonal and permanent contracts. The pineapple season is mainly between December and March. At other times there is less work.
Other objectives come to the fore as Vincent's mission develops: "We really start from Fako's needs, which inevitably change over time. So the issue of governance has been raised. We have started to analyse how the structure works: who does what and who works with whom". In this respect, Colette can testify to a clear evolution of her skills: "Without lying to you, Vincent's arrival has contributed to many changes in the company. Internally, the relationships between the team members have improved. My employees really feel that they each have a specific role, I no longer entrust things to just anyone. We recruit on the basis of the position they are going to hold. We have contracts and I personally feel that I am more efficient and competent in managing people".
Challenges for the future
The big challenge that remains, according to Vincent, is the capitalisation of skills: "As so often in companies, it is a few people, or even one person, who keep the machine running. Here, everything is in Colette's hands: intelligence in communication, attention to product quality, she concentrates all these resources, but it's a risk. She has to pass on more to ensure Fako's sustainability," says Vincent.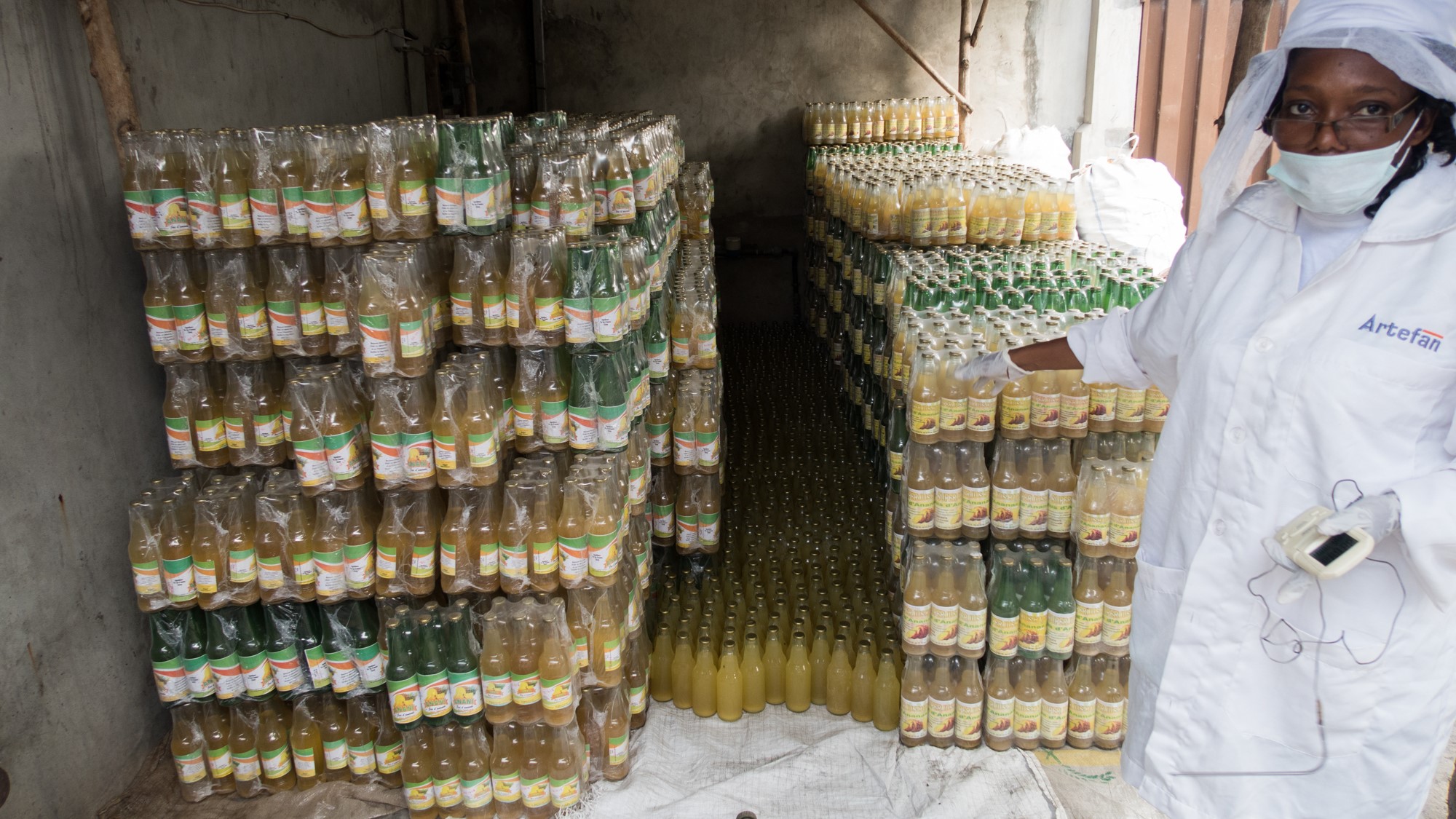 In any case, before she considers passing the torch, Colette has one goal: "To achieve five tonnes of daily production, because I would like to be a reputable company throughout the sub-region. So I should still be able to supply on a larger scale". Fako is well on its way to achieving its goal. All he needs is to transfer his production line to a larger plot of land, in a building separate from his private home. "Fako is still cramped in his thirty square metres. If Colette can move to the land she has identified, she will be able to improve her production line and achieve her new goals," concludes Vincent. This is a technical issue that must be resolved by the end of 2020.
Photo credits : Vincent de Grelle
Header: Fako produces a range of different juices. Here, Corossol juice
Photo 1: Pineapples cut before being crushed and pressed
Photo 2: Pineapple crushing before pressing
Photo 3: Colette Yehouenou, director of Fako, covering bottles of pineapple juice.
Photo 4: Rinsing the bottles before sticking the labels
Photo 5: Colette Yehouenou for a stock of bottles destined for Senegal
TDC's coaching program The Trade for Development Centre aims to empower MSMEs (Micro, Small & Medium Enterprises ) and producer organisations engaged in fair and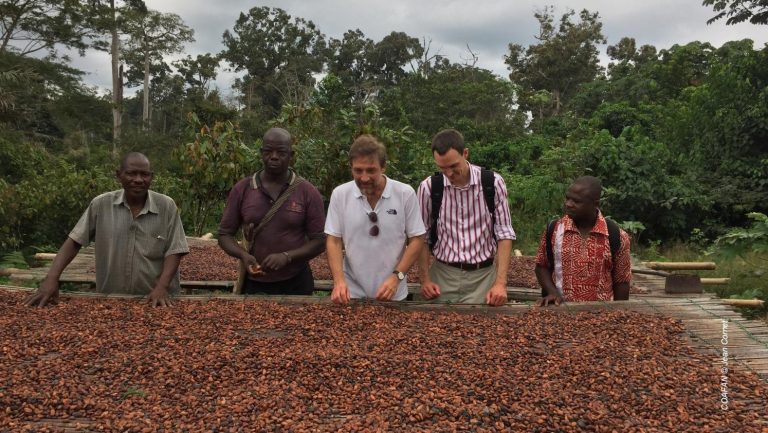 These cocoa cooperatives aim to sell as much of their members' cocoa as possible at the best conditions possible. But doing so is far from evident.
Since several years the Trade for Development Centre has been coaching cooperatives active in fair or sustainable trade to better market their products. Very often it was confronted with the cooperatives' poor knowledge of how to manage their organisation. This led to a new series of modules, more specifically coaching in business management. This report outlines our initial experience with the new module in Uganda, Rwanda and Benin.