"Our shirts should catch the eye of the buyer first and foremost because they are stylish and high quality. In doing so they prove this goes hand in hand with fairness and sustainability." These are the words of An Boone, founder of the Belgian fair fashion brand Mr. Manchette. With her sustainable men's shirts she fills a gap in both conventional clothing and fair fashion shops.
"Convert people who aren't yet open to fair and ecological fashion. That's the mission of Mr. Manchette", says An. Men's shirts appear to be the ideal product to make that happen.
From a joke to my own brand
Mr. Manchette started out as a joke, explains entrepreneur An Boone. "We couldn't find anything my husband liked from the existing range of sustainable shirts, so he joked that I could make a few for him." Apart from clothes for her kids, An had little sewing experience. But while she got stuck into a few men's shirts anyway, an idea started to take shape.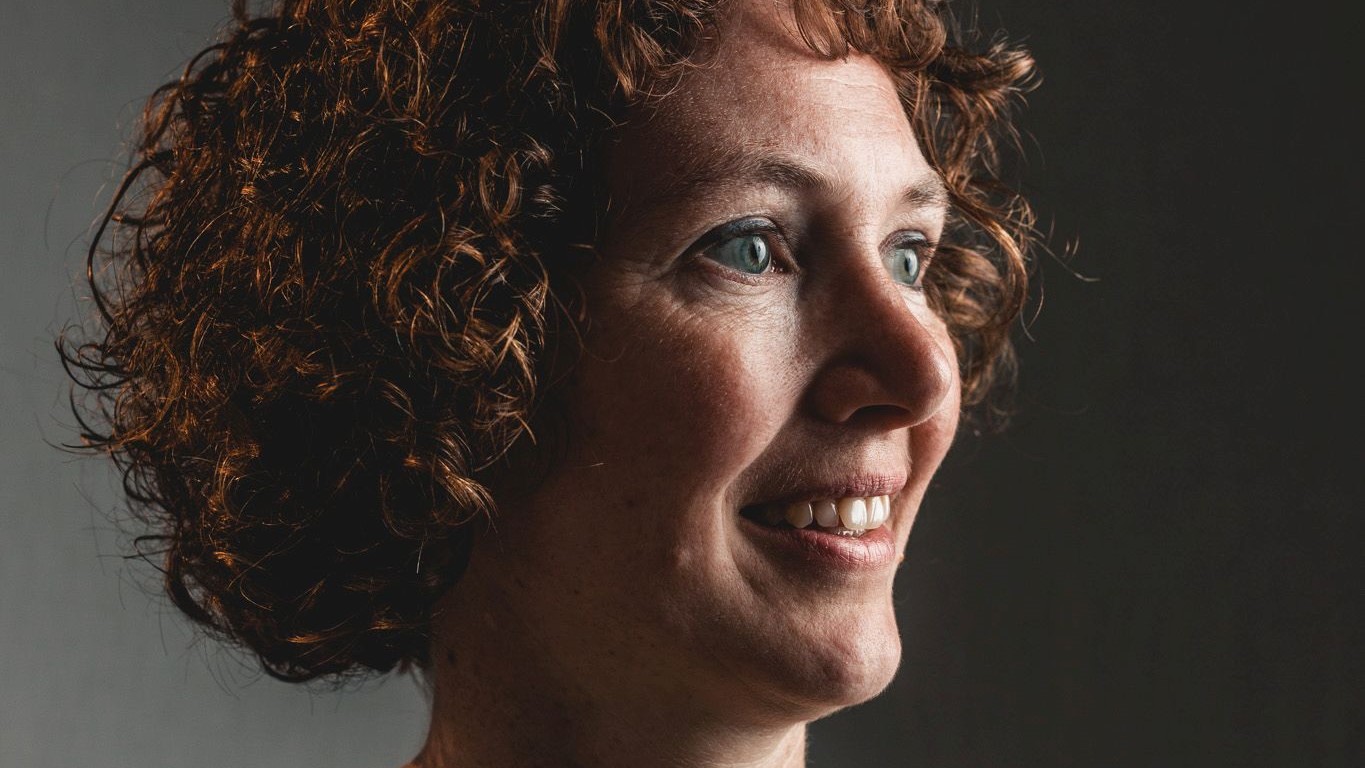 In her previous job, a marketing role in the food industry, An was missing the sustainability aspect. "The company was heading in the right direction but it was all going too slowly for me. I wanted to do something that would help make the world better. That feeling kept on getting stronger," An recalls. In the same period we went on holiday to Extremadura. A beautiful area in central Spain, but also a really poor region. It got me thinking: with a sewing workshop I could create a bit of employment in a region like this…"
An decided to give the 'joke' of an idea some real thought. To understand the world of sustainable fashion a bit better, she volunteered at the first Fair Fashion Fest in Ghent, an event that puts fair fashion in the spotlight. She talked to the visitors. And what did she learn? "Quite a lot of people were looking for what I had in mind: stylish men's dress shirts that were both fair trade and made from sustainable materials. With the sustainable brands that did sell shirts only having a few to choose from, it suddenly seemed really obvious that I had to start my own brand."
How fair trade eco shirts are made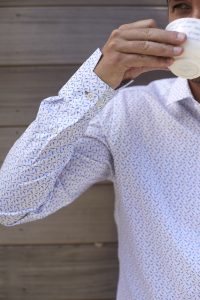 A Mr. Manchette shirt is both fair and ecological. An Boone prides herself on the fact that both the fabric and the shirts themselves are made under good working conditions. A professional clothes designer drew the patterns for the first collections. Now that they have been finalised, An adjusts the details herself from season to season. "For example, I'll add a breast pocket or tabs for holding rolled-up sleeves in place," she says.
She chooses the fabrics, mainly GOTS-certified organic cotton or Tencel (lyocell), together with her Portuguese main supplier. "It's a real collaboration, even on ways to keep things financially viable but still sustainable. Because their range of ecological fabrics is quite plain, they weave the fabrics especially for Mr. Manchette. I also like to work with my own prints that are placed onto the fabric digitally. Even this process is GOTS certified."
The finishing touches to the shirts are taken care of by a small-scale sewing workshop, also in Portugal. "You feel the respect for the employees
there, even though the company isn't fair trade certified. I pay a visit every now and then, and ask the necessary 'annoying' questions about how everything is going with their work. In everything they do, there's a focus on the wellbeing of the employees. This was very evident for example when the coronavirus crisis started. They immediately hit the pause button: before they carried on with business as usual, the seamstresses were first allowed to make face masks for themselves and their family."
Standing out from the crowd
In both conventional and fair fashion shops, Mr. Manchette shirts are turning heads. An Boone: "Our style is more business than casual, our shirts go very well with a tie or bow tie. This isn't so common in the eco or fair range. We stand out in conventional shops because we are the only 100 percent sustainable brand of shirts in Belgium."
"You can't convince everyone to go to a specialist fair fashion shop. But put fair trade clothes in the shops that people go to anyway and they might choose the most sustainable shirt in the same price category," An notes.
An believes that retailers are invaluable when it comes to convincing a growing group of consumers about sustainable clothing. "Some of the shops that sell Mr. Manchette have become ambassadors of fair fashion", she explains. "For example, Lost in Pablos in Ghent, the first retailer to sell our shirts, now only stocks ecological and fair trade brands.
Mr. Manchette has also gained a spot amongst the permanent collections in conventional menswear shops. Portobello in Leuven, the go-to shop for men that need a suit, is a strong supporter of our concept. Thanks to retailers like these, on TV you sometimes see famous people going about their successful lives in a Mr. Manchette shirt. For example, Belgian newsreader Wim De Vilder and comedian Lieven Scheire have both been spotted in one of our shirts."
Fear of change
Convincing retailers about her brand is one of the most important challenges for An Boone. "Many don't want to take a gamble on a new brand, which is understandable. With limited space, Mr. Manchette would be taking the spot of a brand they are sure will sell. Yet I notice that more and more retailers are realising that the way the textile industry works today isn't sustainable. Even those who are not yet that involved in organic cotton or fair trade. This is where I highlight our other selling points, like the fact that we produce everything in Europe."
An is already concerned that the coronavirus crisis will make people more reluctant again. "The 'lost spring' means that retailers have a lot less financial leeway to experiment with what they buy for the next collections", she says.
Can it be even more sustainable?
Mr. Manchette makes a point of each new collection being more sustainable than the last. "In recent years, for example, we replaced our plastic buttons with corozo buttons. These are made from tagua nuts, also known as vegetable ivory," An explains. The plastic wrapping around the shirts and the polyester labels also had to go. An swapped them for paper packaging made from leftover fabric and an FSC cardboard label which she has printed and prepared for use by Ryhove.
"At the moment we're looking for a sustainable way to get rid of our 'waste'. We still have shirts left over from our very first collection which we can't sell anymore because the design wasn't quite right still. I want to recycle them into new products. We also want to tackle the leftover fabric from each collection."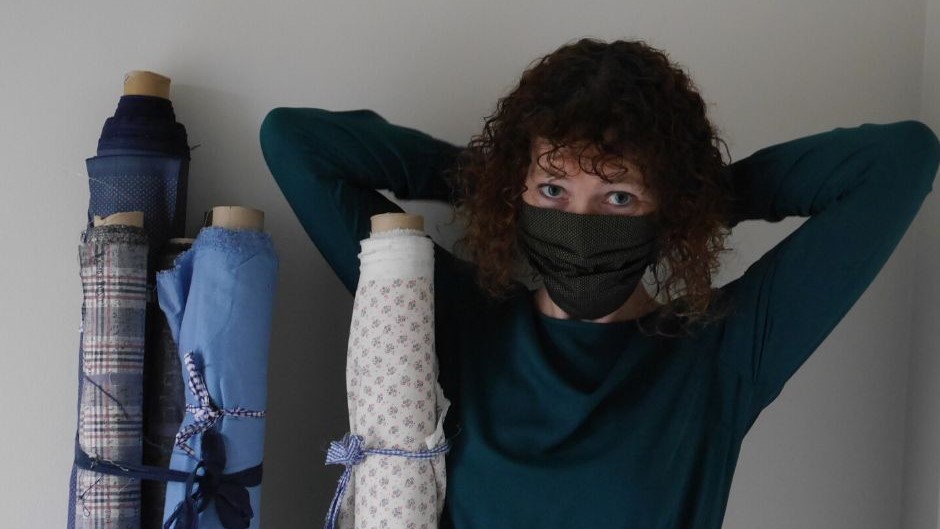 Due to the coronavirus crisis, the collaboration that would handle this couldn't go ahead as planned. "But in the meantime the offcuts have been quickly transformed: into face masks", An says with a smile. "We have these made in Belgium by two bespoke companies and a community workshop in Sint-Jans Molenbeek. For every two face masks sold we give another away to organisations that need them: hospitals, a home support service for children with autism, a youth institute, carers, cancer patients…We're also making face masks out of the same fabric used for the shirts that are currently in the shops. So fashion-conscious men can ensure they're always coordinated, with a face mask to match their shirt."
Do more together
When at the end of 2019 the time was right to turn her one-woman business into a company, An consciously chose a cooperative business set-up. "It is a way to capture the fact that everyone who contributes to Mr. Manchette is equally valuable. Every party has a voice, regardless of their financial contribution. The other parties have expertise in areas that I'm not so familiar with. They sometimes spur me on to innovate with things that I wouldn't dare to on my own."
The journey for An and her Mr. Manchette hasn't all been plain sailing. "Because I'm still relatively new to the world of fashion, I constantly come up against new obstacles. The planning and replanning when suppliers miss deadlines, the power of persuasion needed to get Mr. Manchette into more shops, the difficult balance between my business and my family… there are moments where I struggle. But if at those moments, sales are going well, it's an enormous relief. You sometimes read on social media 'Every time you buy something from a small-scale local brand the owner behind it does a little dance'. It sounds like a cliche but for me it really is like that."
Browse and order stylish Mr. Manchette shirts in An's online store. Prefer to try before you buy? You'll find Mr. Manchette in these shops.
Photos: Mr. Manchette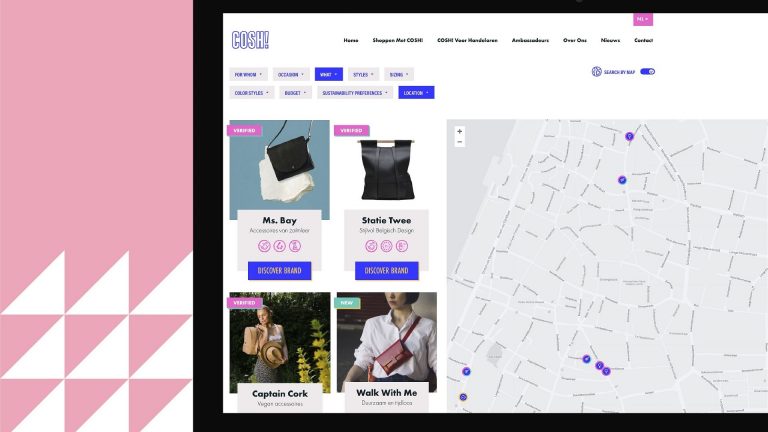 Niki De Schryver found that many people want to buy sustainable clothing but don't know how. That's why she launched COSH!
From fair trade coffee to fair fashion For many years the Fair Trade Towns campaign has shown that local authorities can play an important role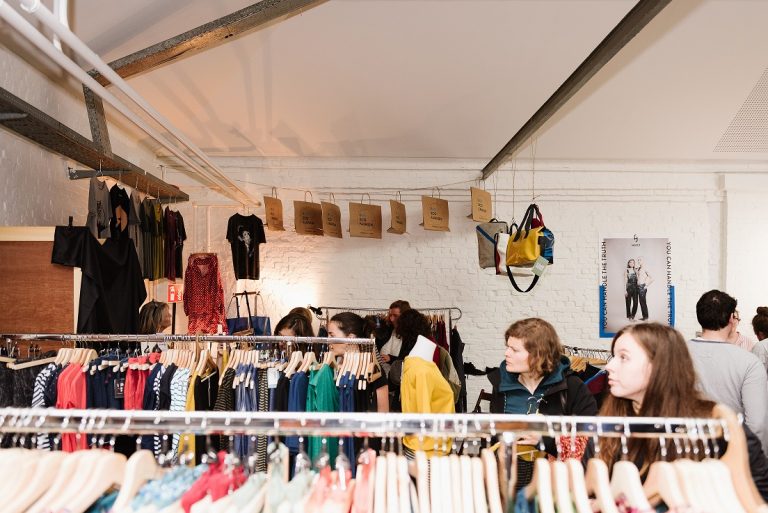 Chloé Mikolajczak is the coordinator of Fashion Revolution Belgium, the Belgian branch of the international movement aiming for a more ethically and environmentally sustainable fashion industry. She talks with us about the roots of the movement, its transforming strength and the challenges that brands face.