You want to go the sustainable walk of life? Even when you shop for clothes? Niki De Schryver noticed that it is not easy for most people, even if they have a sustainable mindset. 'People just don't know which brands to trust in this matter. Or they fear that a responsible fashion item will not suit their taste. Many also wonder whether they can afford sustainable clothing.' 
All these questions are covered by COSH!, the online platform that makes sustainable shopping easy.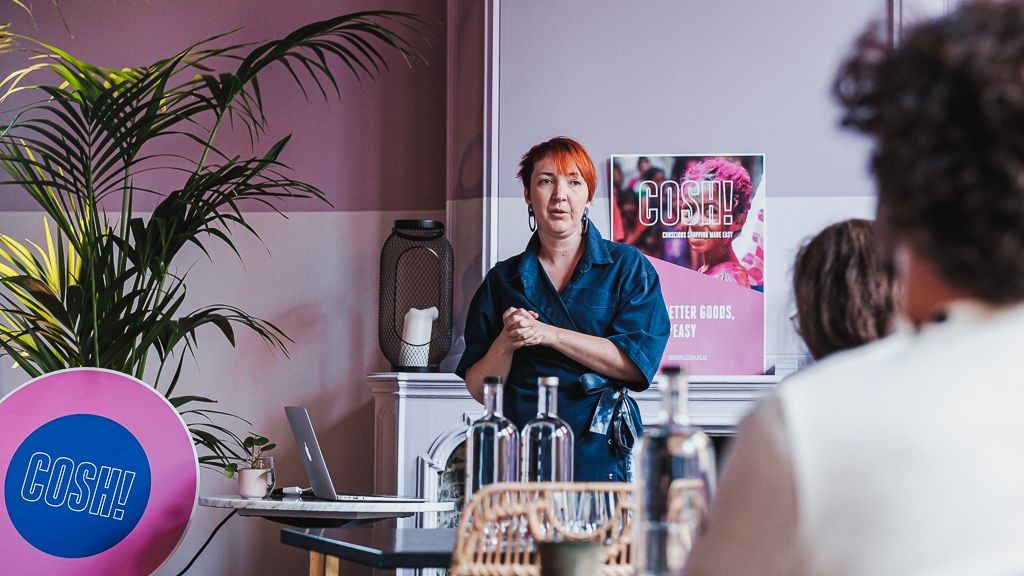 COSH! – COnscious SHopping – is the brainchild of Niki De Schryver from Bruges (Belgium). She is tried and tested in fashion and e-commerce and launched her public platform in September 2019. It was the result of many months of thinking and preparation.
'Seven years ago, I was  fashion designer Bruno Pieters' right hand and helped launch the most transparent fashion brand in the world. Honest By doesn't exist anymore, but it did set out a new course in the garment industry. Many brands have since taken first steps towards using ecological, fair and more transparent fabrics and materials. Campaigns such as 'Who made my clothes?' are more demanding than earlier ones. However, the consumer still doesn't know where to go. It's a problem we solve for them.'
Hacking the fashion industry
Niki's career passed via less sustainable garment retailers and luxury fashion houses and she also worked as an e-commerce marketeer for a while. 'Until I became aware that my job did not match the person I am. Someone who is dear to me once said that I had become a superficial person. It was disconcerting, because it was not how I saw myself. But it was definitely an eye opener. I quit the hollow marketing world to fully focus on sustainable fashion. By coincidence, I was invited shortly after (in 2017, ed.) by De Tijd for Hack Belgium (2017, nvdr). And the COSH!-ball started rolling."
At this large three-day brainstorm marathon on sustainability, Niki De Schryver checked her vague ideas with other innovating minds. She used the occasion to launch a first survey: 'It confirmed my intuition: there is a trend towards more sustainable ways of living. More and more people are making the mindswitch. But when people pick their clothes, there is still a deep gap between their mindset and what they purchase.'
Mix of online and offline
Niki's new mission was to show consumers who want to go for sustainable fashion the way to the right brands. The only lingering question was: How?
"Following a piece of advice of Flanders DC, I registered for the  Open Call of Vlaanderen Circulair.
This money enabled me to conduct a second survey: a broad survey of the purchasing behaviour of people who attached importance to sustainability. What was the result? Some consumers take first steps towards sustainability by choosing green energy while others become vegetarians or vegans. Sustainable clothing was last on that list.'
Meanwhile Niki De Schryver was putting together a team around her: IT and communication professionals, a financial expert, etc. COSH!'s third market survey investigated what Belgians and the Dutch already know about sustainable fashion and the assistance they wanted to turn their good intentions in purchasing behaviour. 'We learned that 80% of clothes are still purchased in real shops regardless of the growing success of online shopping. That is why we decided not to develop an app.'
COSH! would become an online tool to assist people in their offline search for sustainable clothes that suits their tastes and budgets. 'And by promoting local real and sustainable shops we also contribute to the local economy.'
Thanks to users
Like many start-ups, COSH! strongly relies on its community. From her living room Niki De Schryver and her colleagues stay in close contact with interested consumers and shopkeepers. Their input was essential for developing the web platform into what it has become.
COSH!'s online shopping guide has attracted increased interest since its launch. After just two months we had more than 10,000 registered visitors to map out a customised shopping route. Meanwhile COSH has mapped 38 – and counting – shops with sustainable clothes and screened dozens of brands.
What, according to COSH!, is sustainable?
How does the screening work? Every shop that affiliates – and is subsequently listed in our shopping guide – must have at least three of its brands screened by COSH! every year. 'That adds up to us screening many brands. The results are shown for each shop and are only a click away on our website.'
COSH! looks at the broader sustainability picture: How is a piece of garment made? What impact does it have on the environment and on the people who made it? Can it be easily recycled? How short is the supply chain? Is it vegan?
'Symbols on our website clearly show which brands fulfil which sustainability criteria. You can check in what areas the brand still needs to improve. You, the shopper, can tick off what you consider the prime criteria, within your budget and fashion style. Hardly any brand currently succeeds in getting high scores on all aspects and being affordable at the same time. But every significant step deserves encouragement.'
'In addition to brands, we obviously also look at the entrepreneurs' vision and drive. A shop that solely sells sustainable brands, but hardly pays attention to fair trade, will not end up on COSH.eco. Unlike other guides we don't just copy statements of shopkeepers or brands but we carry out systematic assessments ourselves.'
Next steps being prepared
Meanwhile, Niki is already planning the next steps for COSH! 'We hope to obtain extra funds soon, which we want to use towards screening new or really innovative brands, even before they are on the shelves.' Also, in a next phase second-hand shops will be added to the COSH! shopping guide.
COSH! also wants to work with municipalities and associations of shopkeepers. 'We can back them in their sustainability communication and provide credible promotion as sustainable shopping destinations. For us, associations of shopkeepers are ideal partners to organise ethical clothing events.'
Only the beginning
Let it be clear: Niki De Schryver is not planning on resting before the fashion industry is much more sustainable. 'My ultimate goal far outdoes COSH! I want to be part of an economic shift towards sustainable fashion. Today, it is still a niche, but that will change. As more people buy sustainable clothing, fewer clothes will be produced in unfair conditions. That unsustainable economy is doomed to collapse and will be replaced by purpose first companies, which offer decent employment too.'
Ambitious ideas, but they have been dormant for a while. 'I already notice side effects of COSH! that go in that direction. Our assessment indicates aspects in the supply chain of brands which they have not paid attention to yet. As a sourcing consultant I help them to consider adaptations with an instant impact.'
Brands as well as shops can rely on COSH! to put them on the path of sustainability or to coach them intensively. 'I recently went through a long-term exercise to completely switch to ecological and fair trade sustainable production (Yoga by Julz and Studio Ama, ed.). Multi-brand chains consult me to improve their purchasing policy. I even get questions for which no solution exists. For instance, no single brand offers plus size sustainable clothing. I have been working with a fashion chain that wants to make its own plus size-brand sustainable.'
In other words, Niki is someone who loves sharing her knowledge and experience. Also with consumers: She is a sustainability speaker and trainer.
Close the loop
Niki De Schryver can definitely be branded a pioneer in fair fashion. While most brands carefully venture into offering organic cotton, she is thinking a couple of steps ahead.
'I am a strong believer of circular production. We must stop exploiting new raw materials but instead close the materials loop. Close the loop, that is the future. I dream of clothes which are 100% organic and vegan and can be endlessly recycled.'
How realistic is this? Niki is formal, but hopeful. 'Right now, we are nowhere. Very few clothes are made of one single fabric, for instance. This makes recycling tough. For instance, jackets of sustainable fabric still have a synthetic lining. In other words, designers also need make the mindswitch. I support the garment industry in every step towards more sustainability, but I remain critical.'
Copyright foto's: COSH!