The number of shoe brands claiming to be ethical and/or ecological has mushroomed in recent years. So much so that some of them are on the verge of becoming major players on this huge market. Fleeting fad or a sea change for a business that is worth tens of billions of dollars?
The global market for sports shoes (trainers, sneakers, tennis shoes, etc. call them what you like) is positively booming. In 2019, this market is expected to be worth nearly 90 billion dollars! The outlook forecasts sustained growth for the years ahead. Unsurprisingly, the main footwear producing countries are China, India and Vietnam, where the manufacturing industry is not exactly known for its environmental, social or ethical concerns.
But in this enormous business, which is increasingly occupying the middle ground between the (very) low and the top luxury segment, a new segment is developing: that of ethical sneakers. Although still negligible in absolute figures, this new trend is occupying an ever increasing presence on the market for sneakers, which in recent years has evolved into a fashion accessory that is much more than just a sporting good.
Veja, cool and transparant
One of the most popular ethical brands nowadays is French brand Veja. Since its establishment in 2004 by Sébastien Kopp and François-Ghislain Morillion, the company has already sold over three million pairs of shoes, all manufactured in Brazil from sustainable materials, whilst offering its workers decent terms of pay and employment. Veja currently retails its shoes through more than 1,800 points of sale in some forty countries and employs over 100 staff.
In Brazilian, 'veja' means 'look', with the implicit invitation to see beyond the thing you are looking at to find out how it is made. Exactly, let's look. The French duo focused on Brazil, as the country has all the raw materials the brand needed to make footwear. Part of the rubber used for the soles is purchased from seringueiros, artisanal workers who collect the latex from wild rubber trees in a manner that is respectful of the Amazon forest. The organically grown cotton comes from the states in the Northeast Region on the Atlantic coast or from Peru. For the leather, Veja makes sure it is not sourced from the Amazon rainforest or from areas that have been deforested to produce the leather. The brand also makes sure the companies that have been contracted to handle the tanning process comply with strict environmental standards. Some of the models are even quite simply 100% vegan. In addition, Veja uses new materials such as B-mesh, a mesh fabric made from plastic bottle chips. The brand also ensures all these raw materials are purchased in line with  fair trade principles, by negotiating directly with the producers, at agreed prices that are dissociated from the market to ensure a decent revenue.
Another of Brazil's strong suits in the eyes of Veja: factories with terms of pay and employment that are much higher than those seen in Asia. The manufacturing work is carried out in Porto Alegre, one of Brazil's most developed regions. The majority of the workers live close to the factory, their basic work schedules do not exceed 40 hours a week and overtime is limited. Moreover, they get four weeks' paid holidays.
To win customers over, other than by the ethical argument, Vela sets store by a slick and timeless design. Word of mouth and social media do the rest. Like when the Duchess of Sussex Meghan Markle created a buzz in late 2018 by donning a pair of Veja sneakers whilst on an official tour of Australia.
Toms, solidair and business-minded
Another ethical footwear brand that is highly popular, especially in the United States, is American company TOMS, which stands for Tomorrow Shoes. The company's strategy rests on the One For One concept, which was devised by its founder Blake Mycoskie: for every pair of shoes purchased, the brand donates a new pair of shoes to a child in need. In doing so, the brand claims it has distributed over 86 million pairs of shoes since its establishment, with the type of shoes varying in terms of the region and the time of year in countries as far afield as Argentina, Ethiopia, Guatemala, Haiti, Rwanda, etc. In the meantime, the company has also broadened its eyewear activities. For every purchase of a pair of TOMS glasses, the company undertakes to help one person to regain their eyesight, to donate bags and clothes (assistance in the area of maternal health), and even coffee (access to water).
Even though less transparent than the French brand, TOMS offers assurances on its website that its "corporate responsibility places the emphasis on the environmental and social impact of our activities, company donations and the quality of life of our employees. "The brand also states that its shoes are manufactured using vegetable and sustainable materials: natural hemp, organic cotton and/or recycled polyester… And affirms that all its shoe boxes are made from recycled waste (80%) and printed with soy ink. Moreover, TOMS shoes are manufactured in China, Ethiopia and Argentina at factories supervised by its own teams.
Since it was set up, TOMS has attracted criticism, especially regarding the pertinence of its business model which is based on donations, said to be solely intended to salve the conscience of consumers. In response, the company relocated its production lines to countries that have been benefiting from these donations to promote local economic development.
Panafrica and N'go Shoes, the most ethnic brand
Another approach some ethical sneaker brands have come up with is the cultural approach. Through their products, they are looking to highlight the craftsmanship of some countries to popularise their output and obviously to stand out on the marke
African-themed colours and patterns are at the heart of Panafrica's strategy. The brand buys the printed wax cotton fabrics seen in some of its models in Ivory Coast. This comes at a time when the African textiles industry is facing pressure from Chinese wax fabrics, which are two to three times cheaper. The cotton itself is sourced in Burkina Faso, where it is locally woven in Ouagadougou. The actual fabrication is performed in Morocco at a workshop that observes employee rights, Panafrica assures us.In addition to committing to manufacturing its sneakers with particular attention to the social, economic and environmental impact of its activities, the brand pays 10% of its profits to partner associations involved in education and vocational training projects in Africa.
Education and culture are also the hobby horses of N'go Shoes. This French brand, which was established in 2016 by two friends, calls on Vietnamese craftsmen from ethnic minorities to create the patterns and motifs of its sneakers using traditional hand-woven methods.
In addition to its commitment to manufacture its shoes in observance of environmental health and human decency, N'go Shoes works with Sao Bien, an NGO whose aim is to build schools in the most isolated and marginalised provinces in Vietnam, to whom it pays part of its profits.
And the list goes on…
Perús is all about education too. Every pair of sneakers purchased helps to pay for a day at school for the pupils of San Jeronimo, a poor suburb of the city of Cusco in Peru.
And if ecological concerns are really important to you, Spanish company Wado has chosen to focus its ethical and vintage sneakers around the fight against deforestation. The brand undertakes to plant two trees for every pair of shoes purchased, in association with We Forest NGO.
Ecology also plays a key role in the approach adopted by Flamingos' Life, which is all about upcycling waste materials to manufacture its sneakers. All that remains is for us is to find the right match in terms of the shoes we like and our beliefs and principles.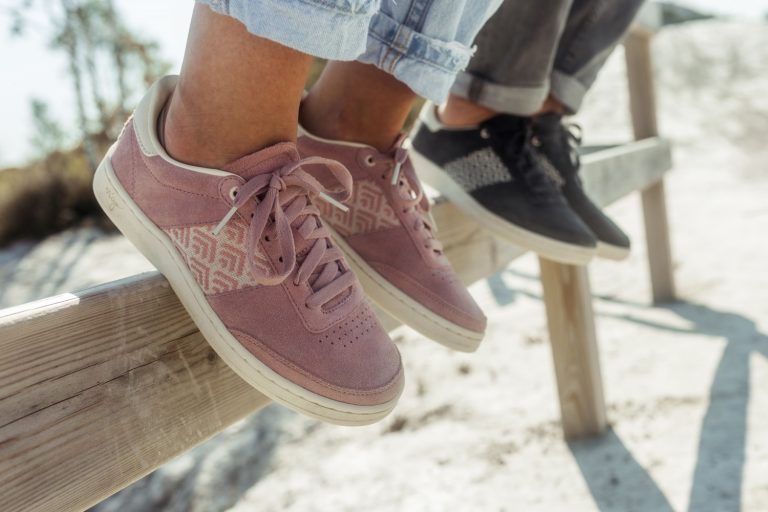 According to Sandra Rothenberger, marketing professor at Solvay Brussels School, ethical sneakers should follow the path of organic food but taking the fast track.