How sustainable is 'sustainable' palm oil? We raised this question in earlier articles about the Round Table for Sustainable Palm Oil and the Belgian Alliance for Sustainable Palm Oil. While the industry is still investigating how to stop the destruction of human and environmental resources in South-East Asia, there are fair alternatives already, like palm oil projects in Ghana, Togo and Ecuador which have been certified and have obtained the Fair for Life fair trade label.

Unique but controversial
If you look at the impressive expansion of palm oil cultivation, you will find many pros – with its keen defenders – as well as cons – with its staunch opponents. The advantages of palm oil seem clear. Palm oil has unique properties which is why it is very much coveted by the food industry. Furthermore, productivity per hectare of palm oil is many times higher compared to other vegetable oils. It would take 7 to 10 times more land to obtain the same quantity of vegetable oil without palm oil.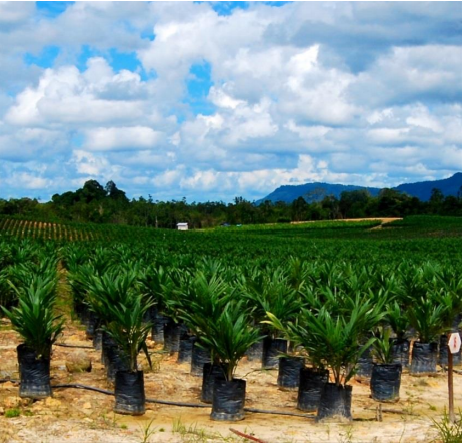 But opposition is growing. First, there is medical evidence against the use of palm oil because of the great amount of saturated fats it contains. The most critical opponents are NGOs and environmental groups though. Because of the huge expansion of the crop in Indonesia and Malaysia the direct link with deforestation, the loss of biodiversity and the emergence of social conflicts has become apparent. Huge expanses of valuable rain forest are destroyed, land is taken from local communities and labour rights are violated on a large scale. A weeping orang-utan stands symbol for the many victims of the unrestrained greed of local and international businesses in the palm oil value chain.
Many stakeholders in the industry are aware of the problem. Eddy Esselink of the Dutch Task Force on Sustainable Palm Oil summarises the defence of palm oil as follows: "Alternatives for palm oil are not better for health and even worse for the environment. That is why the best alternative for palm oil is sustainable palm oil."
In search of sustainable palm oil
In response to criticism the industry created the Round Table for Sustainable Palm Oil (RSPO) in 2004. Producers, processors and traders that stick to certain principles and criteria can become RSPO certified and use a 'sustainable' label.
NGOs such as the WWF and Oxfam have joined the round table and advocate stricter criteria. That way, in 2016, RSPO Next was launched as a – currently voluntary – next level excluding any ties with deforestation, forest fires or the reclamation of peatland.
NGOs such as Greenpeace have always been very critical about the RSPO. They consider the criteria and control to be too weak, owing to which the certification provides no guarantee against deforestation. Since RSPO Next is only a voluntary option for a few 'forerunners', its effect will be very slow, whereas time is running for Indonesia's rain forest.
In the article On the path to sustainable palm oil? you can read more about this issue. Nevertheless, the RSPO is successful. In 2015, 20% of global palm oil production was RSPO certified, a share that has increased annually. Also in Belgium the issue is raising interest. For instance, members of the Belgian Alliance for Sustainable Palm Oil succeeded in sourcing 100% RSPO certified palm oil by the end of 2015. For 2020 their objectives are even higher with extra criteria such as full protection of valuable forests and wetlands.
In search of fair palm oil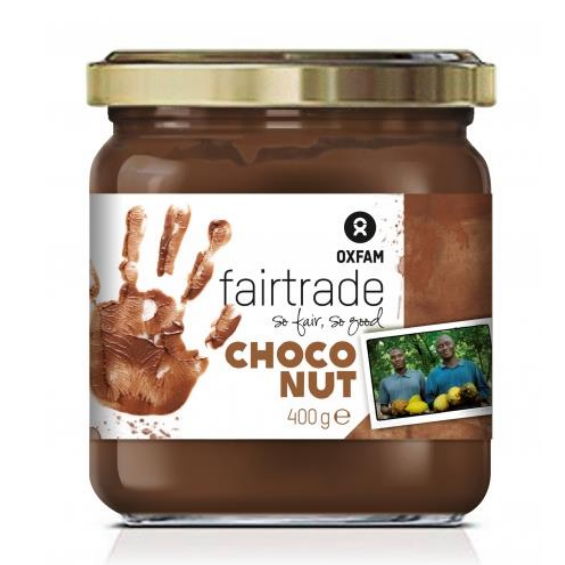 "Like other fair trade organisations we have struggled with the question what to do with palm oil", says Hielke van Doorslaer of Oxfam-Wereldwinkels' Policy & South Advocacy service. "In the end we opted for a varied approach. For some products such as breakfast cereals the added value of palm oil seemed limited and we switched to sunflower oil. For other products we found better local alternatives. For instance, the Costa Rican cooperative Coopeagropal locally supplies the palm oil needed for our yuca chips. Coopeagropal is not certified yet, but it is very forward-looking socially and ecologically. Chocolate spread is a different story altogether. Palm oil gives chocolate spread its typical creaminess. Excluding palm oil would lead to quality issues, but it would also mean a shift of ecological and social issues. That is why we decided to look for fair palm oil. The RSPO label offers too few guarantees, but we were fortunate to find a credible alternative with Serendipalm in Ghana, a Fair for Life certified business."
Fair for Life
The most famous fair trade label on the Belgian market is undoubtedly the Fairtrade label (formerly the Max Havelaar label). But neither Fairtrade International, nor other labels like Ecocert Fair Trade have developed standards for palm oil. So, it is not a coincidence that Oxfam-Wereldwinkels eventually relied on Fair for Life.
Fair For Life is a certification programme that was launched in 2006 by two Swiss organisations: the Institute for Marketecology (IMO) and the NGO Bio-Foundation. IMO has been an important player in certification for more than 25 years. They carry out audits on some 70 different social and ecological standards in such domains as organic agriculture, forestry, pisciculture and fair trade.
With Fair for Life both organisations primarily aimed to go further than Fairtrade International (then still called FLO) in several respects. For instance, they were the first to drop the geographical criterion, so also European producers' organisations could be certified. Next, they do not start from specific product standards but from a general standard which targets three areas: ecology, corporate social responsibility and fair trade. In addition to classical cooperatives, also more informally organised producers' groups can be certified.
Also plantations qualify for certification, if they can prove they comply with labour regulations and have a positive impact on the most marginalized workers. Businesses that want to label their end product Fair for Life, must be able to prove that they act correctly throughout the supply chain.
Unlike Fairtrade International there is no guaranteed minimum price giving producers a secure income, instead producers and customers have greater freedom to jointly determine the 'fair price' and the value of the fair trade premium. The high level of transparency about the specific spending of the premium is important in this respect.
Serendipalm in Ghana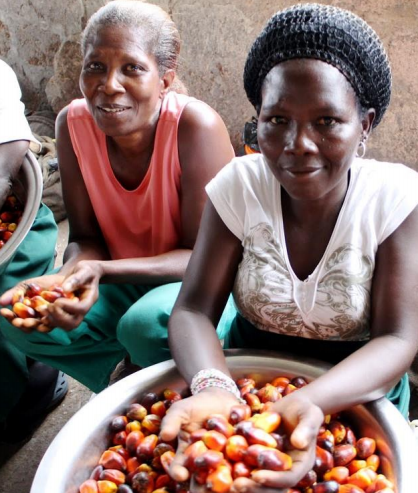 In 2009, the Serendi palm project obtained Fair for Life certification, the outcome of a particular story. At the basis was Dr. Bronner's Magic Soaps, an American family business that has been in business for 150 years and spans five generations. Corporate social responsibility was part of their business statement long before the concept was even coined. As it looked for better coconut oil, palm oil and olive oil for its quality soaps, the business targeted organic certified products in the first place. But soon they found that an ecological label does not always foster social equity. So, in 2005, they decided to take sourcing in their own hands.
Meanwhile, the Serendi world project consists of several local businesses: Serendipol (coconut oil, Sri Lanka), SerendiKenya (coconut oil, Kenya) and Serendipalm (palm oil, Ghana). All three of them are Fair for Life certified. Meanwhile, beside Oxfam-Wereldwinkels many European businesses have become regular customers of Serendipalm, like for instance the fair trade organisations Gepa and Traidcraft and companies like Rapunzel and Weleda.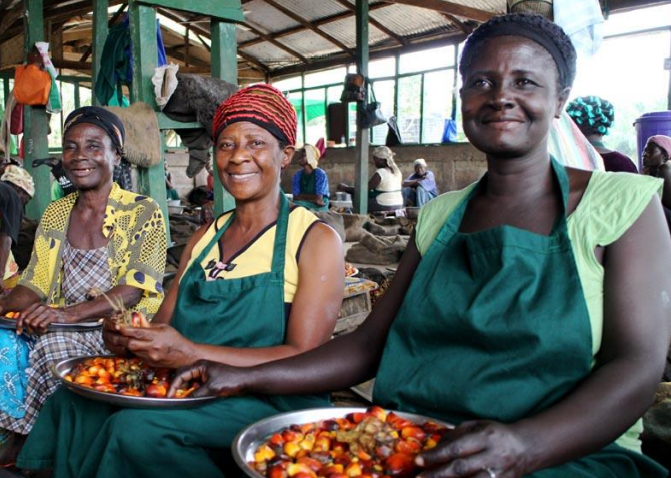 In 2006, Dr. Bronner's and the NGO Fearless Planet started working near the city of Asuom in East-Ghana. Palm oil trees are native to the region and local farmers have used them to complement their meagre incomes from cocoa, cassava, maize or citrus fruits. In a first phase, four field workers were hired to accompany the farmers to become organic farmers. Simultaneously, a mill was built modelled on the hundreds of small, artisanal oil presses used in the region, named cramers. To manage this processing facility a company was created, Serendipalm. Now, some 670 families supply fresh palm fruits to the mill, which has become the biggest employer in the region with its more than 200 staff members.
It is noteworthy that many of the tasks at Serendipalm are carried out by women: From releasing the individual, small fruits from the bunches – work done traditionally by women – to managing the mill. More technology could make the process more efficient, but at the expense of employment … and that is a choice that Serendipalm does not want to make. After oil is expelled from the palm fruits, the press cake and leftovers of the fruit bunches are recuperated by farmers, who use them as organic fertiliser.
« When I started delivering my palm fruits to Serendipalm, I received a price above local market price. It helps with saving for my children to go to school and to finish my house.» Felicia Frimpomaa, farmer (source Gepa)
The farmers as well as the workers of the processing facility have a seat in the Fair trade committee that decides about the premiums. The organic premium – 10% on top of the purchase price – is directly disbursed to the individual farmers. It is usually used to pay workers to prune trees or weed the fields. The fair trade premium is to benefit the whole community. For instance, in surrounding villages water wells, water tanks and public toilets were built, a pedestrian bridge was repaired, and schools received extra equipment and computers. In addition, Serendipalm has itself supported initiatives, planting new seedlings in the dusty city of Asuom, distributing 5000 mosquito nets and building a maternity for the local hospital.
Exportsustent in Ecuador
A similar but more recent story is Natural Habitats, a Dutch company that trades organic palm oil Its activities in the north of Ecuador were Fair for Life certified in 2013. Also in Sierra Leone and Ghana the process is ongoing.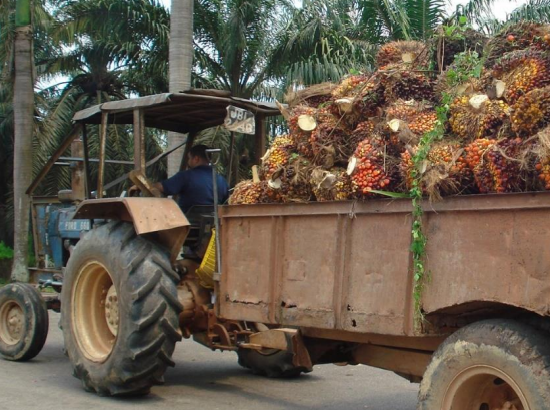 Like Dr. Bronner's, Natural Habitats has chosen for vertically integrated supply, with a clear overview of the whole chain from farmer to plate. That is why Exportsustent, the Ecuadorian branch of Natural Habitats is very active in the field. Small plantations are set up to train farmers from the region in organic farming and the management of existing biodiversity. According to the business philosophy, farmers delivering to the company belong to the 'Familia Organica', a community that is dedicated to quality production, care for the environment and the social development of the community. In exchange, these farmers are assisted by agronomists and the company takes care of shipping the crops. Exportsustent always spends 1% of its revenue on social programmes. Schools have received learning materials and computers, two health stations have been built and hundreds of children and youths have been trained by experienced football coaches.
But Exportsustent looks further. In 2013, the company established the Asociación Nacional de Cultivadores en Palma Aceitera (ANCUPA) to help small palm oil producers throughout Ecuador to become sustainable palm oil farmers and obtain RSPO certification.
Alaffia in Togo
Alaffia is the successful business of Togolese Olowo-n'djo Tchala. He married an American Peace Corps volunteer and ended up in America, where he studied. With his wife he decided to return to Togo to produce beauty products and shampoos on the basis of natural products. Local employment and development were always high on their agenda. The first Fair for Life certification for the cooperative of shea butter producers was obtained in 2009; the cooperative delivering coconut oil followed in 2012. Palm oil is of minor importance to Alaffia, but it was included in the certification.
Alaffia attaches much importance to its promise of a fair trade premium of 15% on top the sales price, but in addition it invests in a series of development projects, targeting women and students in particular. The main domains are health care of pregnant women, the fight against female genital mutilation, the construction of schools, the distribution of bicycles to enhance school attendance and the planting of trees.
Conclusion
There are still few fair trade palm oil projects and they are small-scale, but they do exist and show that there are alternatives:
"Farmers and workers strongly appreciate the social impact that Serendipalm has in their community. They are proud to be part of the project." IMO audit of Serendipalm
Sources
Towards sustainable palm oil? (2013) and Sustainable palm oil on the horizon? (2016), articles published on www.befair.be.
Fair for Life: www.fairforlife.org
International Guide to Fair Trade Labels: www.commercequitable.org /resources/les-labels.html (comparative study carried out by the Fair Trade Platform, Fair World Project and the FairNESS research network).
Serendipalm: www.serendiworld.com/product-lines/serendipalm, www.drbronner.com, www.facebook.com/serendipalmcompanylimited.
Serendipalm: organic palm oil from Fair Trade (Oxfam-Wereldwinkels, 2014, published on www.oww.be).
Export company: www.natural-habitats.com
Alaffia: www.alaffia.com
Photo credits: © Serendipalm-Dr. Bronner's /© Cifor / © Export tent / © Alaffia
Photo 1: Women washing the fruits of the oil palms
Photo 2: Oil palm nursery
Photo 3/4/5: Serendipalm has become the largest employer in the region.
Photo 6: Serendipalm employees
Photo 7: Export transport of the crop
Photo 8: Shea butter gets its fat content from the fruits of the shea tree.
Photo 9: Serendi palm oil extraction machine