Montélimar is known as the city of nougat, but the origin of the nut sweet lies in ancient Persia, where nuts and honey were plentiful. Thanks to the Arabs it became known in Mediterranean countries, but it never really made it to Northern Europe. The man who introduced nougat in Belgium 90 years ago, Vital, gave his name to the company which a few years ago added fair trade nougat to its assortment.  
Vital was from a Sephardic family which fled to Istanbul at the end of the 15th century. The confectioner family made lokum, among others, but because it does not conserve easily, Vital was sent out in the early 1920s to discover the secrets of nougat in all its varieties. After three years as an intern in Montélimar, Alicante and Verona, Vital ended up in an uncle's pastry shop in Antwerp. While staying with a nephew in Ghent he sold nougat in cinema Capitole, where beautiful Elsa accompanied the movie on the piano. Vital and Elsa fell in love and got married. Vital sold his nougat in a shop in Ghent; at the end of the 1930s the shop was too small and he moved the business out of town. After the war he started selling nougat to confection stalls at fairs and markets. Only in the 1950s did nougat become popular. People went on holidays in the south and discovered nougat. Demand was on the rise and Vital supplied pastry shops, candy shops and stores catering to tourists. His son Maurice, who joined in 1958, expanded the business as it started supplying supermarkets.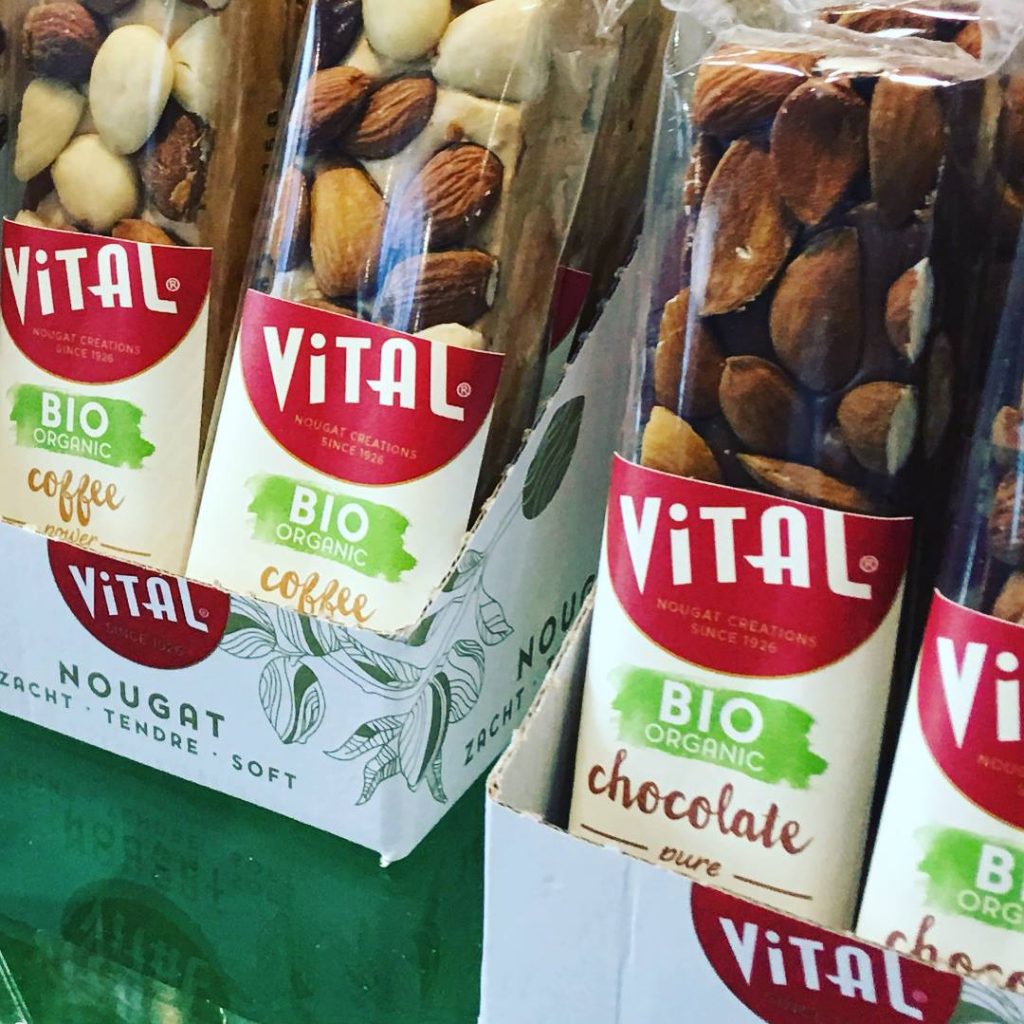 However, he discovered that this kind of expansion could not be combined with the 'quality before price' philosophy and stopped the collaboration. In the 1970s he started exporting to Singapore, Kuala Lumpur and Hong Kong. Selling a new product requires more effort but it was worth it, and it still is today.. Vital transformed his small family business into a successful company that exports to more than 50 countries with one third of sales in the Middle-East and Asia. 
Maurice's son-in-law, Matthias Haeck, who now runs the business with his wife, talks about the shift to fair trade: "During a brainstorming session, we launched the idea of making organic nougat. Our product has no preservatives or colouring agents, but we feared there would not be a market for it. A few years later a small business asked us if we could produce organic nougat for them. We didn't accept the proposal but ended up buying their portfolio of organic nougat retailers and built on that. It made sense to immediately combine organic with fair trade. Customers who are aware of their choices usually choose both. Our message would also be unambiguous. We now sell five times more organic fair trade than in 2010. We recently added nougat granules for ice cream and biscuit makers to our fair trade assortment."
With sugar cane from India, honey from Mexico, vanilla from Madagascar, cocoa from Ghana and coffee from Brazil you can taste the world in Vital's nougat. They did a few months of research before making the switch. "It's not always easy to align organic and fair trade with each other and production. We took a long time looking for vanilla extract, for instance. This is usually liquid or made on the basis of alcohol or oil, which will evaporate in our open pans and makes nougat too heavy. Only recently has fair trade vanilla powder become available and that is what we use, even though it is extremely expensive (175€/kg). Before, Fairtrade Belgium made us use fair trade vanilla too, but we could not technically use it in our production process. First, they could not understand this because they look at it from their point of view. They also tried to convince us to use fair trade pecan nuts instead of almond nuts. But if you change something to your recipe, you have to rethink everything: flavour, texture and storage life."
To distinguish the 'sustainable' products from our 'traditional' assortment, Vital chose unpeeled almond nuts and another styling. This assortment makes up 8% of our turnover and Matthias sees a positive evolution. "The organic market seems more stable to me than the fair trade market. It has been around for a longer time and has broader consumer support. But there is more of an overlap: FLO encourages farmers to choose organic farming. It makes things easier for us." 
Matthias' biggest challenge remains the continuity of supply. "Sourcing is irregular and we have to be on time with our deliveries to our clients. I expect this to improve in future, but today it is a difficult exercise still. Some major players switched almost entirely to fair trade but soon faced a shortage of raw materials because their demand was so high. They put pressure on the organisation because their machines have to keep going. Because of sourcing issues, a manufacturer could at some point decide to use regular sugar due to the lack of available fair trade sugar, and when the cane sugar finally arrived a few weeks later, it might end up in the regular product. The mass balance at the end of the year is correct, since fair trade sugar was purchased and processed, but fair trade customers might feel fooled because they paid more for quality which eventually they didn't get. Fairtrade Belgium strictly controls this and a manufacturer cannot just do this, but it does happen because of the irregular supply. I understand Fairtrade Belgium is lenient, but it's risky business, especially if you have the consumer in mind. The advantage of fair trade is the physical transaction: you don't just give money. You know that when you buy a fair trade banana, somewhere in the world a farmer benefits from this."
Matthias believes that in a really free market the premium that is paid to farmers in the South today will one day become unnecessary. "The fact that in some countries farmers are paid too little for their produce to build a certain degree of prosperity is because of the tension between companies and governments. Monopolies and large businesses are corrected in a genuinely free market. Today's power balance between governments and companies leads to situations where a few companies have great power and others are pushed aside. The weakest in this chain, the producers, end up being exploited. In fact, farmers should have the strongest position, because everyone depends on them."  
This also goes for farmers here, adds Matthias. "In Flanders more than one out of four pig farmers is about to go bankrupt. Why are there so many pig farmers? Why is the price of pork so low? Many aspects are tied to politics: subsidies for pig farmers, embargoes between the EU and Russia, banks providing cheap loans, etc. This has led to forced situations and a surplus, which is why farmers can hardly sell pork. In other words, a sustainable solution has to be found."
Right now, fair trade is the best way to support farmers in the South," concludes Matthias. "We produce 38 tonnes of organic-fair trade nougat per year, with more than half of the ingredients fair trade and 99.9% organic." In Belgium and Western Europe, Vital works with wholesalers who target specialised retailers with the better assortment. In Scandinavia, fair trade is booming big time; even the Baltic States are moving in that direction. But in Portugal, Spain, Italy and Greece, fair trade is not growing. The minds are not ready for this yet. "We don't choose growth for growth's sake, but we are convinced that you can have a profitable activity and still stick with certain criteria. These criteria are changing. In the 1990s hygiene was very important; later the environment became more important. But one thing never changes: the taste."