"The first time I got off the bus in Boni, the driver looked at me strangely," recalls Trui Rachels. But the residents of this village in Burkina Faso immediately agreed to work with her. This is how Chéry Faso came about: a non-profit organisation that tells the real story of African mothers through pure shea butter. Trui is happy to share her experiences.
A more accurate picture of Africa
The inspiration behind Chéry Faso, Trui Rachels, grew up really interested in Africa. She first travelled there when she was eighteen, and it was this journey that turned her interest into a real passion.
"In Ghana I felt how much power emanated from that continent. And how strong the people are there, especially the women. The Africa I discovered was completely different to the image most people in Belgium had of it. This was something I had to change."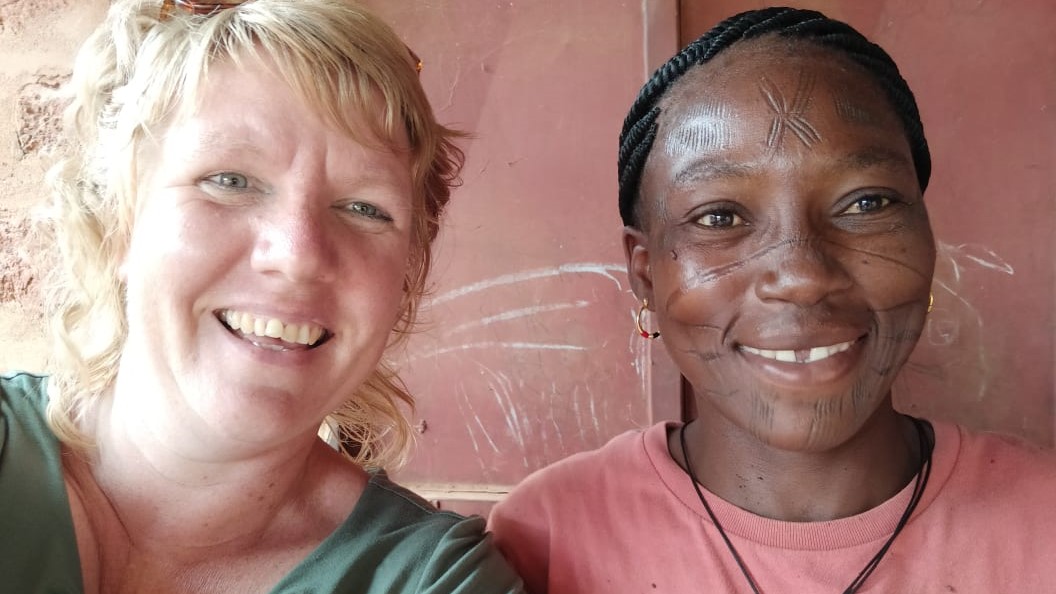 When she was in her early twenties, Trui founded her first non-profit organisation. The goal: to tell a positive story through good-quality products. Exactly what she is still doing today with Chéry Faso. "Back then I sold jewellery and utensils from Africa. But when I became a single mum, I decided to take a more professional approach. I filled the lonely moments at home with my passion for Africa and I was able to shine even more light on the story of strong African mothers. I  went looking for a product that everyone can use and keep using. It didn't take long to arrive at shea butter."
Shea: the gold of the African woman
In West Africa they call shea 'the gold of the women'. Certainly in Burkina Faso, where Trui gets her shea butter, it is a real commodity. "Women collect the shea nuts together and process them into butter that they use for all kinds of things. For body care, of course, but also for cooking. A Burkinabe woman needs to be able to make shea butter. It's even one of the initiation rituals when girls become women."
It is also generally accepted in Africa that women themselves manage the proceeds of their shea production. This is the tradition. And it's different compared to most other crops: even when women do most of the work, the income goes to the men.
Looking for partners
Trui Rachels: "Shea fitted in perfectly with the story I wanted to promote. I started a search for female producers to work with. I then discovered that Burkina Faso was the perfect country for this. It is the largest exporter of shea and always produces really high quality."
"Many evenings of research and dozens of phone calls later, I was in Ouagadougou, the capital. I visited a relatively large company with a rather dominant female director. This wasn't what I had in mind: the producers doing the day-to-day work still lived in poverty because too much of the profit was going to intermediaries."
Cooperative gets off to a flying start with its own processing centre
About twelve years ago, Trui finally met a Burkinabe mayor who had previously lived in Brussels. She went with him to Boni, a village too far from the major cities to benefit from the economic activity there. Both the women who made shea butter there and the men of the village immediately showed a strong willingness to work together.
"I talked to them about the opportunities they saw. The leader of the village soon proposed building a shea nut processing centre in the heart of the village. My non-profit organisation was able to finance this with a grant from the City of Ghent. Chéry Faso had taken its first step! Thanks to those 4,000 euros, a year later we had a small building and a crusher. And above all: the women themselves were completely on board. The project really felt like it belonged to them."
And rightly so: not long after, the women organised themselves into an official cooperative. "This gives their organisation significant strength. You see a lot of 'groupements de femmes' in Burkina Faso, but if they are not well organised, they are often quick to fall apart. The mayor was aware of this too, so he supported the cooperative. For me it was really nice to also have someone on site who knew the opportunities in that area."
Growing pains and illiteracy
In the early years, Chéry Faso evolved rapidly. However, the challenge remains that most of the women in the cooperative are uneducated and often illiterate. "They work very hard, they are strong and proud. But with everything they have going on in their daily lives, it's not easy to think long-term. Their primary concerns are a successful harvest, sufficient water and safety for their families. As a result, they don't know what options they have and how they could benefit from them. There is no one in the village with the management skills to elevate the cooperative in that area," says Trui.
Chéry Faso received more and more orders, but Boni's women weren't able to keep up with the demand for shea butter. They couldn't get it organised. Since then, Trui has agreed a fixed production quantity with them, something they can commit to. "It's a case of aligning expectations on both sides," she says.
Trui has a good relationship with an intermediary in Burkina Faso who, among other things, arranges the complicated transport from Boni to Belgium. "I have complete faith in him, but the women there don't trust him one hundred percent. Because he is a man, belongs to a different ethnicity and has a different religion. This complicates the cooperation between them, and I can only intervene to a certain extent."
Need for more producers
Because it wasn't possible to grow 'her' cooperative in Boni, Trui started looking for additional partners. Other cooperatives from the same region that also believe in fair working conditions. One of these is large enough to afford a fair trade and organic label and is therefore regularly checked by external bodies. Trui has the other one monitored herself by experienced people from the area.
"At first I thought it was a shame we couldn't involve more women from other villages in our cooperative. But the work we do with other cooperatives means we can now also support other worthwhile projects. So the end result is positive."
Direct trade with Burkina Faso: difficult, but has a huge impact
In addition to the global coronavirus crisis, the increasingly unsafe situation in Burkina Faso is also affecting Trui. Although you don't hear much about it in the Belgian press, growing terrorist violence is increasing the risks.
"Importing directly from Burkina Faso is no longer possible because there are almost no flights from Brussels to Ouagadougou anymore. As a result, our shea butter first has to travel overland for days to the airport in Ghana. Corona also means all kinds of extra administration and costs to be able to cross the border. With the right contacts over there, this is still possible, but only just. It's getting harder, and I can't ask them to take even greater risks."
Direct impact
Trui has to constantly deliberate: what is needed to run Chéry Faso and what is feasible for its partners in Africa? Yet she maintains that direct trade – the most direct form of fair trade – is the right path for her non-profit organisation.
"Direct trade means direct impact. In Boni, the impact of our work is clear to see. It is 'only' about 36 women, which doesn't seem a lot, but life has become much better for those 36 families. This is because they manage everything themselves: from the harvest to the sale of ready-to-use shea butter. They also even decide on the price of their butter themselves; I don't negotiate with them on that."
To ensure that impact, Trui makes the conscious choice to keep Chéry Faso a non-profit organisation. Her day job is teaching non-Dutch speaking adults at Ligo, a centre for basic education. "Because my income doesn't depend on Chéry Faso, it is enough for the sales to just break even. I'm also able to rely on some dedicated volunteers. They help me with the practical side of things, as well as telling the story."
Pure sheabutter in every town
"When the shea arrives from Burkina Faso, we have it analysed by the qualified chemist at Aardend Werk. It always turns out to be of very good quality: a high content of unsaturated fatty acids and vitamins A, E and F indicates very pure, unrefined shea butter. The producers have taken training courses in how to make larger quantities. And in a hygienic way that helps with the storage of the butter," says Trui. After the checks, the pure shea butter is put into smaller jars in a professionally equipped cosmetics lab, and is sometimes then mixed with other essential oils or processed into nourishing soap.
Trui and her volunteers sell Chéry Faso products through an online store, at markets and fairs. But also increasingly in shops aimed at customers who value sustainability. "I'm looking for a few distribution points in every town. And I'm quite selective about that. I look at the vision of the people behind the shop, and the look and feel of the shop itself. I want to work with  people I can trust and in turn who trust us. For example, our products mainly end up in fair trade shops, zero-waste shops and cooperative businesses."
From new baby gifts to workshops
In the meantime, Chéry Faso continues to grow. And in different directions: in addition to shea butter, the brand now also offers natural oils, such as baobab, desert dates, argan … Or how about small jars of shea butter as an alternative to the traditional sweets given out in Belgium to celebrate a new baby?
In her professional lab, Trui also gives workshops where you can learn how to make body butter yourself, and she has set up an easy way to donate to African mothers and their children.
Mutual respect and independent management
"My ultimate goal has always been the same over the years: I want to mean something to those women in West Africa. They are often underestimated, but they have so much to offer. Life there is so different compared to here, so we can't judge them from our privileged position. We can have nothing but respect for them."
According to Trui, this mutual respect is the key to the success of Chéry Faso. And the reason why this relatively small project has been running successfully for more than a decade. "In the early years I tended to take the lead, and the women of Boni would follow that lead. I consciously stopped doing that. I have learned to go along with their approach. It is their raw material, their tradition, their product. We each have our area of responsibility. They manage their organisation and their finances in their own way. And I'm proud that they don't need me for that anymore."
Want to know more about Chéry Faso's projects and products? Check out the website!
Texte: Griet Rebry
Photos: Trui Rachels