Deforestation is not the result of market demand for timber alone. Many farm commodities and products traded daily on global markets are contributing to deforestation in a less obvious way. As the demand for these products increases, new arable land is required for soy, palm oil, cocoa, coffee, and other commodity crops. There is little action to resolve this issue as public authorities remain passive and private companies are lured by profit, but things are finally starting to move…
In a report[1] published in 2019, WWF Belgium defines "deforestation" as "the production of agricultural and forest commodities requiring land exploitation and therefore possibly contributing to the destruction of natural tree ecosystems, such as forests and wooded savannahs." "Imported deforestation" in particular refers to the deforestation associated with an imported good, commodity or service. By importing these products that may have been contributing to deforestation in other parts of the world, consumer countries are also contributing to deforestation."
WWF, an environmental NGO, estimates that since 1990, more than 129 million hectares of forest have disappeared, mainly in the tropics. This is twice the size of France… and more than forty times the size of Belgium. And this deforestation puts the livelihoods of 1.6 billion people at risk, not to mention the collapse of wildlife populations, increased greenhouse gas emissions, etc.
"Globally, agriculture is estimated to be responsible for nearly 80% of deforestation in the tropics. This is the main driver," explains Béatrice Wedeux, Forest Policy Officer for WWF Belgium, but she adds that, "in absolute terms, livestock breeding is the industry that requires the most new land, especially in South America."
In addition, deforestation is often illegal. A report[2] published in 2015 by the NGO Fern states that this was the case for at least 80% of oil palm and timber exploitations in Indonesia. In the Brazilian Amazon, 90% of deforestation linked to soybean cultivation and livestock breeding, two sectors that are responsible for almost all deforestation there, was illegal, according to studies cited by the organization.
And the list could grow as violations have been found in most countries where large areas of tropical forests are deforested.
The NGO also deplores the fact that, in addition to the environmental impact, these illegal practices – entire projects as well as abuse of legitimately obtained rights – lead to corruption, violence, and human rights violations.
The EU, a major contributor to illegal deforestation 
Since its creation in 1995, Fern has monitored the European Union in particular. In its report, the organization further states that the EU is one of the largest importers of products contributing to illegal deforestation. In 2012, EU Member States reportedly imported about 6 billion euros (a quarter of all their imports) worth of soybeans, beef, leather, and palm oil from crops or farms constructed on illegally deforested land in tropical regions. It should be noted that these figures do not take into account all the commodities imported by the Union: Cocoa, wood, and leather, among others, are not included.
Every two minutes between 2000 and 2012, a soccer pitch-sized area of land was illegally cleared to export these raw materials to the European Union.
According to Fern, previous studies commissioned by the EU had already highlighted the fact that, between 1990 and 2008, it was ahead of North America and China, the world's largest importer responsible for the "embodied deforestation" for farm and forest products. During this period, nine million hectares of tropical forests, an area close to that of Portugal, were reportedly deforested to export products to EU countries. Fern believes that these estimates fall short of the actual numbers.
And while China has since matched the European Union in terms of the overall impact of its imports, the EU remains far ahead when these figures are viewed in relation to the number of inhabitants.
The Netherlands, the United Kingdom, Germany, Italy, and France are the main buyers of commodities linked to illegal deforestation. Together, these countries are responsible for two-thirds of the purchase value in the European Union, and three quarters of the forest areas destroyed.
"The biggest impact of deforestation caused by Europe relates to oilseeds: Soybeans and palm oil account for half the impact," Béatrice Wedeux from the WWF confirms. "When it comes to soybeans, it is mainly South America that is affected: Brazil, Argentina, and increasingly Paraguay. As for palm oil, the impact is felt in Indonesia and Malaysia."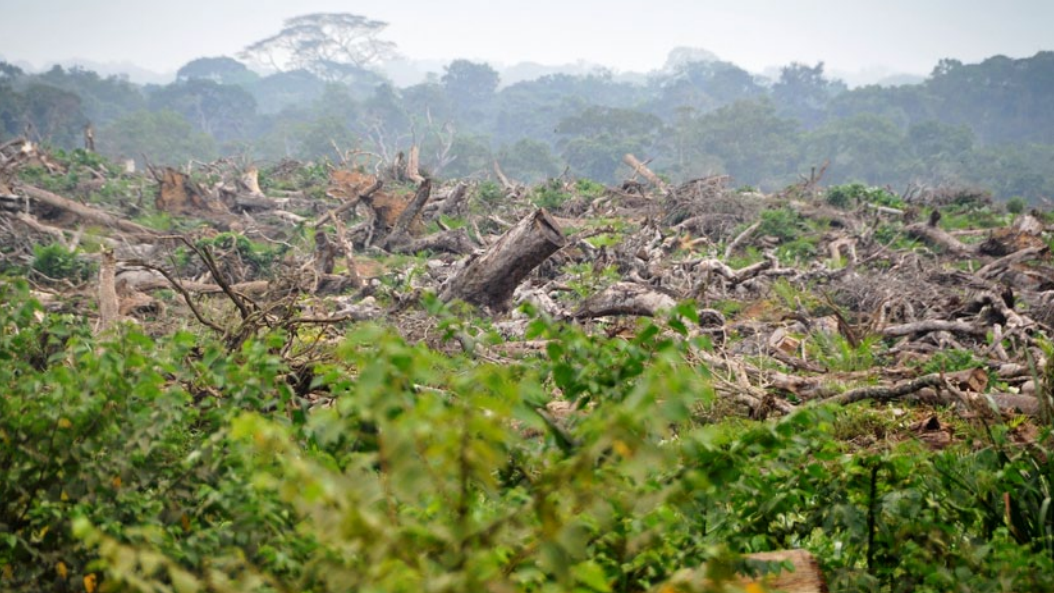 Belgium needs three times its surface area for seven products
"Belgium can of course not be compared to the European heavyweights in absolute terms. However, many comparative studies often indicate that Belgium is one of the countries that has one of the biggest impacts in terms of per capita consumption in Europe," Wedeux continues. "We are big importers of tropical wood, we eat a lot of meat, which is often based on soy fodder, we consume a lot of products that contain palm oil, etc. The fact that Belgium has a very open economy, importing and processing many farm products before exporting them again, also plays a role."
In its 2019 report, the WWF assessed Belgium's importation footprint and its impact on deforestation and forest degradation for seven commodities. These agricultural crops require large areas for their production and in a number of countries this means a high risk of deforestation.
The report showed that, to produce the seven commodities studied by the NGO, each year an area of about 10.4 million hectares is needed, i.e. more than three times the size of Belgium. The seven commodities ranked in order of surface area required are: Wood and paper (4.6 million hectares of forests and plantations), soybeans (2 million hectares), cocoa (1.6 million hectares), beef and leather (1.1 million hectares), palm oil (0.6 million hectares), coffee (0.3 million hectares), and natural rubber (0.2 million hectares). And this footprint is growing. In 2016 and 2017, the last two years studied by the report, it increased further, with wood and paper, cocoa, and soybeans as the main drivers.
It is important to note that two-thirds of these imported commodities are subsequently exported again in raw or processed form. But the footprint of Belgian consumption itself still exceeds the total area of the country.
The WWF report also revealed that 40% of all the affected land is in countries with a high or very high risk of deforestation. The imports that have the biggest impact are soybeans (1.3 million hectares), cocoa (1 million hectares), wood and paper (0.8 million hectares), and palm oil (0.5 million hectares). Given the size of the Belgian footprint in the at-risk regions, it is highly likely that Belgian imports are contributing to deforestation.
«Not yet a priority»
Since it could not determine the precise regions of origin of Belgian imports, the WWF found it impossible to know exactly which regions are impacted by Belgium's commercial activities.
"The problem is that there is little data on the sustainability criteria of products that are imported," explains Béatrice Wedeux. "This knowledge gap is highlighted by our report. For example, at present, it is not possible to say how much of the palm oil consumed in Belgium comes from exploitation that required deforestation."
Nevertheless, the countries of origin of these commodities are generally known to be Brazil, Côte d'Ivoire, Argentina or Indonesia. In these regions, the destruction of forests and natural savannahs for agriculture or logging is widely documented and often associated with corruption, land grabbing, non-compliance with indigenous peoples' rights, and violations of workers' rights, the NGO confirms.
Béatrice Wedeux regrets that there is currently little information available to the consumer. "Of course, there are labels, which can be indicative, but we must have a good understanding of them because there are differences and not all refer to the same qualitative criteria regarding deforestation, biodiversity, etc. In general, the data is quite patchy and in our view certification used by the industry lacks credibility." The WWF expert concludes that sectors and governments have not yet made these issues a priority.
Due diligence and human rights
There are very few regulations on imported deforestation, either at the Belgian or European level. "The only one in force regulates the importation of wood and derived products and this is a European Union regulation," says Salima Kempenaer, who specializes in biodiversity in her role as International Relations Officer at Belgium's Federal Public Service for the environment. "What exists for wood is the concept of due diligence, which requires companies to analyze for themselves the risks associated with their activities: Supply chains, identification of risks, measures to minimize them, etc."
"At the moment, there are only non-binding initiatives on corporate social and environmental responsibility," confirms Liesbeth Loddewykx from the Belgian Development Cooperation (Federal Public Service Foreign Affairs). "These have led to a positive drive to respect due diligence measures and promote dialogue between the various stakeholders involved. However, these voluntary initiatives also have their limitations: If they do not receive sufficient support, they are unlikely to create a level playing field between companies that opt for voluntary measures and those that do not. The voluntary nature, combined with the sectoral and often national approach, means that their impact is generally limited."
But things are finally starting to change for imported deforestation in general. And the European Union has chosen to take a due diligence approach to move the topic forward. In April 2020, EU Commissioner for Justice, Didier Reynders, committed to a legislative initiative on mandatory human rights and environmental due diligence obligations for EU companies. This approach will be part of the famous European Green Deal and the "Biodiversity 2030" strategy, presented on May 20, 2020.
This possible new legislation, which could come into force in the coming years, would identify, prevent, mitigate, and report on human rights violations and environmental damage related to the activities of companies or their subsidiaries throughout the supply chain. As a result, companies would be required to carry out checks on their supply chains and to assess the risks that their activities entail.
Earlier this year, the European Parliament also voted on a resolution in favor of regulation through due diligence to end imported deforestation. Contrary to the Commission's announcement, the EP explicitly targets imported deforestation and makes due diligence its weapon of choice in this fight.
"So far, we, the NGOs, have often worked on the basis of voluntary initiatives," explains Béatrice Wedeux. "Progress has been made, but we believe that it is still too limited and that we have not been able to sufficiently transform the market and sectors. That is why we have been pushing for legislation for several years now."
On the other hand, the European Union does not seem to want to limit itself to simply setting a legal framework. It is also considering the implementation of complementary non-regulatory measures. "There is a desire for a more cooperative approach, financial support, technical support… to help countries transition to production methods that do not require deforestation," says WWF Belgium's expert.
"Until now, we've mostly seen announcements, but there's a real willingness to continue along the same line," she says. "So we are very positive and satisfied. This should enable the establishment of a common framework for all EU countries, all companies, and therefore instill a general dynamic in Europe."
"European initiatives are promising because they are not limited to imported deforestation. They address the issue more broadly through social and environmental due diligence," estimates  Liesbeth Loddewykx of the Belgian Development Cooperation.
"It's an international approach and a way to create a level playing field on a larger scale."
"In the long term, binding legislation will have a positive impact on consumers and businesses, both in Europe and in producing countries," she continues. "In the short term, however, support measures should be considered to allow compliance with the new legislation."
«Companies with the greatest risk make te biggest efforts»
According to a study[1] published by the European Parliament last February, only one in three companies is currently taking due diligence measures. However, about 70% of European companies are now in favor of mandatory due diligence standards.
"In these uncertain and turbulent economic times, such legislation would help ensure strong and sustainable supply chains and help companies solve their environmental, social, and governance problems related to the Covid-19 crisis," predicts Rachel Owens, head of EU Advocacy for Global Witness[1]. "It would also ensure that these responses do not create additional risks for people, the planet, and society."
"The idea, at least for the moment, would be that these future regulations apply to companies in a binding and above all non-discriminatory way in order to create a level playing field," notes Salima Kempenaer. "Some companies have advanced a great deal in the matter of deforestation, and work a lot on the issue; others much less. But regardless of the sector, it is generally the companies that are at the greatest reputational risk that make the greatest efforts, that is, those that have a public image and products on the shelf. Intermediary parties are often much less affected by public criticism."
"In addition, companies that invest heavily in this are unable to measure significant impacts because the rest of the sector does not follow," adds Kempenaer.
She also points out that the lack of expertise or resources within companies should not be underestimated: "Many of them often simply don't know where to start."
"There is still a lot of questions about how to implement deforestation commitments. But the legislative initiative should provide some answers in terms of traceability, transparency, risk analysis, and how to operationalize all of this. Such systems, which take into account the ecological and social impacts of products on the European market, already exist in other sectors, such as timber or conflict minerals. We therefore believe that these systems are quite transferable to the issue of deforestation."
A Belgian «strategy» under development
The European Commission's approach of a broader scope than deforestation alone is somewhat in line with current thinking in Belgium, explains Kempenaer: "It is impossible to solve the problem of deforestation without talking about socio-economic development in producing countries and by ignoring a whole other part of the problem, including labor laws, child labor, and human rights in general. You can't solve imported deforestation in isolation; it's impossible."
In Belgium, a Business and Human Rights National Action Plan was set up in 2017, based on the UN's "Guiding Principles" on these same topics (see inset). It aims, among other things, to contribute to Belgium's efforts to achieve the 2030 Agenda for Sustainable Development, and in particular SDG  8: "Promote sustained, inclusive and sustainable economic growth, full and productive employment and decent work for all," and SDG 12: "Establish sustainable consumption and production patterns."
"This Plan is a series of actions aimed at supporting companies to better take account of human rights in their activities," Salima Kempenaer sums up. "And when we talk about human rights, we inevitably touch on the environment. But this is not directly linked to deforestation."
However, Belgium's Federal Public Service for the environment believes that there are lessons to be learned from this Plan. "Currently, Belgian thinking on a strategy for imported deforestation is covered by the same working group as the one that produced the National Action Plan, with experts in these specific topics. But the core of the group will be the same because the traceability issues related to supply chains are the same."
"A document is being developed and will ultimately include a series of recommendations to the government," Kempenaer adds. "At this stage, all regulatory and non-regulatory arrangements are being considered. So there could be a binding framework. Due diligence measures, adjusted to the Belgian context, are also being considered. At the same time, this 'strategy' will include a component on voluntary partnerships that could be put in place with stakeholders who wish to go the extra mile." The document is expected by the end of the year, but its adoption will be in the hands of a future government.
Beyond Chocolate
In 2016, the Belgian public sector, civil society organizations, and companies also signed the Belgian SDG Charter for International Development. Its aim is to build bridges between international development, the private sector, and civil society. With this Charter, the signatories expressed their willingness to fully incorporate the UN Sustainable Development Goals (SDGs) into their core economic activity, and to take an active role in partnerships. The SDGs aim to eradicate extreme poverty, protect the planet, and promote human development by 2030.
"The Belgian SDG Charter aims to raise awareness of the ambitious sustainable development agenda among the Belgian private sector. This is essential because the public service, NGOs, and civil society cannot achieve the Sustainable Development Goals on their own. The private sector must play its part too. The fact that today more than 50 companies have already signed the Charter is an important step," declared Alexander De Croo[1] in response to the signing.
To date, the main achievement of this Charter is the "Beyond Chocolate" partnership. It brings together most of the players in the Belgian chocolate industry to fight, among other things, child labor on cocoa plantations, and deforestation. It also aims to make Belgian chocolate sustainable by 2025 and ensure that, by 2030, cocoa producers receive a minimum living income.
Partners include the Royal Belgian Association of Chocolate, Pralines, Biscuit and Confectionery, major supermarkets, universities, the Trade for Development Centre of Enabel, the Belgian development agency, NGOs, social impact investors, trade unions, labels, and, of course, companies.
With an annual turnover of nearly 5 billion euros, the Belgian chocolate industry is one of the world's biggest players. Belgium is the world's second largest chocolate exporter, with nearly 600,000 tonnes per year, and Europe's third largest importer of cocoa beans, with more than 300,000 tonnes annually. The sector counts about 275,000 small producers.
"On a European level, cocoa-related deforestation is on a different scale than the deforestation caused by palm oil or soybeans, but on a Belgian level it is an important factor," confirms Béatrice Wedeux.
Beyond Food
Beyond Chocolate is on the way to becoming a great success and it could also pave the way for other sectors. "Going forward, we can learn from this experience and apply a similar approach to other sectors that are considered a priority. We know which commodities are most responsible for imported deforestation: Palm oil, soybeans, imported beef, coffee, etc. The strategy to do so is being drafted at the Belgian level and has a working title of 'Beyond Food'. Discussions on this issue are being held within the Corporate Social Responsibility Working Group of the Interdepartmental Commission for Sustainable Development. But again, this is very much work in progress."
It therefore seems that we are approaching a key moment in the sad history of deforestation. Regulations are taking shape while partnerships are emerging and proving their relevance. "Personally, I think this is the best possible combination: A regulatory framework that ensures fair conditions between competing companies, and partnerships for those who wish to take it a step further," explains Salima Kempenaer.
A reason to finally be optimistic after decades of intensive deforestation? "In West Africa, where deforestation has been aggravated by climate change, we see that the lack of forests has a strong impact on rainfall patterns," says Béatrice Wedeux. "And in the Amazon basin, where there is currently a certain climate balance, we are approaching 20% of deforested area compared to the pre-industrial period. However, scientists estimate that the tipping point in the Amazon, the point where the forest has been so degraded that it will cause a switch to another system, is between 20 and 25%. So we are very close. It is maybe only a few years away, and its impact on agricultural yields is incalculable."
"It is clearly too early to be optimistic, even though more and more governmental and private parties are taking responsibility for deforestation," notes WWF Belgium's Forest Policy Officer. "But I hope that we are entering a decade of concrete actions to stop deforestation and restore forests that have been degraded," she concludes.
Deforestation and zoonotic diseases
While we cannot be sure of the exact origin of the new coronavirus, which has already infected millions of people and killed hundreds of thousands in a matter of months, there is every reason to believe that the virus is of animal origin. In this case, there is a good chance that it came from the bat, a known source of coronaviruses.
Like SARS, MERS, Ebola and HIV, more and more viruses appear to have spread from animal populations to the human species in recent decades. And scientists[1] fear that the diseases or infections they cause, zoonotic diseases, will multiply even faster in the future, as the main driver of this evolution is thought to be the increase in contact between humans and wildlife.
One of the reasons for such increased contact would be deforestation. By penetrating deeper and deeper into wild areas, humans are putting more and more pressure on wildlife, increasing the likelihood that inter-species infections occur. While the hypothesis is not yet unanimously accepted in the scientific community, it is backed by recent analysis published in the specialist Frontiers in Medicine[2] journal by experts from the Centers for Disease Control and Prevention in the United States. They note that as natural habitats shrink, wild animals are concentrated in small areas or move to inhabited areas, which results in zoonotic diseases. "Humanity must change the way it treats nature, otherwise even more deadly pandemics than Covid-19 will occur," they warn.
The UN Guiding Principles on Business and Human Rights[3]
On June 17, 2011, the UN Human Rights Council unanimously adopted the Guiding Principles on Business and Human Rights, considered a landmark step for the protection of human rights and the elaboration of the concept of corporate social responsibility (CSR).
These 31 Guiding Principles explain the scope of the concept of "human rights" and determine the expected roles of states and businesses. They are organized around three pillars – protect, respect, remedy – and introduce, among other things, the concept of the corporate responsibility for its supply chain as a whole, as well as the concept of "Human Rights Due Diligence" (HRDD).
The main meaning of the Guiding Principles lies in affirming the central role of the state in upholding and protecting human rights relating to companies, the priority given to the risk approach, and the extension of responsibility to the entire value chain.
While the Guiding Principles are certainly the most successful version to date of non-binding ways to help protect and enforce human rights, they are not free from criticism. In particular, the fact that their scope remains limited in terms of cross-border abuses and remedy mechanisms and, above all, that their application is voluntary.
Photo: Deforestation in the State of Mato Grosso, centre-West in Brasil © AFP PHOTO / Mato Grosso State Communication Department / Mayke TOSCANO
Photo 1 : soja © Adriano Gambarini / WWF-Brazil
Photo 2 : Forests destroyed to make room for oil palm trees in RDC © Indra van Gisbergen
Photo 3 : Imported deforestation © WWF-Belgique
Photo 4 : Illegal import of timber © Flickr, CIFOR
Photo 5 :
Plantation worker collects oil palm fruit in Malaysia

© Mohd Razz Rozzfaisal
Photo 6 : SDG © ONU
Photo 7 : Cocoa producer in Côte d'Ivoire © Fairtrade Belgium