Emotion Planet was born from a trip between friends in Morocco, Jean-François Delvaulx's love at first sight for Ecuador and his visceral attachment to Africa. Today, it offers 68 "human-sized" trips to 31 destinations on four continents.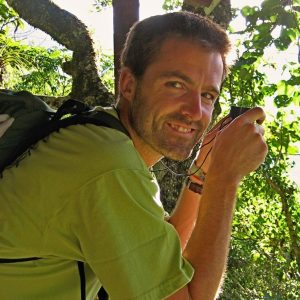 An architect by training, Jean-François Delvaulx left at the end of his studies, after a year of internship in Quebec, with seven fellow students heading south. Their goal ? Browse Morocco, cross the Sahara, join Mali and resell the two cars that transport them. Along the way, they meet other backpackers and sympathize.
Jean-François Delvaulx is the founder of Emotion Planet. This first experience at the end of 2000 made him want to go backpack, alone this time. In 2002, he embarked for South America, with the intention of touring the continent. But arrived in Ecuador, he fell in love with the country. He stays there for six months. "I started by organizing trips for my family, for my friends and then, little by little, for strangers," recalls Jean-François. "Like traveling, meeting and organizing, that's all I love, I made it my job. "
As soon as he returned to Belgium, he returned to Ecuador, where he spent three years finally. In Quito, he sets up an all-official agency: Emotion Planet. "I was receptive, as they say in tourist jargon. But having a foot in Belgium, a foot in Ecuador, has become difficult. I closed Quito and created Emotion Planet in Brussels. Since 2015, four freelancers from all walks of life, passionate about travel and meetings, have joined Jean-François and embarked on the adventure.
The guide remains behind
"The most important thing at Emotion Planet is the human dimension, which we find through transport, activities, accommodation and meals. The idea is that at the end of the trip, the traveler has a global, personal and in-depth knowledge of the country visited. Know the people, nature and culture at the same time. For that, you have to see less but more in depth. On a fifteen-day circuit, we try to limit ourselves to a maximum of seven stages. "
"We take our time. We respect everyone's rhythm. The guide remains behind the traveler. It offers activities, but does not impose them. He is there for advice and logistics above all, and more if the travelers wish. Jean-François Delvaux then begins to compare the child who learns to walk: "If the parents are there all the time telling him what to do, it will not work. The child will learn faster and go further if the parents just stand back, ready to intervene. You learn what you experience yourself! "
Different formulas are offered by the agency: the basic formula, "Discovery", focused on a global, deep and personal experience; the themed trip, which adds a red thread (essential oils, the desert, etc.) to the basic formula; "At the whim of the wind", which consists of an "unorganized organized trip", where improvisation (always with a guide) is required; the "Immersion" formula, where you stay a few days with the locals; and the "Free" formula, without guide, with just a precise road book.
The good energy of Africa
Who is this type of trip for? "To everyone. There is always a formula that fits. We mainly have three types of clients: families with children, retired couples and singles, especially women. Yes, we have a lot of requests from single travelers and therefore offer classified ads for co-travelers on our site to guarantee departure. Departures are indeed guaranteed only from two or four people, depending on the destinations, the size of the group being limited to six to twelve travelers (six for Mongolia, for example, question of space in the yurt).
In terms of destinations, there is no shortage of choices: 10 in Africa and the Middle East, 5 in America, 10 in Asia and 6 in Europe.
Africa is well represented in this list. And there is a reason: "I spent my entire childhood in the Congo until almost six years of age. I have few conscious memories, but I feel that there is a lot in me. I love Africa, its land, its smell, its people … It brings me energy and I need to go back from time to time, "says the founder of Emotion Planet.
An official operating license
Jean-François Delvaulx has not yet had the time to visit certain countries himself, "but I personally know all my partners," he said. Fairly paid partners, of course, since Emotion Planet subscribes to the principles of fair trade. The agency is also a member of the Altervoyages platform, the Belgian fair travel platform. Small structures and public transport are favored. Tours and stays are designed to invite us to reflect on our consumption habits.
The small size of the groups and sustainable tourism do not prevent professionalism. Emotion Planet has had a tourist agency license since 2011 as well as all of its partners, something rather rare in a market dominated by the association. "This allows our customers to benefit from the guarantee fund in the event of a glitch, for example in the event of bankruptcy," explains the founder of Emotion Planet. "I also collaborate with certain Belgian travel agencies, which I commission in the event of the sale of one of our tours. I can do it because, precisely, I have the license. In reality, I'm more of a tour operator than an agency. "
Internet competition
Its biggest competition is not the voluntary sector, but the internet. "People organize their own trip. They go live. We add an added value but, until they have experienced it, travelers cannot understand it. It also happens that people ask me for a quote and then, having received it, tell me that they have found it elsewhere. This is why I hardly do any more tailor-made. I adapt what exists according to requests from travelers. "
Despite everything, Jean-François Delvaulx believes in the future of alternative tourism: "I feel that there is a demand. People want more authenticity and people. There will be more and more alternative trips, and for all tastes. However, this will remain a niche market because real authentic trips are not profitable enough for large operators."
In 2019, de Jean-François embarked on a "slow journey". In fact, he left on foot a few months ago to reach the south of Portugal. There is no doubt that this trip will undoubtedly allow Emotion Planet to take a new direction even more in line with its values.
With its 31 destinations, the agency has enough to meet demand. And his newly acquired Travel Truck (mobile office, stand and housing) allows him to travel around Wallonia and the north of France to meet his travelers.
© Emotion Planet
Emotion Planet
info@emotionplanet.com
(+32) 0473 66 84 66
Skype : emotionplanet
Facebook : Emotion Planet