In recent years, many fair and sustainable trade cooperatives and small businesses from partner countries of the Belgian Development Cooperation received support of the Trade for Development Centre. Either in the form of financial support or via coaching in marketing or finance and business management, or a combination of the two. The goal is always the same, i.e. improve the market opportunities for small producers. Some of these cooperatives have developed business relations with businesses operating in Belgium. An overview of these projects takes us to Burundi, Vietnam, Burkina Faso, Peru, Côte d'Ivoire and South Africa.
Burundi: COCOCA
'Horamama' is a song that women sing on their way to the field. The word means 'courage' or 'power', but today, Horamama is also a coffee brand of COCOCA, a union of 39 cooperatives from across the country. With the support of several donors and major clients, COCOCA has transformed itself into a solid actor on Burundi's coffee market in recent years.
Between 2014 and 2017, the Trade for Development Centre (TDC) financed the management support of the Union and some of its cooperatives and helped them improve the quality of their arabica coffee. Some 2,500 farmers were trained in sustainable agricultural practices. In 2014, COCOCA exported 4 Fairtrade coffee containers sourced from three certified cooperatives. In 2017, there were no less than 17 Fairtradecertified cooperatives and 21 containers were sold at Fairtrade conditions. In that period the volume of coffee sold increased from 350 to 12,000 tonnes, i.e. approximately 15% of Burundi's coffee production.
Marketing coaching
ICOCOCA successfully applied for the TDC marketing coaching programme in 2016. A TDC coach visited Burundi in 2017, 2018 and 2019 for four one-week sessions.
Since COCOCA has cooperatives throughout the country and the quality of its production has made strong progress in recent years, the organisation can supply large volumes of various kinds of high-quality coffees and premium (or specialty) coffees. In the second session, this reflection exercise led to a marketing plan aiming to export at least 100 containers following the 2018-2019 harvest, including 60 containers of primarily Fairtrade- and UTZ-certified coffee, specialty coffee or 'Café des Femmes' (specifically produced by women members).
Twelve containers
One of the existing clients was Colruyt. Colruyt sources all of its Burundese beans for its blends from COCOCA, which amounts to 230 tonnes of beans or twelve full containers per year. For Colruyt this is a nice example of a 'value chain project', which aims to strengthen farmers' organisations through long-term collaboration to make the producer-toconsumer chain sustainable. Colruyt opted for a fixed price with the farmers in 2017. This way, revenues are guaranteed and beans do not have to be sold below cost price. They are also given a specific premium per tonne of coffee beans, regardless of market price fluctuations. At the end of 2015, a COCOCA delegation visited a coffee roaster in Halle (Belgium) and at the beginning of 2017 farmers from Burundi visited their Colombian peers, which led to the creation of a Colombia-Burundi coffee blend for Spar.
Furthermore, the Collibri Foundation, a business fund of Colruyt, which primarily targets education projects, has been operating in Burundi for many years. Since 2016, working with two COCOCA coffee cooperatives, 100 youngsters from coffee farm communities receive help to find work. .
Dry mill
The construction and launch of their own coffee processing plant in 2016 constituted a major step for COCOCA. In the past, the cooperative had to rely on third parties to process and stock the coffee beans. Now, it fully controls the whole value chain from the coffee berries to the green coffee that is ready for export. Both the quality control and the traceability of the coffee will improve. Horamama is also the name given to Burundi's first production site with its own dry mill. Pre-financing was ensured by the Belgian social impact investment fund Kampani.
2019-20 will be a key season for Cococa and Horamama, which must prove to their international clients that they not only produce quality coffee but can also process and deliver it on time. The third and fourth marketing coaching sessions of the Trade for Development Centre were therefore focused on improving the customer approach, the traceability (to meet customer demand it is often important to trace the origin of the lots up to the individual producer), the roasting projects and the local sales development business plan.
EGO
Another Belgian trade partner of COCOCA is Efico. This large trader of green unroasted coffee focuses on sustainability and good relations with coffee cooperatives. In 1987, the company was the first to be awarded the Fairtrade label in Belgium. This past decade, their share of sustainable certified coffee (organic, Rainforest Alliance, Fairtrade and UTZ) rose from 13 to 53%. In 2018, the company purchased 85% directly from cooperatives or local exporters.
Efico also has a corporate fund, the Efico Foundation, with projects promoting the transfer of know-how, sustainable incomes for coffee farmers and climate change adaptation and mitigation in coffee-producing regions. One of the projects of the Efico Foundation is EGO. It started in 2018 with COCOCA and was co-financed by the DGD (the Belgian Development Cooperation). Two new 'action learning centres' become places where environment-friendly cultivation practices are demonstrated to farmers. That way, more sustainable certifications can be obtained. Each region builds a coffee terroir profile, enabling COCOCA to differentiate coffee sales.
The Sustainable Development Goals (SDGs) of the United Nations, and particularly SDG 12 on responsible production and consumption, provide key guidance to us," emphasises Katrien Delaet, Head of Sustainability of Efico. "The projects of our Foundation promote a multi-actor approach within the value chain. Efico's added value lies in a stable, long-term business relation. It is a tradition of the company: Giving farmers opportunities to improve the quality and to grow, so they can develop their organisation autonomously."
Hope
COCOCA is definitely not alone. In recent years, the TDC has supported coffee cooperatives In Uganda, Rwanda, Burundi, Tanzania and the DR Congo which now export coffee to many Belgian businesses such as Efico, Supremo, Coffee team, 32aCup, RIVS, Briz and Oxfam-Wereldwinkels. "The export of coffee created jobs and generated revenue, and consequently brought hope. The best evidence? Former soldiers and rebels have handed in their weapons in exchange for coffee trees," says Joachim Mungana, president of SOPACDI, a coffee cooperative in South Kivu.
Vietnam: NAPP
Even though cocoa was already introduced to Vietnam by the French in the 19th century, cocoa production remained marginal for more than a century. Not until 2000, a government plan was launched to promote the crop in several regions. Vietnam is still a small player on the cocoa market but it has potential.
The NAPP (Network of Asia and Pacific Producers), the umbrella organisation of Fairtrade-certified producer groups in Asia, also believes in the potential of Fairtrade cocoa. In the central highlands of the Vietnamese provinces Dak Lak and Dak Nong cocoa employs vulnerable farmer families, some of which belong to ethnic minorities. The NAPP strategy consists in bringing farmers together in cooperatives, to train them in sustainable production methods and to put them on the path to certification.
450 families
The government plays a key role in Vietnam's economy. That is why the NAPP was very pleased that the Vietnam Cooperative Alliance was interested in becoming a partner of the TDC-financed project. A first step was to identify cocoa cooperatives with potential.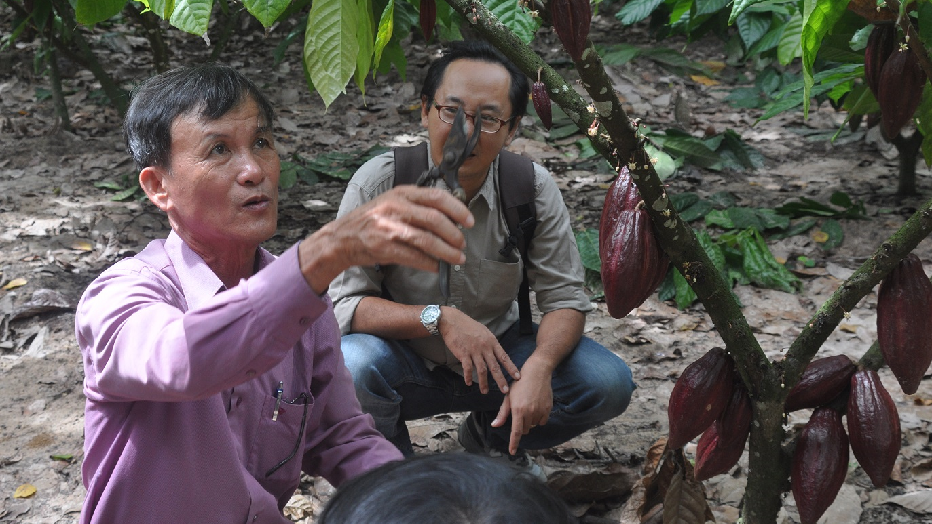 The Ea Kar cooperative was familiar with the fair trade concept because it operated in the coffee sector, whereas Krong Nong and Thanh Dat were not familiar with the concept yet. Together they represent some 450 families. Over the course of 2016, training sessions were provided on Fairtrade standards. Meanwhile, the three cooperatives have been audited and produce 500 tonnes of Fairtrade-certified beans.
Cacao-Trace
One company that has obviously found its way to Vietnamese cocoa is Belgium's Puratos. This group offers a large range of products to bakeries, pastry shops and chocolatiers and in 1988 launched the Belcolade brand, which meanwhile has become a quality label for Belgian chocolate. In 2016, Puratos started the Next Generation Cacao Foundation. This fund invests in the social and economic development of cocoa farmers and communities that participate in Cacao-Trace, a project that currently runs in Vietnam, but also in Côte d'Ivoire and the Philippines. The first result is 'Vietnam 73', plain chocolate that uses Trinitario beans sourced from Vietnamese farmers.
The Cacao-Trace programme provides agricultural training to farmers. After harvest, the farmers can bring their beans to local processing centres, where the fermentation process under controlled conditions ensures high quality and a consistent taste. Cacao-Trace pays the farmers an extra premium, which is linked to the quality delivered. Furthermore, there is the 'Chocolate Bonus': for every kilo of chocolate purchased in Europe, Cacao-Trace pays a Chocolate Bonus of 10 eurocents to farmers. Thus, Puratos fosters a fairer distribution of benefits throughout the supply chain.
Burkina Faso: COOPAKE
Half a century ago nine mango producers in Burkina Faso's west joined efforts to market their crop better. They only really succeeded in the mid-90s when they started using ovens to dry mangos. From 2015 to 2017, the TDC supported their cooperative COOPAKE. The storage space for the mangos, the room where they were peeled, the thirteen drying ovens and the packaging shop were modernised with the funds.
But some issues lingered. Sometimes, the mango harvest is poor because of a lack of rain. That is why the cooperative aims to diversify its activities. Sesame, cashew nuts and hibiscus are widespread crops in the whole belt south of the Sahel. To turn diversification into a success, COOPAKE applied for the TDC's marketing programme. From 2016 to the beginning of 2018, a marketing coach visited Burkina Faso four times to brainstorm and work with the cooperative's managers.
Breakthrough
Contacts with Ethiquable, a French cooperative business that is very active on the Belgian market, brought about a breakthrough. Especially since Ethiquable targets a longterm relationship with COOPAKE, fully supports diversification and offers 40% prefinancing when orders are placed.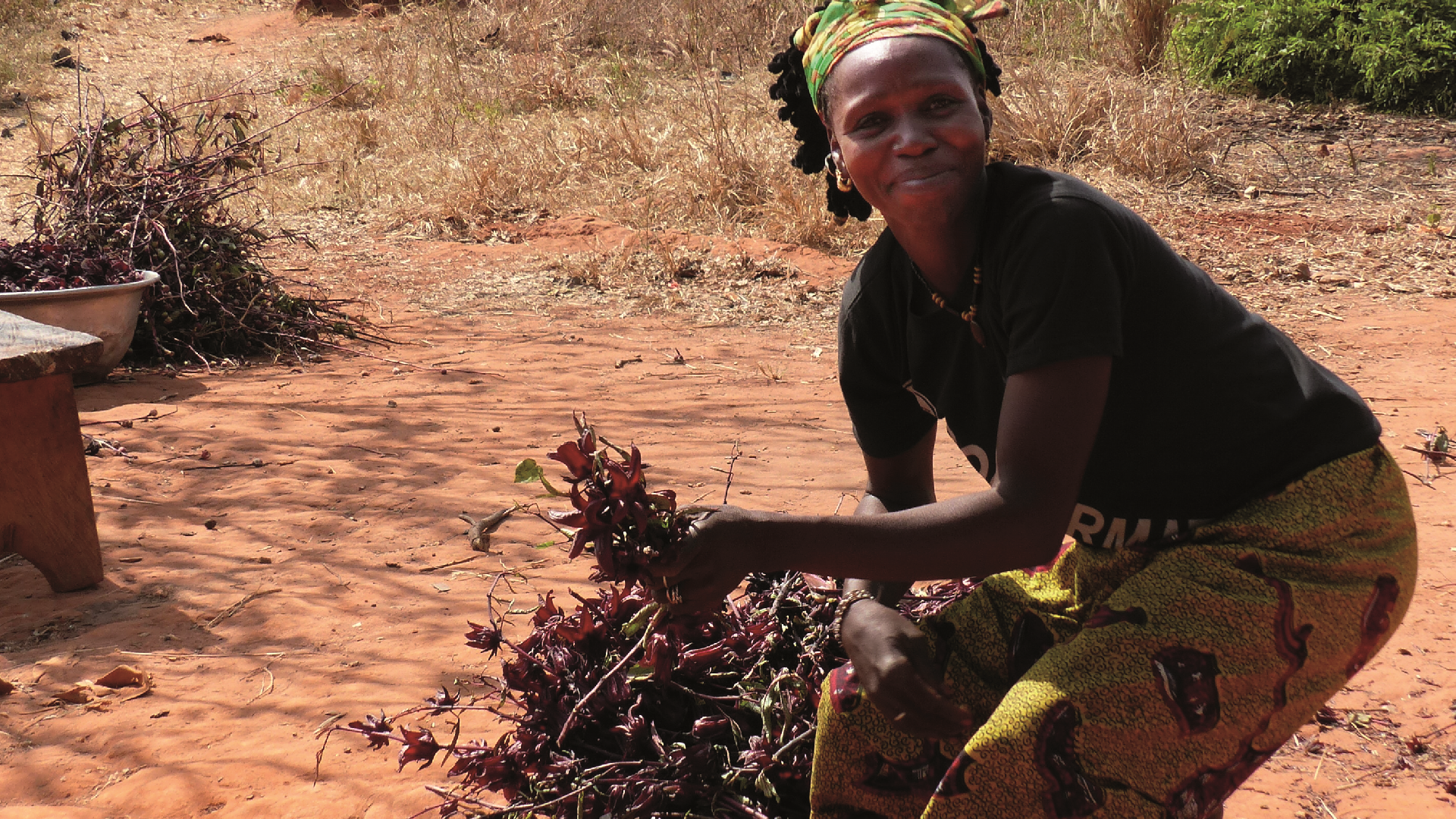 Ethiquable also invested in the processing of sesame into sesame oil in a French artisanal business and meanwhile sells a hibiscus-based juice (mixed with lychees from Madagascar). It is also thinking about roasting cashew nuts.
Peru: Cepicafe
A similar story, but on a much larger scale, can be heard in Peru. The Piura Province is in Peru's far north. Two decades ago, 200 coffee growers united in the CEPICAFE cooperative. Their high-quality coffee found its way – and many years later still finds its way – to Oxfam Fair Trade.
The western slopes of the Andes have been hit hard by climate change. That is why farmers have been urged to diversify to cocoa and sugar, as well as other crops. In 2005, CEPICAFE created NORANDINO with other farmers' organisations from the region. Meanwhile, this umbrella cooperative has become a large house with many functions: a grassroots farmers' organisation that strongly invests in social organisation and convincingly promotes the principles of agro-ecology, a savings and credit cooperative offering microfinance formulas and a commercial organisation that looks for markets for its members' products.
Spectacular evolution
Between 2010 and 2014, the TDC supported CEPICAFE with the start-up of its cocoa activities. Several projects in the Piura, Tumbes and Amazonas Provinces offer a broad range of initiatives which all strengthen the logistics organisation and improve the quality of the local cocoa variety, the criollo porcelana. Farmers are trained, internal control systems installed, collection points developed, organic and Fairtrade certificates obtained and plans are considered to build their own processing unit.
In 2014, the TDC extended this project to another 850 families, including 200 families from a poorer area with very poor infrastructure. All these efforts helped CEPICAFE to strengthen its business relations with important importers in Europe and the US which have opted for quality cocoa and are willing to pay an extra premium for it.
Reference
Ethiquable has also been strongly involved in the evolution of CEPICAFE/NORANDINO for many years. "Today, NORANDINO is a preferred trade partner and a reference regarding fermentation processes and quality control for us," says Nicolas Eberhart, Ethiquable's Latin America coordinator. "Since 2015, we have been involved in the processing unit which is to start soon, to allow the cooperatives
to process their beans themselves into liquid cocoa. We are strongly considering processing the cocoa from our Ecuadorian partners in that same factory. We calculated that 75% of the FOB price goes directly to the producers; none of our other cocoa partners does better." Belgium's famous chocolate maker Belvas also sources its cocoa with NORANDINO.
Ivory Coast
Locked market
In Côte d'Ivoire, by far the number one cocoa producer, the cocoa supply chain is called a marché cadenassé, a locked market, which is very much regulated and closed. The Côte d'Ivoire authorities are the main player. For each harvest they decide the minimum price which the farmer should obtain, but also who is allowed to export cocoa. In recent years large cocoa processing corporations such as Olam, Cargill or Barry Callebaut have tried to source sufficient cocoa and have become very active in the field.
What that means for the dozens of cocoa cooperatives operating in the country soon became very clear to TDC marketing coach Christine Englebert. "The market is locked. When we thought about marketing it was less about prospecting new clients than about consolidating existing relations and what is needed to do so, because often they are very dependent of their current client, also to finance their operations."
Exercises and role play
At the beginning of 2017, the TDC selected eight Côte d'Ivoire cooperatives for a marketing initiative comprising three one-week modules. The questions that arose were very similar everywhere. How can we present our cooperative as a dependable partner and what is needed to do so? What is the use of Fairtrade or UTZ certification? And especially, how can a small cooperative such as ours deal with a major cocoa trader? How does such a multinational think? How do we have to communicate with them? Which arguments can we use? How should we start negotiations and how can we prepare? 
"With exercises and role playing I tried to have them find answers to all these questions," says Dominique Derom, who coached two cooperatives. "Sometimes this concerns very specific matters. For instance, the president of the cooperative is usually the spokesperson. But that is not always the person who knows the specifics best. So, I tried to change these habits. When three people go to a meeting they should each use their own strengths and stick to their area of expertise."
More professional
Dominique has a nice story about how this approach makes a difference. "YEYASSO is a cooperative operating in a rather remote area in the west of Côte d'Ivoire, which had been unstable until recently because of the civil war. It used to be a coffee region primarily which – also because of climate change – has become increasingly attractive to cocoa farming. YEYASSO is a relatively large cooperative and OLAM and Barry-Callebaut are among its clients, but it also has surplus cocoa for which it needs extra clients.
"During the sessions we often worked on their sales story. We also practised the story and tested it at a meeting with Cargill. Afterwards, someone told me they had noticed the difference. The way in which the cooperative's managers had prepared the meeting, how they listened and interacted, had become much more professional."
Afrique du Sud: Fair tourism
Around 2000, the South African NGO Fair Trade Tourism (FTT) started to put in place a fair certification programme for tourism products. The standard includes fair remuneration, decent working conditions, a fair sharing of revenue and respect for cultural traditions and the environment. Special attention is paid to the South African context, with training of black workers, co-management by black people and awareness-raising on HIV and AIDS. Two decades later, more than 79 initiatives such as hotels, lodges or adventure activities have been certified.
In 2013, the TDC financed a study into the opportunities for FTT-certified travel on the European market. Tour operators may call a travel product FTT-approved if at least 50% of overnight stays or activities is FTT-certified. In 2017, 38 South African and 21 European tour operators offered FTT-labelled holidays. This includes Zuid-Afrikareizen from Brecht which the TDC put in touch with FTT and which since has become the first Belgian FTT-certified tour operator with two fair trade holidays in its offer. The TDC further supports FTT in its strategy to increase the number of certified tourism products in South Africa and to expand to the whole southern African region
Sources:
TDC reports
Burundi:
Colruyt: Een boontje voor Burundese koffie, 6/4/2018, https://
www.colruytgroup.com/wps/portal/cg/nl/home/verhalen/
ketenproject-koffie-Burundi/ketenproject-koffie-Burundi
Collibri Foundation: Burundi: werken met koffie-coöperatieven,
https://www.collibrifoundation.org/nl/story/burundi-werken-metkoffie-co%C3%B6peratieven
Kampani: www.kampani.org
Efico: www.efico.com and www.eficofoundation.org
Vietnam:
Video: https://fairtradecommerceequitable2.blogspot.com/2018/12/tdc-supports-cocoaproducers-in-vietnam.html
Puratos: www.cacaotrace.com
Burkina Faso
COOPAKE: coopake.com
Ethiquable: www.ethiquable.coop/page-dactualites-mag/nouvelle-cooperativeburkina-faso.
Peru
Norandino: www.coopnorandino.com.pe
Ethiquable: http://www.ethiquable.coop/fiche-producteur/norandino-commerceequitable-perou-cacao-cafe-fruits
Côte d'Ivoire
"People approach in TDC coaching sessions", Marketing coaches of the Trade
for Development Centre about their experience in Côte d'Ivoire, www.befair.be
South Africa
Fair Trade Tourism: www.fairtrade.travel
Fair Trade Tourism: www.fairtrade.travel
Pictures
Responsible: Ivory Coast – Dominique Derom
1. Cup tasting – COCOCA
2. Coffee beans – COCOCA
3. NAPP
4. Ethiquable
5. Belvas
6. Fair tourism
Cooperatives supported by the TDC and companies established in Belgium