From Oxfam-Magasins du monde we know the shops where you can buy a plethora of high quality fair trade products. Regular customers regularly visit these shops to buy their wine, fruit juices, cereals, coffee or fair trade handicrafts and body care products. The less regulars usually visit during the holiday season, because the shops are full of original gift ideas. But behind the stalls there is a great citizen movement, a pioneer of fair trade that manages to mobilise thousands of volunteers to change mentalities.
In the Oxfam family, I ask for the Magasins du monde. The organisation was created in 1942 in England as the Oxford Committee for Famine Relief (hence the name) in response to the famine that was then raging in Greece under German occupation. This historic NGO has now grown into a confederation of seventeen independent organisations, in the North but also increasingly in the South: Oxfam India, Oxfam Mexico, Oxfam South Africa….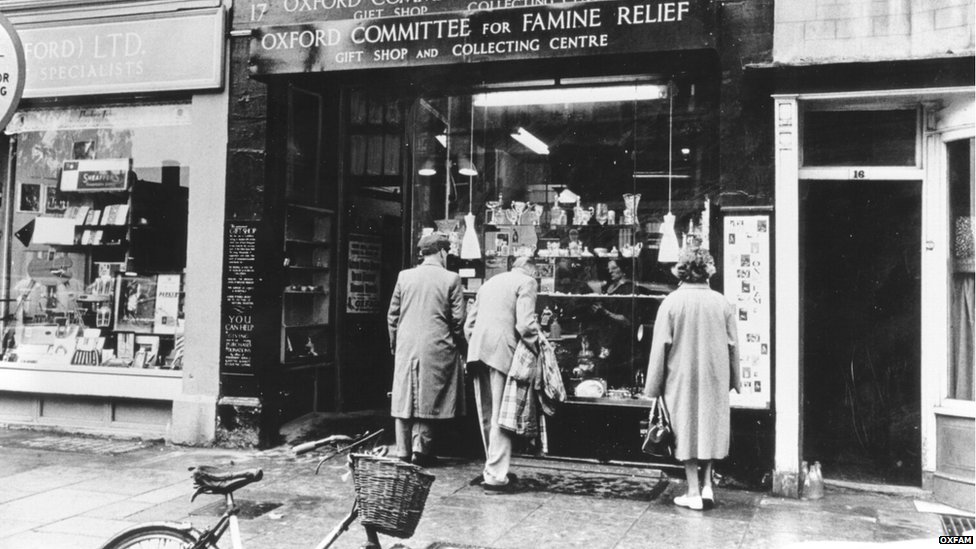 In Belgium, where the movement has been active since 1964, we have three organisations: Oxfam-Solidarity, an NGO on development co-operation, Oxfam-Wereldwinkels/Oxfam Fair Trade (founded in 1971) in Flanders and Oxfam-Magasins du monde (founded in 1976) in the Wallonia-Brussels Federation. The shop networks in both parts of the country were not born at the same time, but they adhere to the same philosophy, that of 'trade not aid', i.e. trade and not charity.
Professionalisation
"The first fair trade products on the Belgian market were political products," says Douchka van Olphen, communications manager at Oxfam-Magasins du monde. "They were a very concrete way of drawing attention to social and economic inequalities all over the world. Some people probably remember the first Oxfam boutiques, where combative volunteers led you to books that denounced the power of the big fruit multinationals, but also to ponchos made by Bolivian farmers.
This fighting spirit may be far from having disappeared, but that period is now behind us: like the rest of society, Oxfam-Magasins du Monde is tackling things more professionally. The shops are still kept open by volunteers, but the products are of excellent quality and the range on offer is enormous. "Our partners from the South are professionals. We do strive for social change in the first place, but the products we sell must meet a whole host of demanding quality and authenticity criteria, on top of the requirements to be considered fair trade", says Douchka.
Share
Initially the two 'honest' Belgian Oxfams divided the tasks: food products from the South were managed by Oxfam Fair Trade (Ghent), while Oxfam-Magasins du monde specialised in crafts. But in the shops of both Oxfam branches you found the same products. Today Oxfam-Magasins du monde does not only offer Oxfam products, but also food products of the Ethiquable brand that meet the same demanding criteria (for fairness and quality) as those of Oxfam.
When asked whether the market for handicrafts is not more complex, with more limited volumes and more difficult quality controls, Douchka answers the following: "It is true that an average family will be quicker to buy honest food products because they are products for everyday use. In any case, profit has never been, and never will be, the only goal. We are non-profit organisations: by making a profit, we can invest in our partners' projects and ensure the sustainability of our association. Oxfam's fair trade is and remains (together with others) a means of bringing about change with the aim of denouncing social and economic injustice. Special attention is paid to the most vulnerable populations in the South, but also to farmers in the North since the launch of the Paysans du Nord initiative in 2012. We are striving for change."
Carefully chosen partners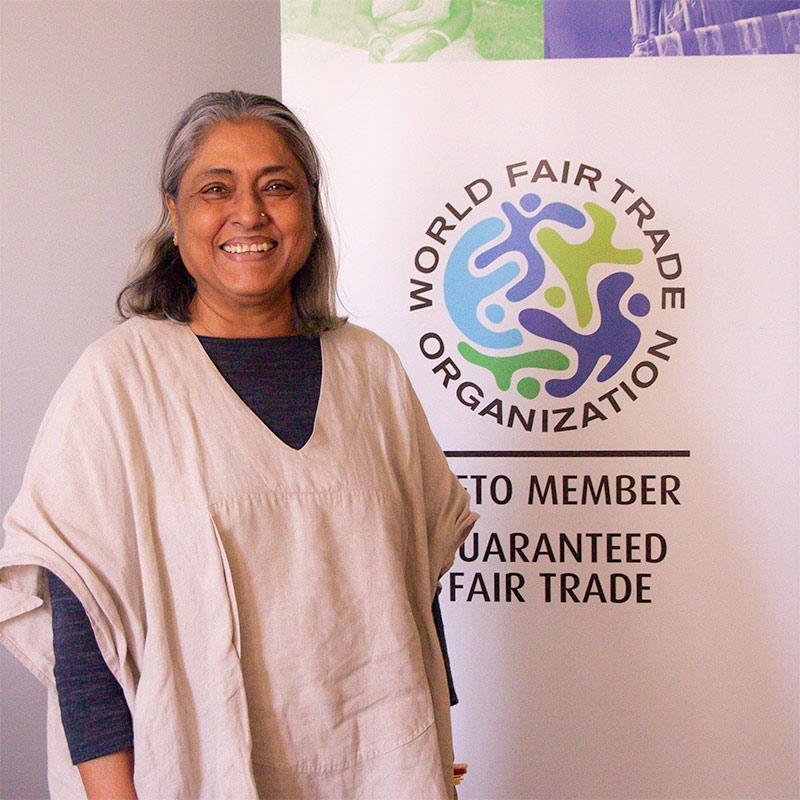 As a member of WTFO (World Fair Trade Organization) Oxfam-Magasins du monde does not see the certification of fair trade products as a goal in itself. "A label is a tool," explains Douchka. "At Oxfam-Magasins du monde we work with the actors involved per chain, not per product. In fact, it is difficult to award a label to craftsmanship, given the temporary nature of the products (spring and winter collection, evolution and changeability of the objects)". What's more, each product is made by hand (artisanal) and stocks are so limited. Moreover, the licence costs would be too high for producers who are already struggling. On the other hand, the supply chain is shorter than in the food sector, which would facilitate certification. In spite of this somewhat peculiar context, WTFO has recently created a special label for fair and artisanal handicrafts. A number of demanding criteria are linked to this label, in order to recognise the quality work of honest organisations that meet these criteria.
Oxfam-Magasins du monde applies extremely strict selection procedures for its partners. Before signing up with a new partner, it is first evaluated by a committee of Oxfam's volunteers and employees, based on a series of demanding criteria. Transparency is the key word here. "It can take months before a new partnership is in place," Douchka clarifies. For its evaluations (checking the criteria) Oxfam-Magasins du monde also regularly visits the producers and cooperates with other European actors. The organisation is also supported by external evaluators.
The goal of the 'premium' for fair trade, but also of the system of pre-financing, is that the partner can reinvest in its project and continues to strive for social change, for example, with investments in materials and health care, social, educational or infrastructure projects…  "We don't take a paternalistic approach to things. We are on an equal footing with our partners".
Priority to awareness-raising
On the potential of fair trade, Douchka van Olphen remains sober: "Fair trade is an alternative, not a solution to everything. It is a way of showing that you can produce, sell and consume in a different way. This is demonstrated by the positive impact that demanding fair trade has on socio-economic reality, health and the environment. At the same time, we must continue to raise citizens' awareness of the challenges of fair trade.
So the movement regularly launches major campaigns. For example, Oxfam-Magasins du monde was one of the first to advocate 'clean' clothing, made in decent working conditions. And even now Oxfam-Magasins du monde continues to resist the injustices of multinationals. The NGO's latest campaign, for instance, criticises their stranglehold on orange cultivation in Brazil. Brazil is the world's largest producer and exporter of orange juice, yet no less than 99% of orange production is in the hands of three large multinationals! Such campaigns sometimes involve co-operation with sister organisation Oxfam-Wereldwinkels, like in 2010 for the campaign on cocoa production conditions in West Africa, where child slaves are still being used.
North, South, the same battle
The problems faced by farmers transcend borders. Both in the South and the North, conventional agriculture must give way to agro-industry, which, however, cannot sustainably feed the world. More and more farmers are throwing in the towel because they can no longer make a living from their work. In 2009, for example, desperate dairy farmers poured their milk over their fields in protest at dumping prices. The increasing industrialisation of agriculture has accelerated the disappearance of hundreds of thousands of jobs in that sector. And Belgium is not spared either. That is why Oxfam-Magasins du monde now joins forces with the farmers of the North by offering products from sustainable agriculture in its shops.
"The world in which we live is becoming more and more intertwined. The agro-industry, the climate, social inequality… The struggles in the North are no different today from those in the South", Douchka analyses. "Every day we become more and more aware that we, as citizens, have to offer alternatives. So many initiatives are being launched in Belgium: second-hand clothing, shared housing, milk cooperatives, group purchases, associations such as Terre en vue…".
Oxfam-Magasins du monde is a citizens' movement that calls on everyone to take action. Sometimes it does so in a very sociable way: every year the NGO organises Oxfam breakfasts on the occasion of the Fair Trade Week. It is an original way of discovering fair trade products and "encouraging consumers to change their consumption behaviour and take action".
Photo credits: Oxfam-Magasins du monde
Photo 1 : Oxford Committee for Famine Relief
Photo 2 : Douchka Van Olphen
Photo 3 : Ethiquable products
Photo 4 : Roopa Mehta, WFTO President
Photo : Fairebel
Website: http://www.oxfammagasinsdumonde.be/