A citizens' café is generally a convivial place where social issues are discussed. In Louvain-la-Neuve, the concept has been refined. It is not only a question of making citizens aware of a social problem, but also of proving that a company that respects all ethical principles, even in a difficult sector such as the hotel and catering industry, can be profitable.
Altérez-Vous opened its doors in 2009 in Louvain-la-Neuve on the Place des Brabançons opposite Respect-Table, a sandwich bar serving honest slow food.
There are four students at the cradle of the talk café.  Three of them were part of the Unicef ProjectKot and were volunteers at Oxfam-Magasins du Monde. "We often went to lectures on ecology and the environment and always met the same people there," says Sorina Ciucu, one of the founders. "So we wondered how we could sensitise more people. After each meeting we felt like doing some more research, but we didn't think any place was ethical enough. So we came up with the idea of opening our own café, a cosy meeting place where we could reach a wider audience".
To bring more experience to the team, we recruited two people who are older than us and already have a career behind us. They were able to spend more time on our project and take a critical look at it. After that, everything gained momentum. At the opening of the new 2009 academic year, Altérez-Vous also opened its doors.
"We spent most of our time drawing up our statutes. We hesitated between a non-profit organisation and a cooperative. In the end, we opted for the statute of a cooperative with a social purpose. That is the most consistent with the joint initiative that lies at the heart of our project. Moreover, it meets our desire to involve local actors. Our aim is to prove that an ethical project is perfectly viable as a business.
The butterfly effect
In order to avoid the problem of meetings with variable attendance and to make Members more accountable, the share price was kept high but reasonable: EUR 250. At the start we counted 10 members, now there are 110. Those members enjoy a 10% discount on the menu. These are people from the family circle, the university world, the student environment and a few pensioners.
The name of the café is reminiscent of 'se désaltérer', his thirst quenching. "But it's also an allusion to 'changez-vous' from the idea that you can always change," Sorina explains. We chose a butterfly as our logo. "The butterfly is a small, delicate creature that flutters around freely and cheerfully. It perfectly illustrates our will to change, starting with a tiny part of the world and finally reaching the whole planet".
Quality cooking
The interior is atmospheric: warm colours on the wall, discreet lighting, solid wooden tables, a jazzy background music, a canapé where you can sink in with a piano next to it. The customers immediately feel at home. They are chatting and tasting an artisanal beer or sipping an honest coffee. In the afternoon there is more life in the brewery when the people come in for lunch. "Most guests know little about the project behind the café because we offer sustainable and seasonal food".
In the meantime, Altérez-vous has built up a regular clientele and is turning a profit. There are seven full-time equivalents working there and in 2013 the café generated a net profit of 6,200 euros. "That's not much because the hospitality sector is tough and labour-intensive. More than 40% of our expenses go to staff, we swear by quality and apply correct prices". It is true that the few meat dishes cost only 14 euros. But it's mainly vegetarian dishes on the menu. Over the years, the menu has expanded and the recipes have been refined: soup, pasta, quiches, salads, gratin dishes, gluten or lactose-free dishes, etc. The founders themselves used to be behind the cooker, now Altérez-Vous employs a real chef.
Responsible consumption
The talked-about café cum eatery has three basic principles. Firstly, responsible consumption.
Altérez-Vous mainly supplies the short chain with local, organic, seasonal and/or fair products. For example, the chocolate is purchased from a small local chocolate manufacturer that works with fair trade products. The crockery comes from a ceramics producer in Palestine. "We try to waste as little food as possible. And we don't discount the prices of our suppliers, because we respect the work behind it", Sorina emphasises. At the meal, as in France, you get free water. And as far as possible, everything is environmentally friendly: the energy, the cleaning products, and so on.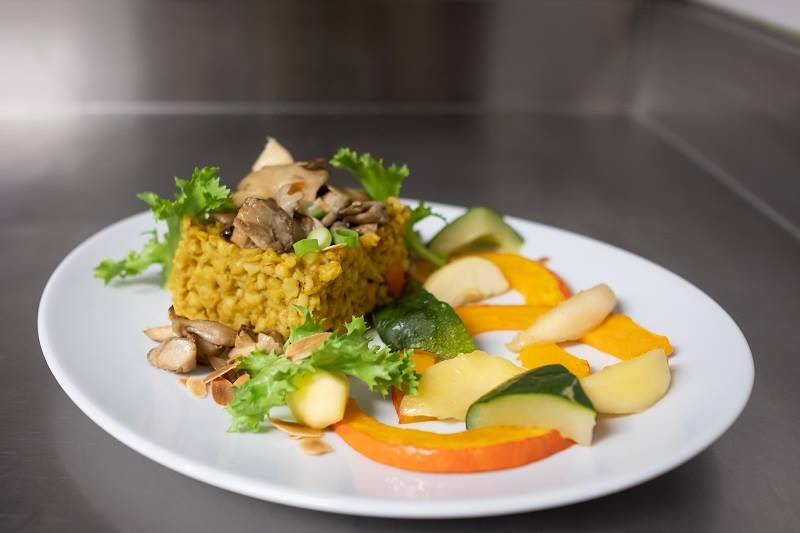 The second principle is awareness-raising. The café serves as a point of sale for a number of solidarity products such as Amnesty candles or calendars for the benefit of a dispensary in Mali. Exhibitions, debates and conferences are organised once a month. "In the beginning we were a little too enthusiastic and organised up to eight conferences a month. We soon found out that we were deterring potential clients," recalls Sorina. The team then changed tack and organised fewer but better awareness-raising events. For the first time, Altérez-Vous set up a session outside his walls, in a university auditorium. Successfully: 120 people took part in the discussion forum on shale gas and its environmental impact. For the next debate on the Transatlantic Free Trade and Investment Treaty (TTIP), the team hopes to mobilise 400 people.
Conversation tables and knitting workshops
And last but not least, the third principle: conviviality, an absolute must to make the café known and to retain customers. In order to attract a diverse audience, various events are organised. In the evenings, these include concerts, café theatres, storytelling evenings, aperitifs, conversation tables in a foreign language (Dutch, Spanish, German)… In the afternoon, knitting cafés, writing workshops…
After five years, the café needed freshening up: the walls were given a new coat of paint, the faucet was moved, double glazing was installed, access was made for people with reduced mobility, a ventilation system was installed and a projection screen was installed. At the beginning of 2015, the butterfly from Altérez-Vous underwent a metamorphosis and is now more attractive.
Since its reopening in March 2015, a vegetarian brunch is offered once a month with a film and debate. The first time was already a success: 38 people (the maximum) watched the documentary 'Love meat tender' (about meat production), followed by a debate with the director and some specialists.
The dynamic team of Altérez-Vous is not shy about projects. Setting up a network of talking cafes is one example of this. "Many people who are interested in setting up a talking shop come to us for advice. It would be a good idea to set up a network that helps with the start-up of new initiatives, but is not a franchise system", concludes Sorina.