Denise Nzeyimana and Adélard Nkeshimana run IDEP, a company producing sunflower oil in Burundi. Since 2017, the company has received coaching from the Trade Development Centre. A look back at an entrepreneurial experience and the impressive progress the company has made.
Welcome to Bujumbura, the economic capital of Burundi. The city is situated on the shores of Lake Tanganyika, one of the deepest in the world, and has experienced considerable population growth: estimated at 60,000 inhabitants in 1962, Bujumbura now has more than one million inhabitants. A predominantly young and enterprising population, to which Denise Nzeyimana and Adélard Nkeshimana undeniably belong.
Inventing a new crop
They founded IDEP in 2013 in order to produce a quality vegetable oil: "In Burundi, we have seen an increase in illnesses linked to malnutrition or poor diet: hypertension, diabetes and cardiovascular diseases. At the time, there was only one small sunflower oil processing unit in Burundi, the Mutwenzi unit in Kirundo, in the north of the country. I thought that the introduction of sunflower cultivation could reduce malnutrition and its associated diseases. A market had to be created because back then almost all sunflower oil was being imported," explains Adélard.
So they had to start from scratch: "When we set up our company, we set ourselves several challenges: firstly, to find safe and healthy sources of supply for our sunflower oils and packaging and, secondly, to buy good equipment to process an oil that could hold its own on the market", Adélard details out. The couple, both professionally and privately, set out on several fronts: "We had to buy the harvests of the few farmers that there were, but above all, we had to popularise and promote the production of sunflower oil and sunflower cake. At the other end of the chain, we looked for a market for these products and organised delivery to our customers".
Cake is the residue obtained after the oil is pressed: "It is not yet very well known in Burundi, but it is a very good feed supplement for livestock. I have tried it on calves and dairy cows and the result has been an improvement in the health and growth of the calves, as well as an improvement in the health and taste of the cows' milk. There must be many other advantages not yet explored," says Adélard.
Quite quickly, their efforts paid off: "In collaboration with the farmers, we were able to expand sunflower cultivation to other provinces of Burundi, to Gitega and Muyinga. We have also extended the cultivation of moringa, which we use to produce oil, powder and soap and sell on the local market. We also export moringa seeds to Uganda," explains Adélard.
For the entrepreneur, the cultivation of moringa is complementary to that of sunflower: "Moringa is a very powerful dietary supplement and prevents many diseases. All its products (the leaf, the seed, the powder, the oil and the soap) are like natural medicines without side effects. I encourage farmers' associations to plant some to fence off their properties and to reforest the empty hills, and in doing so gain an additional source of income. But the market is yet to mature to sustain its cultivation."
And then the economy collapsed…
But in 2015, a political crisis shook the country. The economy collapsed: "We saw our turnover drop from 141 million Burundian francs (fbu) in 2014 to 62 million fbu in 2015 (editor's note: that is from +/- 69,000 euros to +/- 30,000). It took us three years to get back to the level of 2014", explains the couple who were forced for a while to leave Bujumbura for Uganda, where they had to start from scratch while trying to keep their activities in Burundi.
Burundian sunflower oil producers were not spared either: "They too experienced the same problems. The price of sunflower cake went from 700 fbu per kg to 450 fbu, with many late payments". Taxes were increasing while prices were dropping. "The import of packaging was also complicated by poor relations with Rwanda. The prospects for exporting our sunflower oil and moringa products with this neighbouring country are on ice," Adélard adds.
Coaching "that opened our eyes"
In early 2017, Valérie Vangeel, a TDC coach from Belgium, arrived to support IDEP. "I am a trained commercial engineer and set up my own consulting company. Previously, I worked in marketing and sales for a large commercial company and at Amnesty as financial director", explains Valérie. "This assignment was a bit of a combination of these careers. You're not acting as a consultant but as a coach. We're not here to tell you what to do, we're here to develop skills. The question is: how can we ensure that after three years of support, that support is sustainable? My objective is to help them to think about the issue for themselves", she sums up.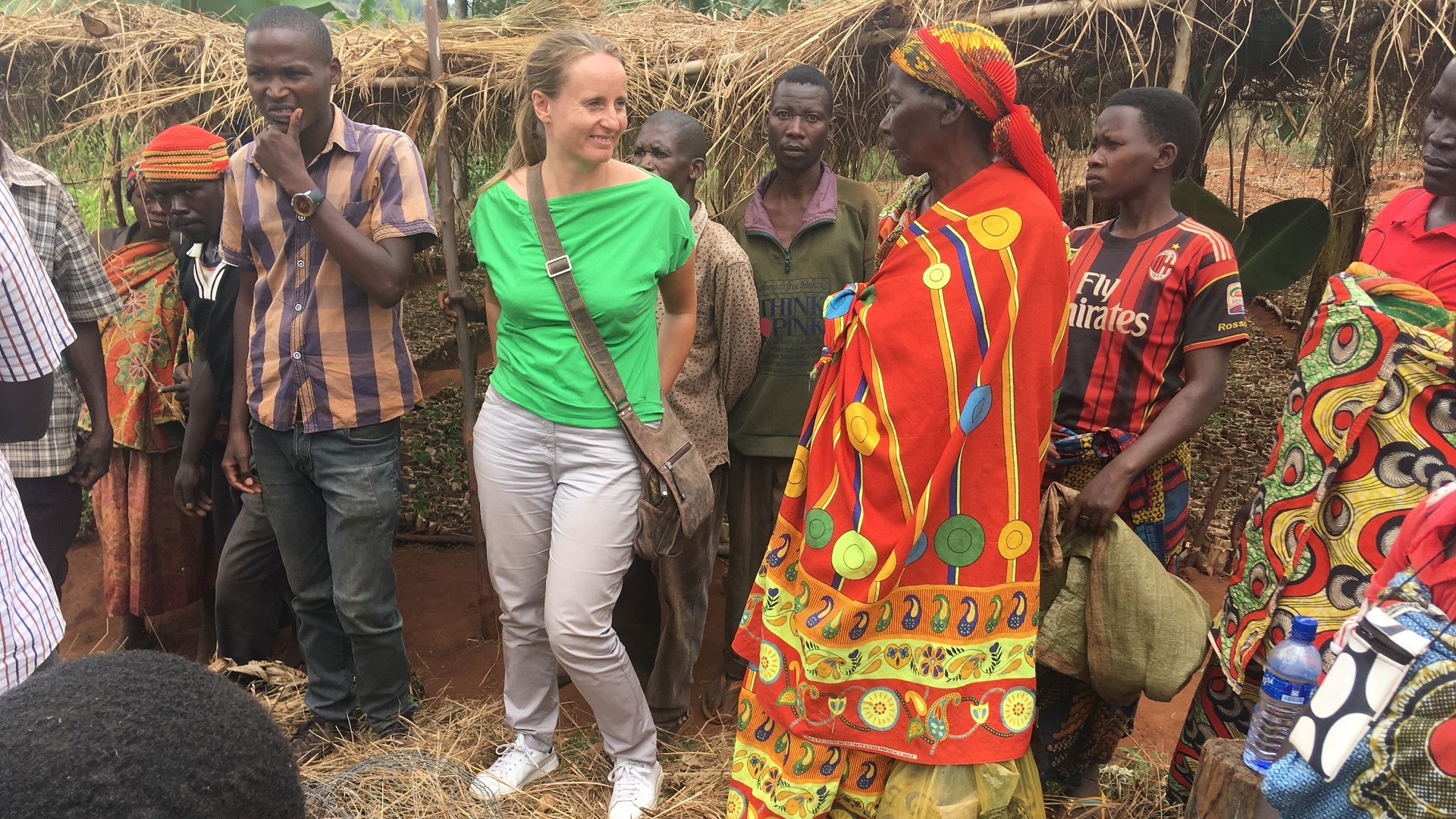 Adélard speaks very highly of the participatory approach used by the TDC: "It is much easier to memorise information that you yourself have produced by thinking about it with your coach. I find it a very good approach. And you can always find a theoretical reference on the internet".
In February 2017, the first meeting between Denise, Valérie and Adélard took place outside Burundi, as Belgians were not welcome there: "When I met them later in Uganda, during the second coaching module, we got straight to work. We talked about marketing concepts that we tried to apply to their situation: analysis of the market, competitors, consumer needs, product benefits, etc.", says Valérie. "Then we worked on the implementation with communication material that we devised together: leaflets, radio programmes, etc. Sunflower oil is more expensive than other oils, so you need to really make the customer aware of its benefits if you want them to buy", warns the coach.
"Coaching opened our eyes to a lot of things that we were not seeing", says Adélard, "We realised that we could sell 30 times more on the same market thanks to well-designed labels, leaflets, posters, billboards, through participation in fairs, radio and TV programmes, or by travelling around to promote brand awareness. In short, by presenting the product so well that potential customers want to discover this quality product". At present, they are working in parallel in the two countries, Burundi and Uganda, with the help of an associate in Bujumbura.
Progress already visible
"The analytical work we did together takes time," admits Valérie. "We look at the sales figures per product and ask ourselves which bottles sell best and also who the main customers are. In this case, we thought we would concentrate on small quantity bottles and we made a list of priority customers: the inhabitants of Bujumbura, the elderly, those with medium to high income and those with cardiovascular problems. It's a job that takes a good week. Most small businesses, wherever they are in the world, don't take the time to do this. But when the analysis is done well, the rest is simply follow-up. We meet five times over the three years to continue the strategic discussion."
Before long, progress was being felt: "We really saw the evolution", Valérie says enthusiastically. "From 63 million in sales in 2016, IDEP grew to 90 million in 2017. That was already a good recovery. And in 2019, it should be around 190 million. They have managed to differentiate themselves from their competitors. The campaign on Burundian radio worked very well too. After their on-air appearance, their office and shop were besieged by customers!"
A private family business with real social involvement
What is the state of play in terms of certifications? "We have the quality certificate of the Burundian Bureau of Standards (BBN), which is required for the local and regional market. But we have put the search for international organic certificates on hold because they are too expensive. But we have to admit that international certificates do give access to the more lucrative international market." Getting these certificates is one of their long-term goals: "That's why I started to invest in moringa. In the future, we also plan to export other products such as coffee, vanilla and cocoa".
What is certain is that, in all their initiatives, Denise and Adélard want to better remunerate the farmers they work with. "At home, the discussion about fair trade is ongoing," says Valérie. "IDEP is a private family business, but it shares the values of a cooperative. This means that they have a real commercial approach (with good reflexes about delivery and deadlines, for example) and at the same time social responsibility towards the farmers. They have been able to build relationships based on trust and by listening to them".
In conclusion, Valérie thinks that, as a programme of the Belgian Development Agency, the TDC was right to coach them: "IDEP is a textbook case where you can have added value. Cooperatives have access to other subsidies, but there is less support for small entrepreneurs and SMEs. This is where the TDC has more added value and can make a difference".
Pictures:
Sunflower seeds (V.Vangeel)
Sunflower
Moringa leaf
Coach Valérie Vangeel visiting DEP (V.Vangeel)