Nathalie and her husband decided to rely on as few middlemen as possible between Parakou (Benin), where they get their shea butter, and Sombreffe (Belgium), where their cosmetics and soaps are made. This allows them to better manage the production process andd to correctly remunerate the women producers of the village of Parakou. It also means they cans produce a range of very high-quality natural cosmetics.
Nathalie Ghysen and her husband Wassi live in Sombreffe, between Charleroi and Namur, where in 2015 they launched Kari'T Care, a family-run business that produces natural cosmetics, shampoo bars and cold-process soaps made in an artisanal and ethical way.
A family story
"My husband is originally from Benin", explains Nathalie, "Together, we wanted to work with an authentic product, shea butter, which my husband could obtain 'at the source', in the village of female producers in Parakou, where his godmother comes from and where she works. Before our partnership, the female producers in Parakou were already running a small cooperative that sold shea butter to French importers. That was our starting point for collaboration".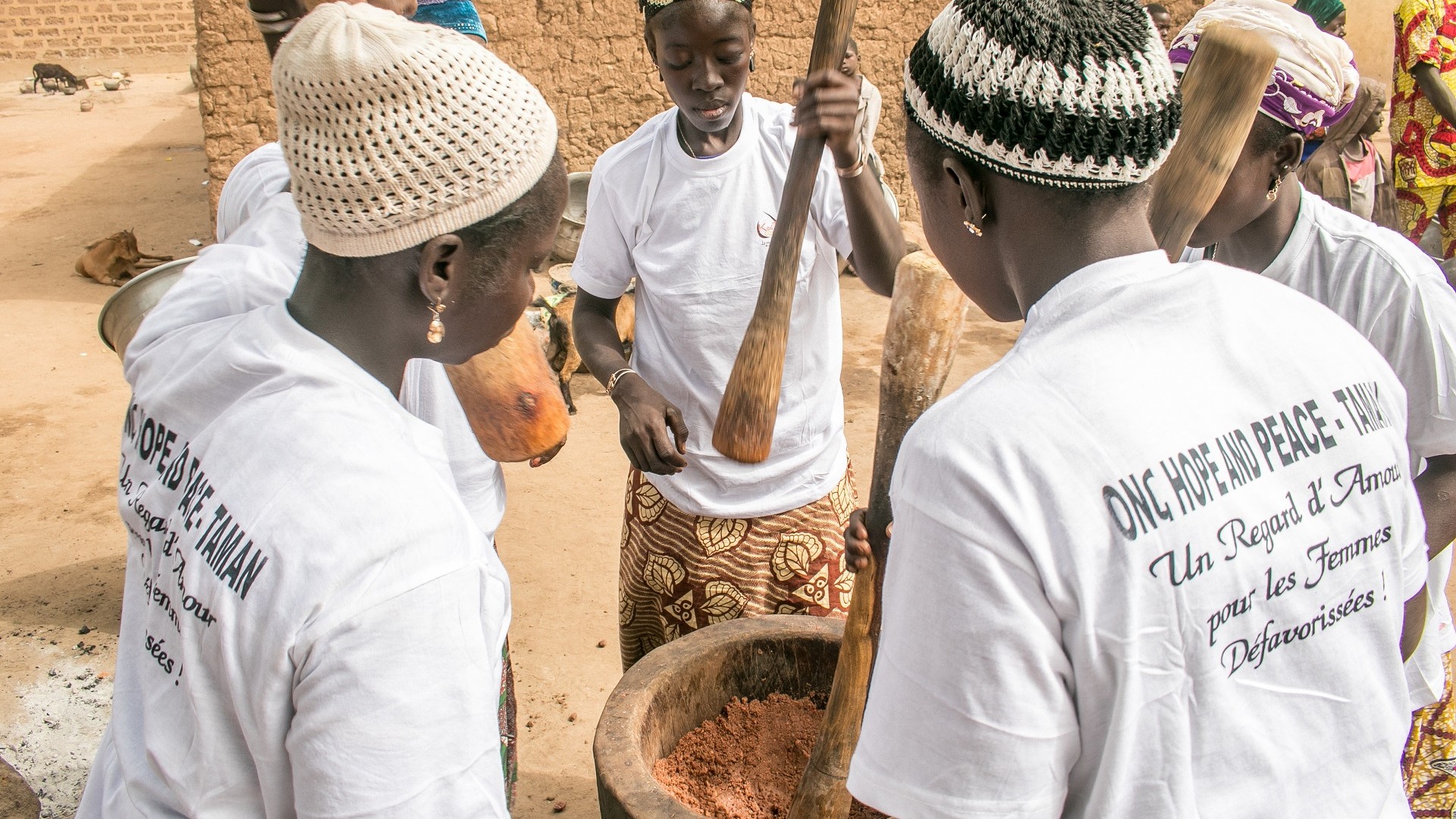 Nathalie went to France to train for a fortnight in a traditional soap factory. When she came back, she, her husband and her chemist mother set to work: "With European standards to be respected, validation of our products' recipes, product testing by a toxicologist, workspace layout needing to meet ISO standards, registration with the anti-poison centre, in the end, it took us two years to launch Kari'T Care". There were many reasons for Nathalie's motivation: "Before that, I was a medical delegate and thinking about the care products we used in the family. At that time, my son was developing allergies to most soaps. We realised that they were made from palm oil, which also posed a problem in terms of environmental impact", she says, "while shea butter soothed his eczema problems".
Shea butter to replace palm oil
In fact, palm oil is used to give soaps their hard form: "What most people aren't aware of is that traditional Marseille soaps (the so-called hot-process soaps) contain a lot of palm oil." On the labels, in the list of ingredients, the term "sodium palm" is used: "Industrialists are now replacing this term, that has too many connotations and is familiar to more and more consumers, with "sodium palm kernelate", but it is still the same saponified palm oil…". Organic palm oil costs 0.66 euros per kilo in the sector while shea butter is 24 times more expensive ("around 16 euros per kilo"). "This is one of the reasons why our soaps are more expensive".
"Knowing all the issues linked to the use of palm oil, in all industrial fields, we have chosen to use raw shea butter which also hardens the soap and preserves some of its properties, provided it is cold saponified". This method is another reason for the cost of artisanal soaps: "It requires more work." Indeed, in the classic soap factory, oils are heated to 100 degrees to accelerate the saponification process: "The negative effect is that the soap loses its properties. In addition, a salt-water washing phase of the excess soda leads to pollution of the surrounding water. We therefore decided to use the cold process so as not to alter the properties of our raw materials or discharge them into the environment. But this makes the drying process longer because it is done by evaporation of this residual water". Contrary to traditional soap making, the manufacturing process here is therefore "zero waste".
"We don't intend to grow up too much."
Kari'T Care required major investments to get started: "Our house had a shed that we converted into a laboratory on one side and a showroom on the other. Nathalie and her husband work there full-time: "Once a week, we produce soaps together. We make 80 kilos of soap in one day. Another day, we produce the oils and creams together with my mum, and we manage the packaging. And once a week someone also comes to help us clean and sanitise everything. The rest of the time is devoted to the administrative side, which is very time-consuming in our sector, because we have to trace all our ingredients right from the raw materials to the marketing of the finished products".
What are their ambitions for the future? "We'd like to hire someone to help us, but we don't intend to grow too much, we don't want to supply the whole world, we want to stay local," she insists.
None of Kari'T Care's 80 points of sale are located more than 100 kilometres from Sombreffe: "The only exception are two online stores, one a Belgian retailer who ships to France, and the other our own that someone offered to create for free. But it is not fully developed and we don't advertise it. I'm not a fan of selling online, it doesn't help shopkeepers make a living". Kari'T Care prefers working with local shops: "We know all our salesmen and women, and vice versa. We do our deliveries as much as possible ourselves. We also refuse to go through a wholesaler whose margin would drastically reduce ours or increase the retail price. Kari'T Care's mission is to limit the intermediaries between shea producers in Benin and the production of cosmetics, shampoo bars and soaps in Belgium. We explain this approach directly to consumers at artisanal and craft markets", says Nathalie.
"Female producers know the price of their labour better than we do."
And this approach is to work with female producers who set the prices themselves: "They know the market and the hard work better than anyone else. It's up to them. In the end, we pay them twice as much as the market price." Why is there such a big difference? "In fact, we pay for the collection phase of the nuts, and then the work of processing them. We also take into account the climatic conditions that affect the crops and the yield of the trees."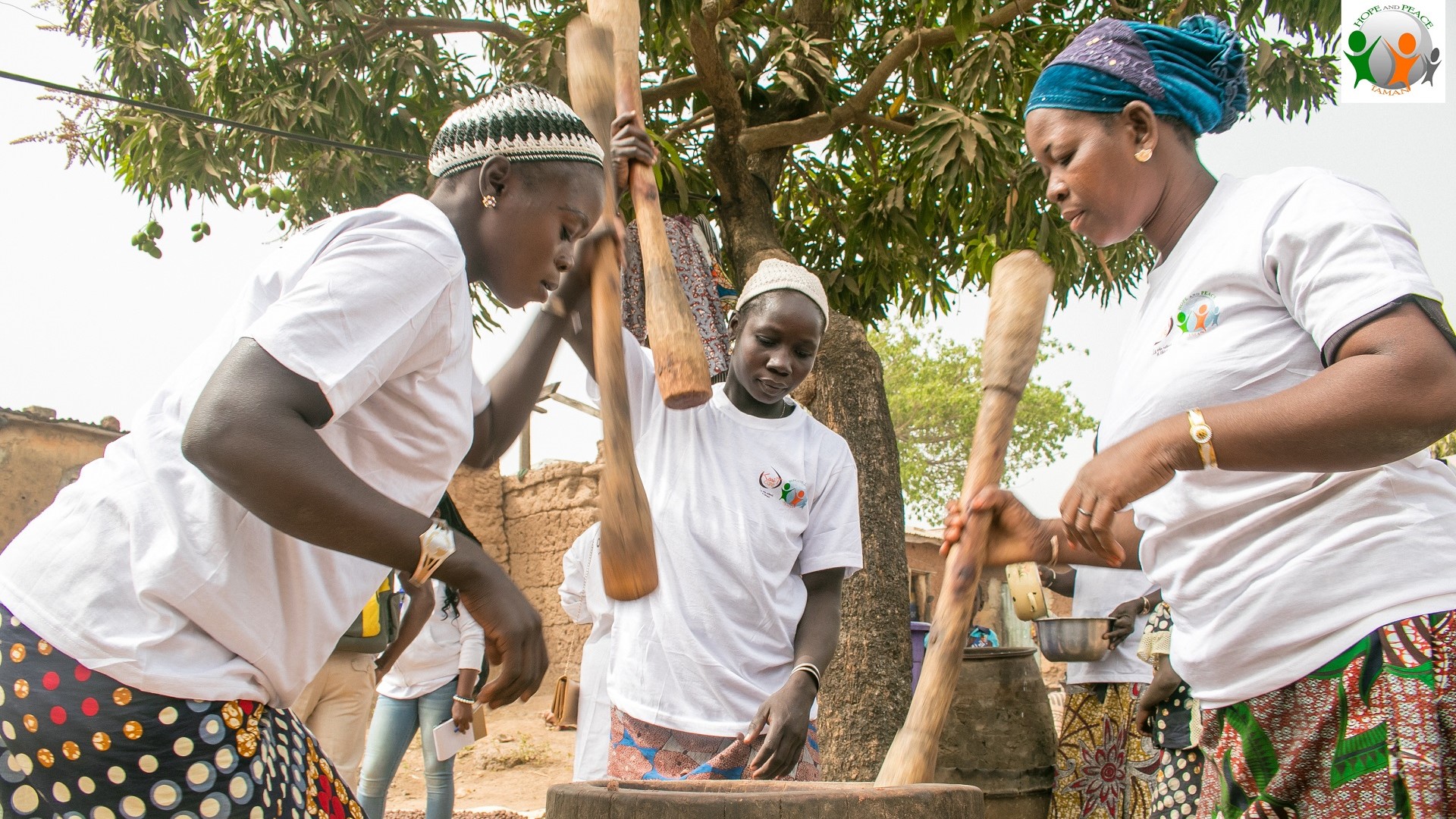 "Making shea is exhausting," Nathalie continues, "It's a time-consuming manual job. To help the producers, we thought of buying them a churning machine, but they didn't want one. Shea season is a holiday compared to the rest of the year. There is a ritual of thanking the tree that has given its fruit and a very strong link to seasonality. We obviously respect these traditions because that's where the quality of our butter comes from: we take the time to do it well". Today, this know-how means that the producers are somewhat victims of their own success: "With us and their other customers, they do very well. So we decided to continue buying
further afield, in Tourou, another more remote village where we are working with the NGO Hope and Peace to develop a new sector.
Raw shea butter remains the flagship product of their range: "Together with the producers, we found a technique so that it retains its properties while not being malodorous, as sometimes happens. This requires a lot of work sorting the nuts and drying them. Then we have to transport the shea by plane, because three weeks in a ship is not good for the product. It's a bit of a fly in the ointment, but we're transparent about it." At Sombreffe, everything is made by hand: "Which also contributes to the high quality of our oils and soaps."
The awakening of consciences
The fair remuneration that Nathalie discusses with her clients is food for thought. She notices a growing awareness amongst consumers, especially when it comes to the biological aspects: "When we started, we were ahead of the others. Now, our soaps are selling well, but we have a ton of competitors in the natural cosmetics sector, which, for me, is a good thing. This means that there is an important demand from the general public to reduce waste, to know what products are made of. It's very good, it's part of the essence of what we do as artisans".
How do you differentiate yourself in a competitive market? "By staying the way we are, not by producing more!" Can labels help? "Without doubt, but we don't have many of them. Organic labels are expensive: just a visit to the plantations in Benin to check the biotope of the trees costs 500 euros. We explain it to people: organic shea butter is not necessarily better! If it is refined, it means that its extraction method is bad and that it has lost its properties". Nevertheless, Kari'T Care is a member of the BFTF (Belgian Fair Trade Federation), which underlines the way of working from producer to producer, and benefits from a PETA (People for the Ethical Treatment of Animals) mention: "Our products are not tested on animals, it is a European obligation, but certain raw materials from the chemical industry can be tested. We therefore take great care to avoid these. We do not use any products of animal origin (honey, goat's milk, donkey's milk, etc.), as the plant world is rich enough to allow us to do without this type of ingredient. We have also decided to do without more artificial colourings, those coming from minerals, iron oxide or alumina, which are subject to numerous controversies around child labour. In India, children are used to extract these minerals. To colour our soaps and shampoos, we only use clays and plant powders. We also have a Slow Cosmetics award. This recognises cosmetics industry players who offer high-quality products using an ecological and ethical approach"
Developing a new sector: moringa
Nathalie therefore sets her objectives elsewhere than in certification: "In the long term, we will try to have the organic label. But, for the moment, the most important thing for us is the development of another sector in Benin: moringa oil. In fact, the shea tree only provides a living for the producers for three months of the year. Whereas moringa covers almost the whole year". The moringa tree provides a lot of value: "Two years after planting the seeds, we already have fruit on the tree. We use the oil from the seeds for our facial products because the vitamins A, C and E it contains have moisturising and anti-ageing properties, but above all the growers can harvest its leaves as spinach (it's very nutritious) and the seeds to purify water. It's a very interesting plant in many ways", says Nathalie enthusiastically.
"We've managed to make a living from it. So now what more can we do?" This is the vision of Kari'T Care's two founders who are always thinking about the next step.
Photos
1. Nathalie Ghysen in her Sombreffe workshop @Muriel Vandersmissen
2. Extraction of shea butter: the phase of nut plundering
3. Extraction of shea butter: the phase of the pillage of the shea nuts.
4. KariT' Care Soaps @Muriel Vandersmissen