Bearberry villages in the foothills of the Atlas Mountains, lovely valleys like green oases in the midst of rugged mountains… The Rencontres d'Aït Aïssa offers you that beautiful picture. Rencontres' or encounters indicate the legendary hospitality of the Berbers. Aït Aïssa' refers to the name of the first valley where the association was active. It is located in a 100 km wide area near Errachidia, in the southeast of Morocco.
He got a taste for it in 2002, when he travelled by car through southern Morocco with a friend. "We saw an old man at the side of the road waiting for a hypothetical bus and we offered him a lift. We had to make a diversion to drop him off in his village. It was in a region where tourists never come, close to the border with Algeria and the Sahara, in the foothills of the Atlas mountains. It looks rather barren there. People call it 'forgotten Morocco'. Others call it 'useless Morocco' because practically nothing is produced there. There is little agriculture and livestock farming, there are only a few mines that do not yield much".
The two friends were warmly welcomed in the village which had neither running water nor electricity (this has now changed, the young king has kept his word). They discovered the collective management of land and the system of sharing water for irrigation. For water – coming from the wadis – is a precious commodity in these enclosed green valleys.
A jumble of valleys
"We were glad that quite a lot of people had stayed in their villages. Although many inhabitants had moved to the town, the village did not look deserted", Roland continues. He came up with the idea of doing something that would encourage people to stay in the village and improve their living conditions. The region was really beautiful, with narrow mountain passes, fortified villages, terracing and a maze of valleys. Alternative tourism that is environmentally friendly and respects local customs was therefore insisted upon. "But you have to keep your finger on the pulse and constantly question yourself: this area has managed to preserve its centuries-old traditions but is also very much under pressure from 'progress', for better or for worse.
Many mountain valleys around Aït Aïssa can only be reached on foot. "The mountain identity is very strong there, with real hospitality and great human and cultural richness. We came up with the idea of highlighting these treasures with a tourist activity that respects society, through overnight stays with the locals," recalls Roland.
A theatre workshop or rather Berber cooking class?
Les Rencontres d'Aït Aïssa' became a non-profit organisation in 2006. Now the network is strong enough to organise logistics locally: guides, pack mules, accommodation, meals… Above all, we want to make the local team autonomous. "From year to year, they need us less and less. Now they can handle the groups themselves. By the way, the board of directors and the general assembly of the non-profit association ensure parity between Belgians and Moroccans.
But what else can you do – apart from hiking – in this beautiful and unexplored Atlas valley? "There are also drama workshops, yoga, Berber cooking classes, projects for young people…". according to Roland. "We are open to all kinds of activities. The activity itself does not matter as much. What matters is that you meet the residents and help finance local projects through your trip". These projects are, of course, chosen by the village associations. They are encouraged to do so by the government to fill in the central state's shortcomings.
Les Rencontres d'Aït Aïssa' wants to work with the population on a basis of trust. This means: the safety of travellers, good contact with the villagers, respect for their traditions, and so on. For pricing purposes, the non-profit association has agreed tariffs with the local associations and the population. For example, a chef earns 180 dirham (16 euros) per day. That is a good salary in that area. Moreover, the salary is indexed annually. The non-profit association subscribes to the sustainable tourism charter of the Fair Tourism platform.
Relaxing in the hammam
Of course you can't expect three-star comfort. "We rather call it camping at private homes," says Roland. In the mud houses you will find more carpets than furniture. For better comfort, the association has had hammams installed at the residents' homes. They serve as bathrooms. A welcome pick-me-up after a tiring day of trekking. "It's both a journey in time and an initiation compared to our consumer society", Roland says, "but the welcome is so warm! After such a journey it is hard to adapt back to the classic way of travelling".
Then there are also some problems. For example, the non-profit association has to contend with a different approach between the North and the South. In the North (Belgium and Quebec), two young people are currently being recruited to strengthen the administration. But the biggest challenge is: making the local structure in Morocco sustainable and binding to us. An important link in the Moroccan team has suddenly disappeared. The person in question fell in love with a Belgian traveller and went after her. Roland also foots at the Immigration Department, which systematically refuses visa applications for his Moroccan partners, although all guarantees and files are in order. In this way, it is not easy to get local representatives – who will eventually have to become autonomous – to go to the salon for alternative tourism or to a training course in Belgium.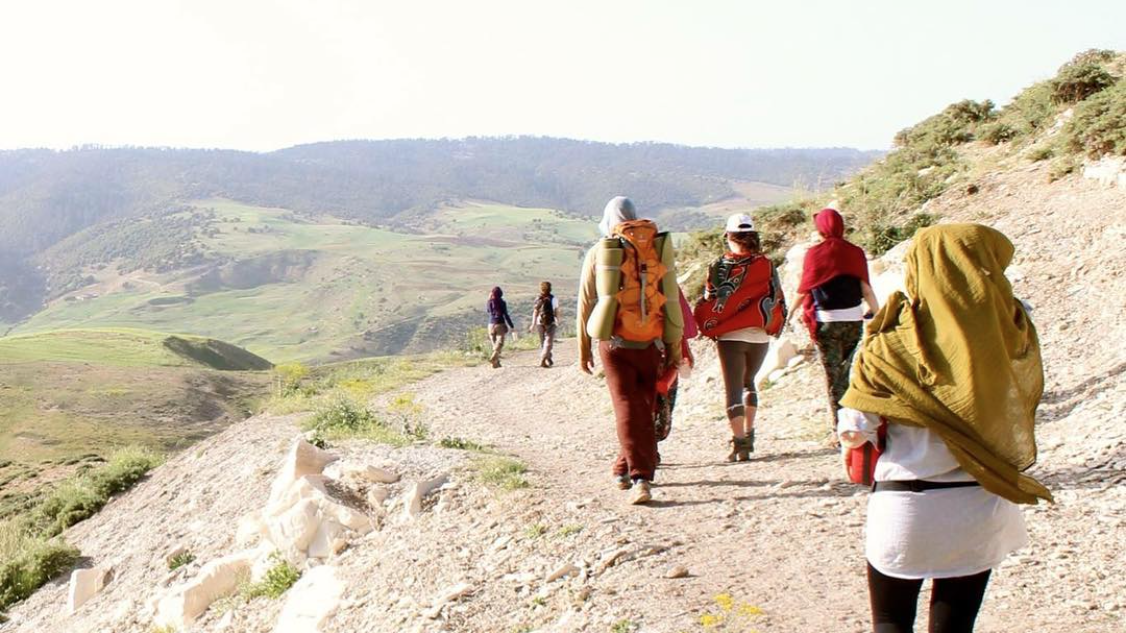 Preferably no crowds of travellers
Les Rencontres d'Aït Aïssa' tries to keep its prices reasonable: a one-week ecotourism trip in the mountains comes to 650 euros (flight not included). The association also works with groups of young people such as schools and youth movements. The prices are budget-friendly: a group of scouts who come to work for a fortnight on a construction site to build a community room for a local village, for example, pays between 250 and 300 euros (flight not included)… "but they take care of everything themselves, such as cooking".
"What sets us apart is that we don't want to do charity. We enter into a partnership with the local population. Our vision of travel, the local welcome and the projects we finance must be economically viable – only then can they become sustainable".
But are there limits to this kind of travel? "Yes, the number of travellers must remain limited. Every day groups coming and going would disrupt the natural course of events. That's why a village welcomes a maximum of ten groups a year". Currently, 'Les Rencontres d'Aït Aïssa' sends some 250 people a year to the valley. The inhabitants can easily become strongholds…
Photo credits : Aït Aïssa