Every year, millions of kilos of Puro Fairtrade Coffee are sold around the world. For CEO Frans Van Tilborg, entrepreneurship does not only mean making a profit, but also caring about people and the planet. Part of Puro's turnover is therefore spent on buying portions of endangered rainforest, with the aim of protecting it in the long term. Since its launch ten years ago, Puro has already acquired an area of equatorial forest equivalent to more than 10,000 football pitches.
Puro is a coffee brand of the Turnhout company Miko, which today exists for more than 200 years. "We have been here longer than Belgium," laughs CEO Frans Van Tilborg. Miko began in 1801 as a trade in colonial goods. Exotic products such as pepper, salt, coffee and tea were sold. At the end of the 19th century, Miko concentrated entirely on coffee. The coffee was roasted with a small coffee roaster and then delivered to the house by bakfiets.
With the establishment of the coffee roaster in Turnhout, the activities were further professionalised. Until the 1970s Miko supplied coffee to the retail trade. "With the rise of the large supermarkets, Miko changed course. Since then, we have focused on the out-of-home market. First only in Belgium and then we expanded internationally," says Van Tilborg. "We mainly supply companies, but also, for example, the hotel and catering industry and health care institutions.
The idea of launching a sustainable coffee brand arose within Miko Group in 2005: Puro Fairtrade Coffee. "We already had one fair coffee within the MIKO range. There was a lot of demand for it, especially from the UK. But we decided that we needed to make a clearer distinction between what we call 'free trade' and 'fair trade'. Beware, free trade coffee is, of course, also subject to minimum requirements, for example in the area of human rights".
Profit, Peuple, Planète et Plaisir
Miko Koffie Groep did not want to launch yet another coffee brand with a fair trade label. "With Puro we want to go one step further," explains Van Tilborg. "At the same time, we included sustainable entrepreneurship in our mission. From now on, we wanted to take Profit, People and Planet into account in every decision. We added a fourth P: Pleasure. These four P's had to come first at Puro too, of course".
"Entrepreneurship is not just about making money, it is also about the people, People. That is why we chose to work for Puro with the Fairtrade label*. But that's not all we do. With Miko Koffie Groep, we support projects in coffee areas in Congo through the NGOs Entrepreneurs for Entrepreneurs and Congo Vodka. We have invested in two coffee processing machines and several hectares of land for farmers who suffered from bacteria that attacked their coffee plants. This allowed them to plant other, resistant crops. We are also supporting a project in the slums of South Africa.
"We also took Planet's P very seriously," says Van Tilborg. Two per cent of the Puro brand's turnover goes to a UK conservation organisation, the World Land Trust. They use this money to buy and protect endangered areas of rainforest. "Since the launch of Puro, we have been able to buy over 10,000 football pitches of rainforest. I think that is very important. Rainforests are the lungs of the earth. There has been a massive clearing there and it is still going on. If we do nothing, there will be no rainforests in 20 years' time.
When creating the Puro coffees, Miko Koffie worked with an international panel of coffee tasters. "The story behind coffee plays a role, but it all starts with the taste. Besides Profit, People and Planet, Pleasure is also important," says Van Tilborg. "If you look at it globally, only a small percentage of the coffee produced is Fairtrade certified. From that supply, we had to try to create a good coffee. Finding the right taste was therefore not an easy process. But the fact that we are allowed to supply Puro to top establishments proves that we have succeeded in this. For example, Saint Andrews Golf Club, the second best golf club in the world, donates Puro. You only get in on the basis of quality and taste".
Hip
From the beginning Miko wanted to make Puro a hip brand. "We wanted to take fair trade coffee out of the goats' sock atmosphere. The reasoning is that the more we can sell, the more we can support the South and the more rainforest we can buy. We believe that the best way to achieve this is to make Puro a hip brand. We have mainly done branding on the basis of creative marketing and not on the basis of large budgets. Puro exudes class and fun and also has a high cuteness level. I think it makes a good impression on all ages".
Puro's sustainability policy has been praised several times and the sales figures also prove that Puro's approach works. At the launch of the brand, Van Tilborg hoped that Puro would represent 15% of Miko Koffie's volume by retirement. "At the moment, that is already well over 30% and I am far from retiring," smiles Van Tilborg. "We sell several million kilos of Puro coffee a year. That is not nothing. I am, of course, very satisfied with these results. What we can do in the South and the number of hectares of rainforest we can buy is directly related to Puro's turnover".
Van Tilborg started working for the Miko Group 20 years ago as a representative. At the launch of Puro, Van Tilborg was not yet CEO of the group, but as responsible for exports and managing director he was closely involved in the development of the brand. "Puro is my baby," laughs Van Tilborg. "I've done a lot of research into the different labels for coffee. In any case, we wanted to get on board with an organisation that takes care of external control, because checking yourself is too easy".
"What appeals most to me at Fairtrade is that they adhere so strictly to their mission. They don't want to be an all-rounder," says Van Tilborg. "In addition, they don't allow mixing either. With some other labels, the coffee in the bag is not 100% recognised by the label. Personally, I think that is a deception towards the buyer. You are either one hundred percent fair trade or one hundred percent free trade. What I also like about Fairtrade is their international branching. It is a large organisation that can also deliver on its promises on controls".
A new philosophy
Puro brand coffees are slightly more expensive than Miko's other coffees. "The support for World Land Trust is fully supported by the group, but the additional cost of the Fairtrade label is seen as a commitment of the client and therefore largely passed on. Whether fair trade costs more than free trade depends on the coffee prices of the moment. Now coffee prices are exceptionally high, so the price difference is rather small". There are three types of Puro coffee: Puro Noble, Puro Fuerte and Puro Bio. "We don't just have coffee. We also offer chocolate milk and tea and by-products such as white and brown sugars. Everything is Fairtrade certified".
According to Van Tilborg, Puro's success story started with convincing its own employees. "Your own people are used to the existing brands and are in a certain pattern of working. The launch of Puro required a philosophical change. We were able to get some people on board quickly, while for others it took a bit longer. But from the moment our own people's enthusiasm for Puro was there, it radiated to the outside world. That enthusiasm is the key to success.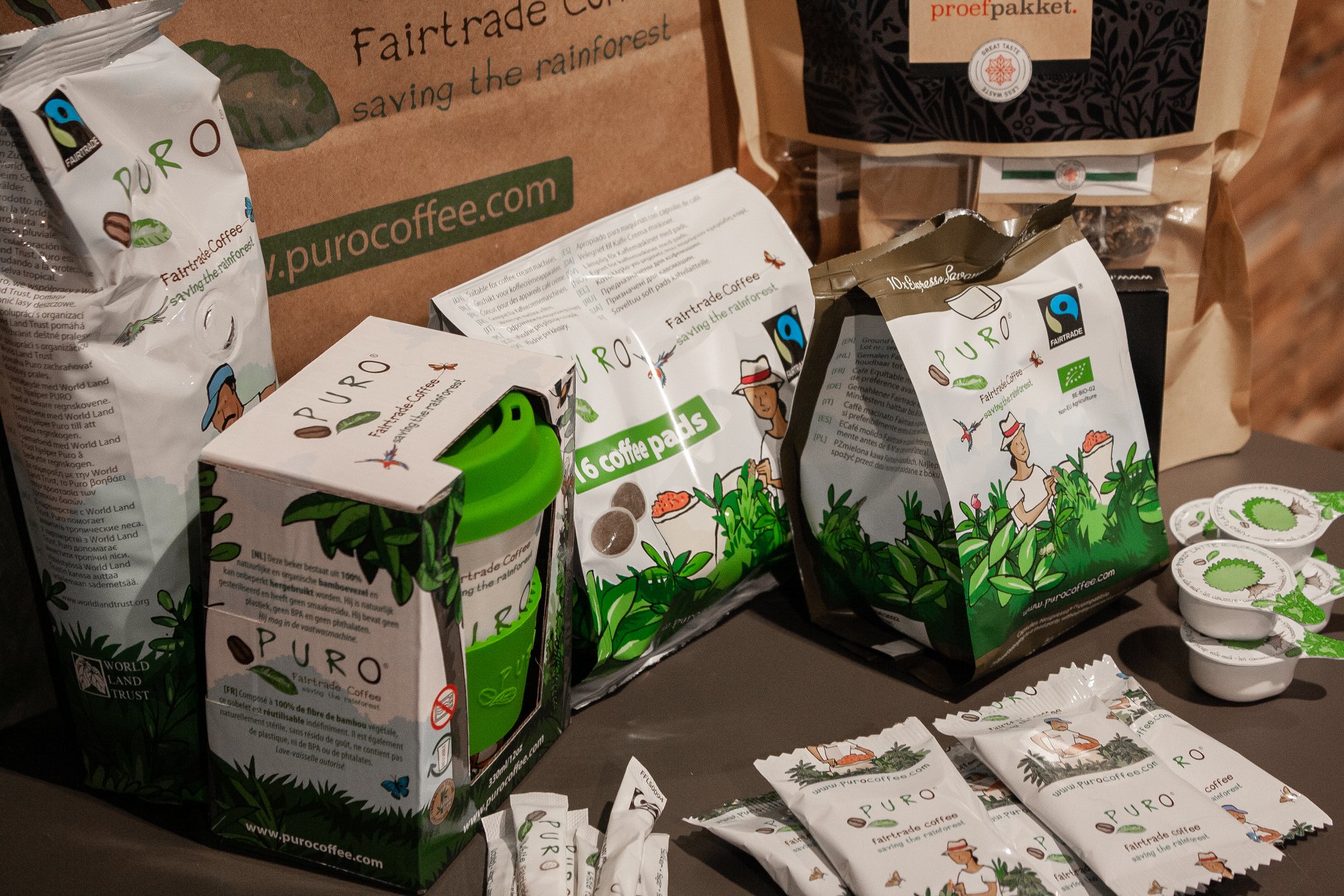 On the occasion of its tenth anniversary, Puro launches the Pure Power Campaign. "With this we want to renew our commitment," says Van Tilborg. "We want to let all companies, organisations and schools that serve Puro coffee know that we endorse our sustainability commitment for the next ten years". Triathlete Marc Herremans is the face of the campaign. Until 3 March, everyone can take part in a competition on the campaign's website (www.puropower.be). Anyone who can guess how much Puro coffee Herremans can grind with his or her handbike has a chance of winning a prize for himself or herself and for his or her company or organisation.