The ACP textile printing workshop, which offers Fair Trade promotional and workwear, is clearly feeling an increase in both supply and interest in sustainable clothing. However, although "many customers are asking about the most sustainable choice, when it comes to making the final decision, even the most committed organisations opt for the cheapest product, which can be extremely frustrating for us," says Director Dirk Piret.
Textile printing studio ACP saw the light of day eleven years ago. Graphic artist Dirk Piret worked for a few years for a Brussels social employment project as the person responsible for the screen printing company. When the subsidies for the project disappeared and Piret lost his job, he decided to continue the screen printing activities as a self-employed person. From the beginning, ACP worked with sustainable, water-based inks.
"The real choice for sustainability, we made when we could buy t-shirts for one euro each," recalls Piret. "That didn't even have to be a whole box of t-shirts. Transport from the importer in Brussels or Antwerp to us would have been more expensive than the t-shirt itself. We thought that was absurd. If I go to a café around the corner to have a beer, it costs more than the t-shirt that was made in Cambodia and whose cotton was grown, picked, spun and dyed, in India for example".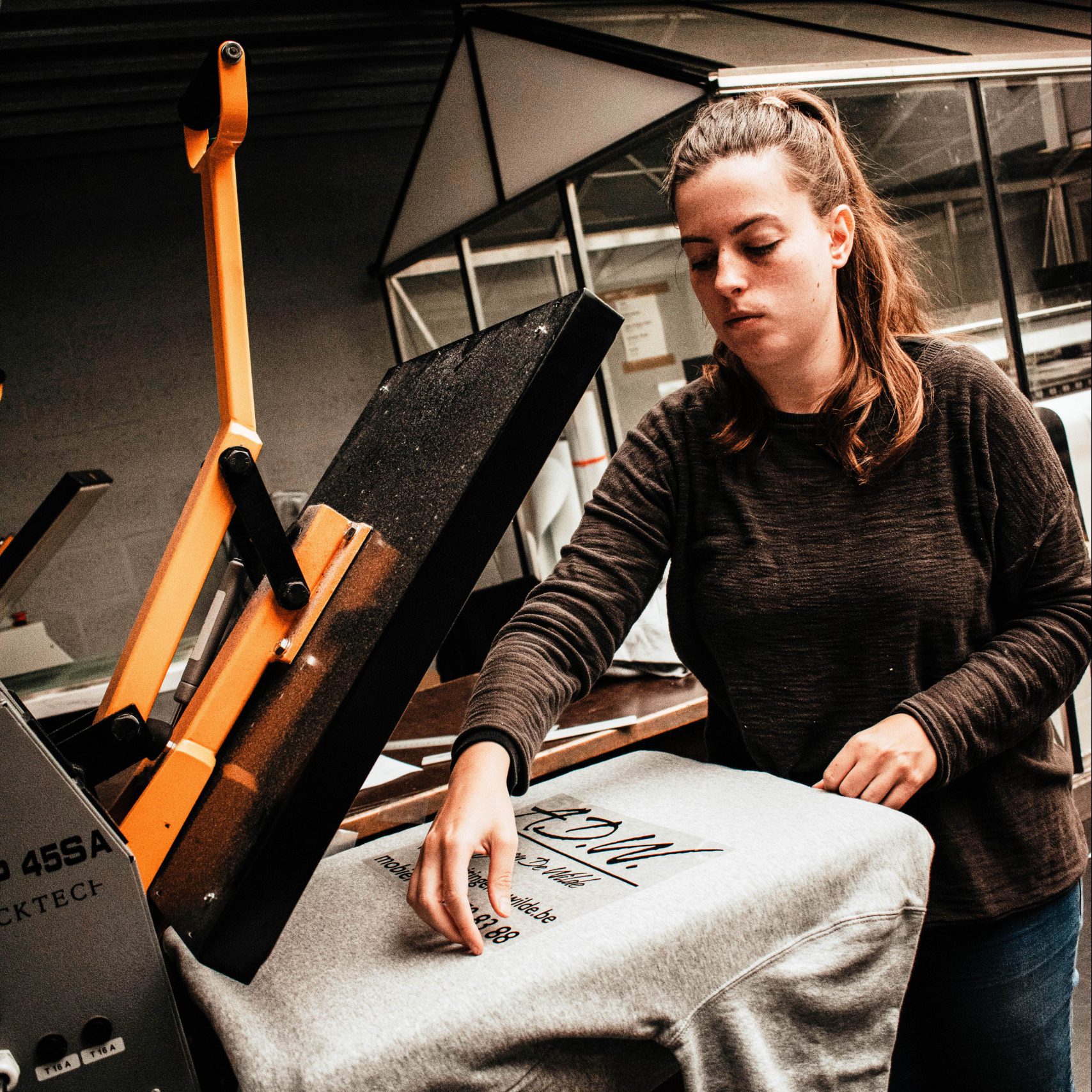 Then ACP began the difficult search for fair textiles. "We asked our suppliers for codes of conduct, codes of conduct, and we got them right away. But these codes of conduct are nothing more than a declaration of intent. They clearly state things such as that the producer is against child labour and wants to pay his staff," says Anne Verbruggen, employee in the family business.
Transparency
Behind the clothing industry there is a very long chain of actors hidden and that makes transparency difficult. "We buy our textiles from stockists. They buy from the manufacturers and then distribute throughout the country," Piret explains. "Most of the so-called 'manufacturers' do not manufacture their own clothes. They just place orders in a country like Bangladesh. They let it be known that they want to have x million pieces made. The factory that can deliver this for the lowest amount is allowed to produce the order. Only then does the factory start looking for temporary workers for that order".
In the search for fair clothing, ACP soon came into contact with the Clean Clothes Campaign, a network of NGOs working to improve working conditions in the garment industry. "According to the Clean Clothes Campaign, membership of the Fair Wear Foundation is the best guarantee that the code of conduct signed by their members is also monitored," says Verbruggen. "Fair Wear Foundation is a multi-stakeholder initiative. Both employees' and employers' organisations are represented in it. Compliance with the code of conduct is monitored by means of external audits. If there are violations, a member is given a few years to recover".
"We applied for membership straight away, even if it costs a lot of money. We are actually paying to be checked," laughs Piret. As a member of the Fair Wear Foundation, 90% of ACP suppliers must also be members of the Fair Wear Foundation. Why not 100%? "In order to be able to respond a little to the question," explains Verbruggen. "For example, there are no shoe manufacturers who are members of the Fair Wear Foundation. So when a customer asks for shoes, we can respond to them.
Label or not label
Fair Wear Foundation does not support the use of a label on the clothing of their members. "The reasoning is that you can never guarantee one hundred percent that a particular garment is clean. The term 'clean' refers to the working conditions," says Verbruggen. "On the one hand this is true, but on the other hand the absence of a label prevents clear communication with the customer. For larger orders, we add a small document to the garments that provides more information about the origin of the garment and what guarantees we can give".
Some of the textiles printed by ACP do carry other well-known labels. "For example, we have t-shirts with the Fairtrade label. Many consumers recognise this label, but it only guarantees a good price for the cotton farmers. In principle, the label says nothing about the conditions under which the yarn is spun or made. In addition, we have organic cotton clothing with the GOTS label, the worldwide known standard for certifying organic fibres".
"The customer wants to be able to choose between different colours and models, but is still primarily guided by price," says Piret. "Clothing with a certain label such as Fairtrade is usually more expensive. Many customers enquire about the most sustainable choice, but when it comes down to it, even the most committed organisations choose the cheapest option. That is sometimes very frustrating".
Rana Plaza
After the collapse of the Rana Plaza clothing factory in Bangladesh in 2013, there was worldwide media attention for the poor working conditions in the clothing industry. "We feel that producers are also talking more about it. Of course you don't just have to talk, you also have to do something," says Verbruggen. "We have received many more applications since then, but I don't know whether that will continue. You can compare it with the dioxin crisis in the food sector. Nobody bought chickens for a while, but a little later most people have forgotten that".
ACP is currently the only textile printing company in Belgium that is a member of Fair Wear Foundation. "It would be interesting for us if companies like ours could join the Fair Wear Foundation. Then we would be able to compete more fairly," says Piret. "In the Netherlands, the government is obliged to buy workwear from someone who is a member of Fair Wear Foundation. So anyone who sells workwear there is a member of Fair Wear Foundation.
"For some time now, we have been offering Fairtrade labelled work clothing that is tailored to the needs of municipal workers such as rubbish collectors. This means that we have ended all FairTradeGemeentes, but we don't hear from them anymore. However, the price is comparable to the better workwear," says Verbruggen. "Municipalities all want to be FairTradeGemeentes, but the people responsible for the purchase often choose the simplest solution. And for the larger tenders that are put out to tender, sustainability is by no means always a criterion".
20,000 litres of water
"In a short period of time, the supply of sustainable textiles has greatly increased. The difference with a few years ago is enormous. And it's also necessary, because regular cotton production is actually not sustainable at all," says Piret. "To make jeans and t-shirts, you need one kilogram of cotton and 20,000 litres of water. That's ecologically unsustainable. If everyone in the world wants to switch to organic cotton tomorrow, there is a problem, because the production of organic cotton requires twice as much land as regular cotton production".
ACP also offers clothing made from raw materials other than cotton. "We have textiles made from hemp and bamboo, among others, but this is actually still in its infancy. There are no hemp spinning mills in Europe yet. All hemp is spun in China. Bamboo is a very fine product to wear. It feels like satin, has the advantage that it does not crease and can replace polyester fibre. Bamboo can be harvested up to five times a year because it grows so fast. Processing bamboo into textile is environmentally polluting to a small extent. Nevertheless, I think that the problems with hemp and bamboo are much easier to overcome than the major problems associated with cotton production. However, the cotton sector has a very strong lobby behind it.
Sustainability also has to do with the lifespan of a product. "Unfortunately, clothing has become a disposable product," says Piret. "People who order t-shirts for an event are advised to choose a good quality t-shirt and leave out the date when printing. This way, the t-shirts can be used again the following year. I think our customers will consider our tips on sustainability. When we add tickets with an explanation of the origin of the clothing to the order, this is appreciated. We also see a lot of customers coming back.
ACP
info@acpinfo.be            
Tel: 03 889 02 16
© ACP