In 2017, the Ivorian cocoa cooperative ECAM received coaching in financial, business and marketing management from the TDC (Enabel's Trade for Development Centre). At the end of December we spoke to Djakaridja Bitie, one of the members of ECAM. We asked him to reflect on the development of the cooperative, and about his own professional future as a TDC coach.
Djakaridja Bitie is a cocoa producer and is responsible for marketing and prospecting at ECAM. This cocoa cooperative is situated in Méagui, in south-western Côte d'Ivoire. Djakaridja is extremely enthusiastic. His two-month visit to Belgium at the end of December marked a turning point for him as he recently joined the TDC-Enabel team as a junior coach. The evolution of his career is just like that of his cooperative: extremely inspiring.
ECAM was founded in 2004 and has more than 2,000 members, including 322 women. The cooperative has been fair trade certified since 2016. Benefiting from the support that the TDC has provided since 2017, ECAM opted for an ambitious and intensive transformation. This enabled ECAM to take on a new and important challenge in recent months: obtaining organic certification. According to Djakaridja Bitie, "the coaching they have been following since 2017 facilitated the three-year process to obtain organic certification," because the necessary steps were well planned. ECAM got the certification for the first time in 2020 and it was just renewed.
Organic, a fundamental change
The process to obtain organic certification meant that ECAM, backed by Enabel, faced many challenges. "Defining new organic production areas and removing obstacles to organic production are challenges. You also need to raise awareness among the Ivorian cocoa farmers and develop an exclusive niche where organic meets fair trade," says Djakaridja Bitie. "Initially, 55 members of the cooperative were on board. They showed great adaptability and resilience. This was needed to bridge the difficult economic period during the first two years of transition: the farmers involved only received their premium three years later, when we obtained the certification." In the meantime, the changes that had been brought about with the transition from conventional to organic farming led to losses.
A major challenge farmers are still experiencing is finding approved crop protection agents and natural fertilisers to be able to export their cocoa. "Some biological inputs from Côte d'Ivoire are not approved for the European market. At the same time, the few recognised products are extremely expensive. For two years, our farmers haven't used any alternative inputs on their farms because there was no organic product to replace the chemicals. As a result, their yields have decreased. But they are completely dependent on the income from their production for their livelihood.
In the absence of a solution to make up for this loss, we have developed our own products and diversification strategies." These are necessary but expensive solutions that unfortunately fall outside the scope of Enabel's financial support, especially in the logistics area. "The storage and transport of organic cocoa, for example, requires specific equipment to prevent it from being mixed with other products," says Djakaridja Bitie. Finally, ECAM's application was approved as a result of a French call for projects. This enabled ECAM to produce its own organic pesticides, inputs and fertilisers.
Today the cooperative has 126 organically certified members. The total volume of organic cocoa production has tripled from 100 tonnes in the first year to more than 300 tonnes in 2021.
Lobbying and a moment for change
"Alone we go faster, together we go further." This sums up the momentum shown by ECAM and supported by the TDC. To make progress, the cooperative brought together a panel of key players. The panel discusses the problems, challenges and future of organic cocoa production in Côte d'Ivoire. The panel includes representatives from organic cocoa cooperatives and certification bodies. It also includes producers of approved local inputs. Finally, the 'Conseil Café-Cacao', which is the country's regulatory body, is also on the panel. Their discussions helped to solve problems, find solutions and ensure that participants got behind the model. They are convinced of the positive effect of the discussions, the ideas and the good practices that were shared around the table.
Today, Djakaridja Bitie is also having this discussion on an international level with Belgian policymakers in order to emphasise the advantages of alternative production. "With organic farming we can generate more income in the long term. On a human level, organic farming strives for sustainability, the protection of our environment and our health." The voice of Djakaridja Bitie now extends beyond the borders of Côte d'Ivoire. In December, MPs, Enabel representatives, NGOs and experts met at the Belgian federal parliament. They exchanged views on the issue of national and European legislation regarding corporate duty of care. This meeting was an opportunity for Djakaridja to make MPs aware of how useful these new laws are. He called for a transition to more sustainable imports and emphasised their positive effect on small producers.
Let's remember that the EU is still the world's largest importer of cocoa. However, the isolated actions of the Member States are not enough to protect the local population from the excesses of the market. Only a supranational agreement can align all players, including multinationals, in the value chain. "Who would have thought we would still be talking about deforestation or child labour in 2021? Even despite the existing laws," says Djakaridja. "These challenges are closely related to a decent income. As a farmer, it is impossible to get by if the price of cocoa is set at 800 CFA francs (about €1.22) while the production costs are 750 francs. A fair price takes into account the producer's profit margin and various factors such as labour costs. With a decent income, you wouldn't accept your child not going to school, even for one day."
In a country where thousands of people make a living from the cocoa sector, fair trade can really make a difference. The groups with the Fairtrade quality mark can attest to that. There are many challenges for this sector, both from an environmental and a socio-economic point of view. For example, Djakaridja emphasises that "Ivorian cocoa represents 10% of the country's GDP, 40% of our export earnings and 40% of the global production volume. Ethical working conditions linked to fair trade have a positive effect on the ground. In particular when it comes to the fight against child labour, or to education, leadership of women, financial independence of groups and agroforestry."
2022: organic fair trade
Back to ECAM's challenges for the coming months and years. Thanks to the double label, ECAM's cocoa can now tap into a new market. "At the moment we only sell our production on the organic market. The more profitable niche market of organic fair trade would double our selling price to 1,600 CFA francs (€2.44 euros) per kilo of cocoa." However, prospecting this new market is a major challenge. At the end of 2021, Djakaridja was in our country to meet potential new customers, but this wasn't the only reason he was here…
Food for the earth and the spirit
Djakaridja has 20 years of experience in the cocoa sector. He used his trip to Belgium to complete his training with Christine Englebert. She is an expert in marketing and sustainable entrepreneurship and has been coaching ECAM since 2017. Djakaridja was therefore initially her 'coachee'. From now on, they will join forces in a coaching pilot project led by TDC-Enabel.
TDC-Enabel's international coaches encountered technical problems with the remote (online) coaching during the corona pandemic. And so Djakaridja Bitie was appointed as a junior coach. "Online coaching is very complicated because of the connection problems in many countries," explains Djakaridja Bitie. In addition to his strategic position in Côte d'Ivoire, the junior coach emphasises the added value of his partnership with Christine. "Our profiles complement each other. The international coach has the expertise and masters the last stages of the chain, processing and manufacturing. Meanwhile, I know the context, the environment and the first stages of the value chain, from production to export."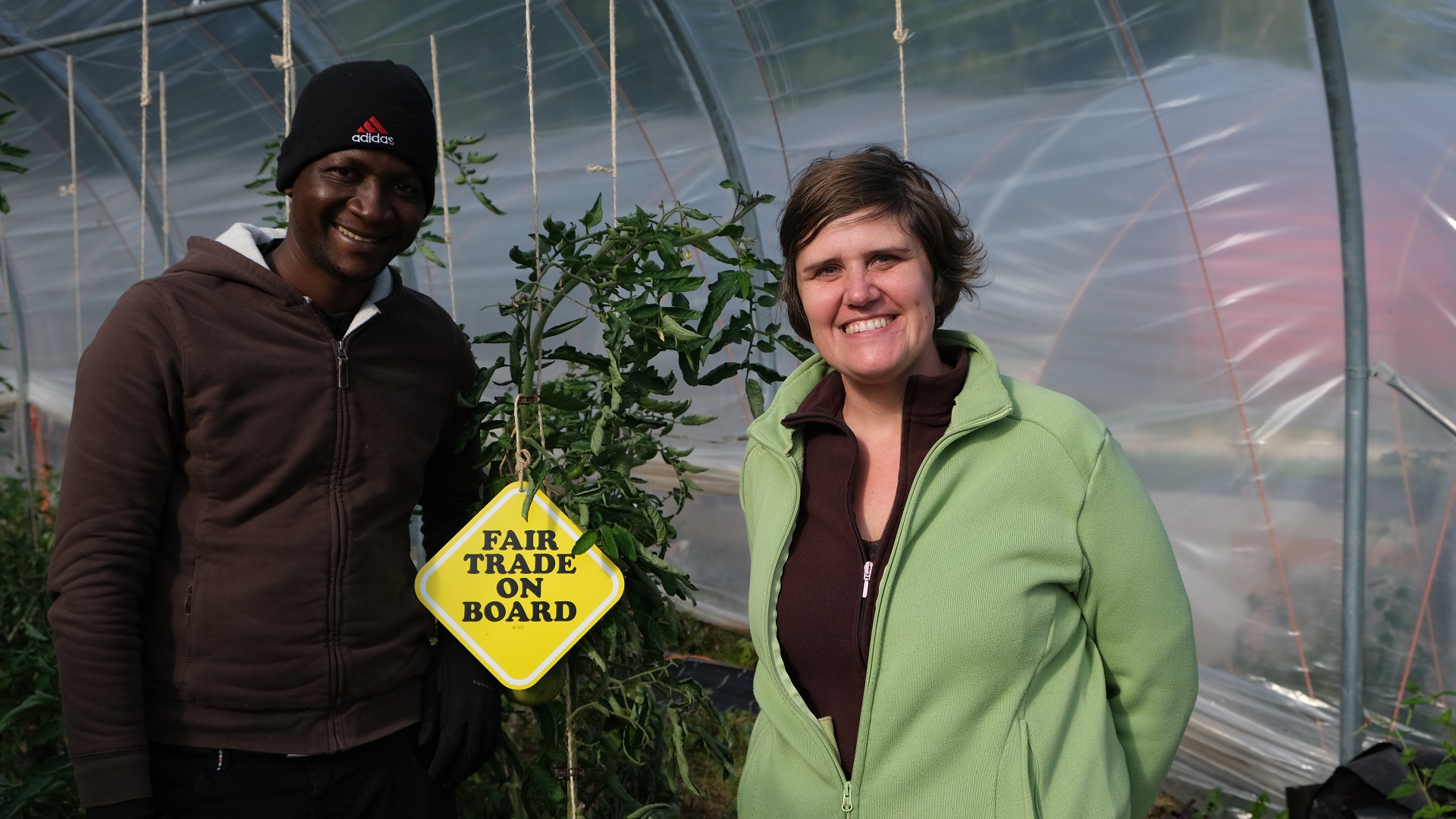 Together, the pair are developing a tailor-made model that is fully customised to the challenges of cooperative groups. Their work is above all based on knowledge and trust. "I introduce myself to the coachees as the head of a cooperative and as a producer, just like them. I know their world and can translate the terms that may sound like professional jargon. Because they don't always have the confidence to ask." The coaching Djakaridja offers is mainly aimed at developing the cooperative spirit of the beneficiaries. He does this by developing a vision that goes beyond money. A vision built around sustainability, the promotion of excellence, or the fight against child labour.
In order to avoid any conflict of interest between his new role and that within ECAM, the junior coach sets his boundaries at the very start. He is protected in this by signing an Enabel confidentiality charter. Because Djakaridja Bitie has gained new expertise, it is a win-win for him and for the coachees. "My own cooperative is also the winner. Because what I have learned can also be seen in the way I work, overcome difficulties or strive for efficient results." Djakaridja Bitie personally financed his visit to Belgium. He is firmly convinced that his plans will come to fruition. He wants to spread more sustainability in his sector and organic fair trade cocoa internationally. What a committed and inspiring journey!
Interview: Charline Cauchie
Photos: TDC