Muungano was recently coached by the Trade for Development Centre (TDC). After two years of collaboration, Daniel Habamungu, manager of the coffee cooperative, and Belgium's Raf Van den Bruel take stock of their very valuable experience.
The Democratic Republic of the Congo (DRC) is the largest country of sub-Sahara Africa (more than 2,300,000 km2). The Muungano cooperative operates in the Great Lakes region, south of Goma, on the western shores of Lake Kivu heading towards Bukavu. 'I started Muungano in 2014, but I was raised with coffee, was able to study thanks to coffee and learned the trade in the coffee groves,' explains Daniel Habamungu, the cooperative's manager.
A cooperative that is permanently making progress
When it was established in 2009, the cooperative aimed to respond to two major challenges encountered by the farmers. First, the producers had to stop taking the huge risk of crossing Lake Kivu and selling their coffee in Rwanda where prices were better. 'Many died by drowning as they tried to cross Lake Kivu,' reports Daniel, 'A solution was needed'. Another finding at the time was that 'everyone was working on their own, without organisation or coordination, which negatively impacted the quality of coffee production overall and because of the lack of cohesion between producers, buyers were able to impose ridiculously low prices.'
From 600 members at the start, Muungano (which means 'togetherness' in Swahili) grew to more than 4,200 members. The cooperative operates in sixteen villages. Its main office is in Kiniezire from where it offers a wide range of services to its members: product sale, distribution of coffee tree seedlings, training in agroecology, leadership and, savings and credit, etc. 'Along with the number of members, the production of green arabica coffee grew exponentially. And sales followed: from three tonnes in 2009, Muungano evolved and sold more than 112 tons in 2017,' rejoices Daniel Habamungu. Exported coffee is fully washed: beans are fermented, washed and dried in the cooperative's washing stations. The resulting high-quality coffee is graded K3 and it is Fairtrade and organic certified. 'We are in the process of being Rainforest-certified, which is not easy because it is expensive, it involves a lot paperwork and it takes a long time, about three years.'
And there are threats to obtaining the next certification: 'The certifiers may decide to stop coming to Congo. They claim the security risks and risks of Ebola are too high.' Muungano needs these sustainability certificates though, because the large majority of its clients requires them.
Who is the coach?
In less than ten years, Muungano gained international reputation. 'I knew them from my former job,' says Raf Van den Bruel, the Belgian coach of Muungano. This consultant, who works for the TDC, has more than 15 years of experience in the sector: 'I started building expertise with Oxfam Fair Trade in the early 2000s. There, I developed the fair trade coffee chain via direct purchases and product development in collaboration with big Belgian roasters,' his story goes.
In 2014, Raf set out on an adventure of his own as a consultant and established Coffee Lab Independent, which offers expertise to the many actors in the sector. His first clients were coffee chain cooperatives and development projects. 'Now, I can also work for others, from the producer to the end consumer, via imports, coffee brands and major retailers, i.e. the whole supply chain!'
A sector facing complex challenges
What are the main trends currently in the sector? 'Producers using new fermentation techniques increasingly stand out with their quality and the taste profile of their coffee. Also, over time, sustainability has become important for the whole of the supply chain, including the enterprises. The purchase and especially the production of certified coffee have exploded. With such evolutions, certain producers get better prices on particular markets. Some things have not changed unfortunately. Poverty and the producers' weak position, particularly in Africa, remain very problematic. Certifications have a positive impact, but they are not real game changers. Again, globally, the price for green coffee is too low and the purchasing power of large conglomerates is on the up, which pulls prices further down,' according to Raf.
In the DRC, the situation is more particular even: 'After many years of warfare and major instability, the arabica supply chain was down. Between 2008 and 2010, most coffee was sold illegally to neighbouring countries. But since then, a real business has developed and major enterprises such as Starbucks buy coffee in the region, even though local operation conditions are still quite complicated there,' analyses Raf.
Participatory coaching approach
Raf's broad understanding and insights were exactly what Muungano needed to make progress: 'How to look for new clients, how to present oneself in a suitable manner to these clients, how to obtain information about the international and regional coffee market situation or how to calculate the cost of shipping a container prior to signing a contract. Raf taught us all this in two years' time,' says Daniel. Coaching is one of the best ways to do it because it has us involved directly, as beneficiaries.'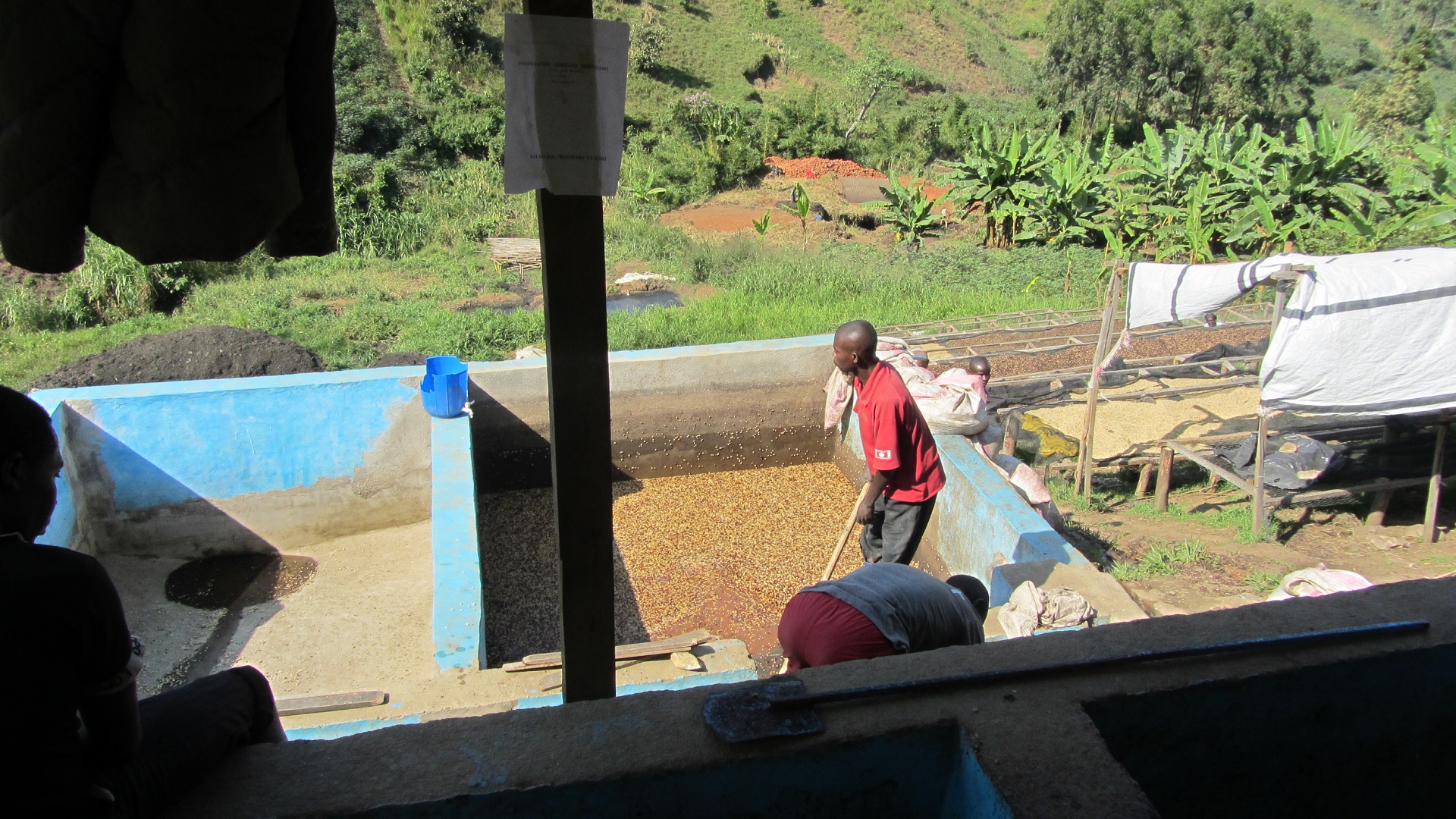 Raf adds: 'Many support programmes and budgets are focused on increasing productivity and are managed by major traders and buyers themselves. Let's be realistic: the producer/seller's interests are not always those of the buyer/exporter. That is why the intervention of the TDC, which is independent and focuses on market opportunities for producers, is quite unique and of great value.'
First challenges: better understanding of the context and the buyers
Muungano is already well-established regionally through an English partner-client. One of the main challenges of the cooperative in 2017, when coaching started, was to broaden its client base while continuing to have a privileged relationship with its customary English client. 'The point is that they don't know the market very well. So, the first thing to do was to inform them and show how and where to find information. One must always be informed of what is happening globally and in the region,' details Raf.
Also, you have to be able to talk to buyers: 'The goal is to establish relationships with potential clients and to remain in touch with them in the future,' indicates Raf, 'The cooperative also had to understand that the relationship does not end after sending a sample and an e-mail.' It is better to understand whom Muungano was dealing with: 'In June 2019, we visited Europe, which was very important for us. We were in direct contact with various coffee importers in Belgium. We also visited a trade fair in Berlin. It was very interesting and it taught us to present ourselves to buyers,' says Daniel. 'In Europe, buyers are afraid to directly source coffee from cooperatives sometimes,' admits Raf, 'They fear delays or communication issues. During these meetings, Muungano learned that to convince clients it is not only the quality of the coffee that matters.'
Good results already achieved thanks to coaching
Since 2017, Muungano acquired two new clients: 'Regardless of the complicated market situation, they have succeeded in developing solid partnerships,' says Raf happily, 'They have a realistic business plan and have gained understanding of what a coffee buyer is. The trip to Europe provided them with a lot of information they have used towards taking their next steps in the trade business. These prospects are an important basis for their future.'
'We also learned that diversification is very important: We had K3 (fully washed) and, we are now working towards K4 too,' explains Daniel. K4 is a coffee prepared by the producer, which does not go through washing stations and which, therefore, is of less good quality and less expensive. 'And, finally, there is the 'natural', which is made from dried beans. There is great interest for that from a client niche, primarily in the United States.'
Now, Muungano is going global: 'We are positioning ourselves in Germany and Switzerland. The European market likes K4 coffee but we would also like to enter the Asian market, and particularly Japan, with K3 coffee. There are good buyers there.'
Photos:
Top of page: Front: Daniel Habamungu, the manager of the cooperative. Background: Coffee beans are still surrounded by protective parchment after the washing process; these husks are removed in the drying process, just prior to exportation.
2. Coach Raf Van den Bruel
3. For fully washed coffee the drying process is crucial. It requires great attention and work and determines the eventual quality. During the hours with the strongest sunlight, coffee is covered to protect it against the sun, slow down drying and improve quality.