Need a present? Fair clothing? Delicious food from around the world? You'll find it all at BorGerHub in Borgerhout. This concept store brings together start-up entrepreneurs and sells their products to conscious consumers. But BorGerHub is much more than just a shop. What started out in 2019 as an anti-squatting project in this beautiful 1930s building has evolved into an indispensable hub for enterprising Borgerhout. Here they can receive coaching, attend workshops, organise events, and much more. We interviewed the founders.
BorGerHub: entrepreneurship and unity
BorGerHub founders Sarah and Froya finish each other's sentences when we interview them about their project. But they were both following completely different paths. Until those paths crossed in Borgerhout.
Sarah Neirinckx lived abroad for 25 years, working in development cooperation. About eight years ago she came back to Belgium from Zambia. "I saw an enormous amount of untapped potential here in Borgerhout. I wanted to do something with that multitude of cultures."
Today, Sarah is a coach: for young people who want to work on development projects through Enabel's Junior Programme, for university students of African languages, and for sustainable entrepreneurs looking for support at BorGerHub.
Froya Deryckere is a born entrepreneur. "When I was very young, I started my own flower shop, became a floral designer for companies, studied for a while, and then started my own sustainable clothing brand Froy & Dind (which she has since left, ed.) …
"I kept getting more and more questions about entrepreneurship. And so I decided to make it my profession: I became an entrepreneurship coach, first at Starterslabo and now independently."
At the end of September 2019 , Sarah and Froya opened BorGerHub together. "It was the day of the annual Giants' Parade," Sarah recalls. "The giants sleep here in the attic, by the way."
A throwaway remark but one that immediately illustrates how closely the project is integrated into the local community.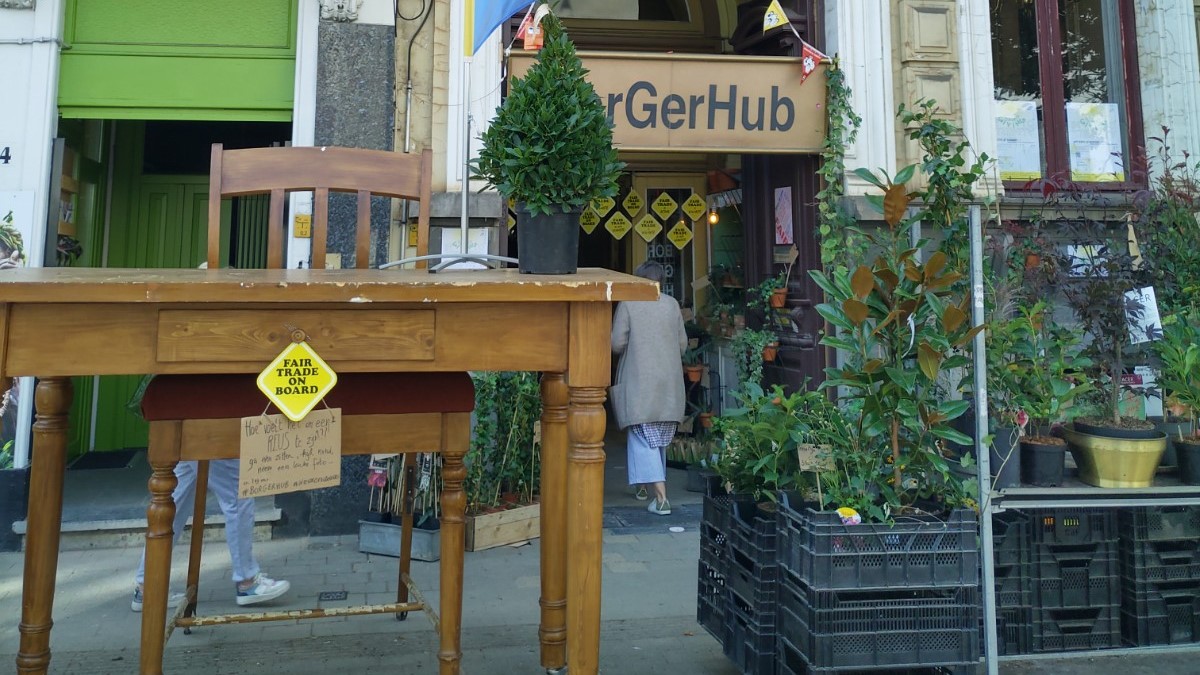 Bridge between sustainable entrepreneurs and conscious consumers
BorGerHub is somewhat hidden on the busy Turnhoutsebaan in Borgerhout. In the stately building that used to be a local courthouse.
"BorGerHub gives people space to stimulate their entrepreneurial spirit. One of the ways we do that is with our concept store. This is housed at the back of the building, in the former banqueting hall for the judges. About 20 entrepreneurs sell their products there," explains Sarah.
Froya adds: "The entrepreneurs run the shop themselves. This is how BorGerHub bridges the gap between creation and commercialisation. The entrepreneurs develop a personal relationship with their customers. And they get a lot of feedback about their products."
Eco, fair, local and social projects
Can any entrepreneur just start selling their products at BorGerHub? "No," says Froya, "we verify candidate sellers against our pillars. We can't accept a product into our concept store if it doesn't fit under at least one of them."
What kinds of products does BorGerHub sell?
Ecological products
Froya: "At the moment mainly items made from recycled raw materials. For example, one of our producers sells toys made from old furniture. Another makes handbags from second-hand shop jeans."
Fair products, whether fair trade certified or not
A good example are the handmade Moroccan products from Femimain: artistically embroidered textiles, leather goods, ceramics… Through its products, this organisation supports the empowerment of women in Morocco.
Local, sustainable products
A herbalist sells homemade care products and tea here. All from plants grown in Belgium. Other sustainable products you can buy here include handmade utensils from local producers.
Products from social projects
Froya: "We have Italian food products here, but only the very best. The Belgian-Italian importer gets this high-quality slow food from small villages in southern Italy. Her goal: to boost the economy in an agricultural region where people are migrating en masse to the cities in search of work. And at De Markgrave, a day centre for the blind and partially sighted in the area, they make the beautiful ceramics that we sell here. The proceeds go back into the running of their activity centre."
Many of the entrepreneurs at BorGerHub make the products they sell themselves, but not all of them. Froya ensures that the concept store as a whole has a balanced range of goods that appeals to conscious consumers. For example, you will also discover a large collection of ecological and/or fair trade clothing.
Entrepreneurs interested in adding their products to the shop can get in touch. They'll then receive a questionnaire and an in-depth intake interview will be carried out. This is how Sarah and Froya check to see if an entrepreneur is right for the BorGerHub concept store or whether they can help them in another way.
Tailored to entrepreneurial Borgerhout
With their umbrella non-profit organisation, Froya and Sarah take a flexible and pragmatic approach, looking at what works and what doesn't. They then fully adapt the ways of working to the needs of the entrepreneurs.
Sarah: "Our main goal is to help a range of entrepreneurs move forward. So we have three formulas that anyone wanting to sell their products in the concept store can choose from. This means every entrepreneur will find the right option for them, and nobody is excluded."
How does that work then? The entrepreneurs whose products are sold in the shop all help out at BorGerHub at least once a month. In addition, each entrepreneur makes a financial contribution based on what they can manage.
If you have a limited budget, you commit to running the shop one day every week. Others take on less of the day-to-day work, but pay more. "This approach also appeals to entrepreneurs that have another job," says Sarah.
"We do feel a bit responsible for the people who sell their products here. In that sense, the start of the coronavirus crisis was a tense period for the BorGerHub concept store. When the shop had to close, we quickly set up an online store. This meant that our entrepreneurs still had some kind of income."
To keep BorGerHub going, Sarah and Froya regularly organise a market where you'll find even more sustainable goodies from even more entrepreneurs. For example, there was a winter market during the Christmas holidays and a fair trade market  as part of Fair Trade Week ."
Concept store and more
But BorGerHub is more, much more than a concept store for conscious consumers and a sales channel for sustainable producers.
Sarah: "BorGerHub is a project from the non-profit organisation Blooom, which aims to help entrepreneurs grow. Entrepreneurs who are not yet ready for their own shop – or who don't have that ambition – sell their products here. It is also a crucial meeting place for them. They exchange their experiences and tips, inspiring each other in all areas."
The non-profit organisation also offers entrepreneurs workshops and meet-ups, whether they sell their products in the concept store or not. Even people who have not yet officially started their business can find support here thanks to the successful collaboration with Starterslabo . Since 2021, BorGerHub has received European subsidies from the ESF.
Sarah: "As a result, we can now offer even more support than when we were completely independent. With the new Stuyfplek, we give entrepreneurs the opportunity to experiment, test ideas and learn from them."
Strengthening social cohesion
With its many initiatives and entrepreneurs with roots in Serbia, South Africa, Italy, Indonesia, etc., the BorGerHub umbrella brings together enterprising people from all over the world. The many nationalities that live together in Borgerhout all come here.
Sarah: "With our combined focus on cultural diversity and entrepreneurship, we promote social cohesion in the local neighbourhood. This was also the goal of district mayor Marij Preneel – who brought Froya and I together to start BorGerHub – and of AG Vespa, the independent city-owned company that this building belongs to."
In addition to the BorGerHub concept store, two Moroccan associations are housed in the old courthouse. The former meeting rooms are rented out at affordable rates to entrepreneurs who don't have their own.
Organisations like the MolenGeek programming school provide training courses, and local students can come here to study for their exams. Borgerhout artists organise exhibitions here and every year in May the entire building becomes an art gallery during the Antwerp Art Weekend. In short: too many initiatives to list them all here!
BorGerHub ecosystem
Bar+Plant, the plant shop-cum-coffee bar that belongs to Froya and her partner Marc, is by far the biggest crowd pleaser at BorGerHub.
Froya: "We get people from all kinds of backgrounds visiting us for the plants. Sometimes they're looking for a specific plant to use in a certain recipe or as a medicine. The plants turned out to be the way to attract a more diverse audience to BorGerHub. And, of course, after they've visited the plant shop we also show them the concept store."
Sarah: "That cross-pollination is typical of the BorGerHub ecosystem: everyone helping others in one way or another."
This is also what BorGerHub is aiming for in the long term. "We are a safe haven for entrepreneurs in Borgerhout. Even those who no longer need the concept store to sell their products keep in touch with BorGerHub. Like Axelle from zero waste shop Turlee Green, who took her first entrepreneurial steps here. This gives us a large network of people who continue to inspire and stimulate each other," says Sarah.
Also in terms of diversity. "We live in a globalising world and want to prove how powerful that can be," Sarah says.